GPU Performance
With the GT80 Titan packing in not one but two GTX 980M GPUs, and with each GPU having 8 GB of memory, MSI has the most potent combination available today. We just saw that the processor choice is potent in its own right, being able to outperform faster clocked Haswell parts, but will it be enough to feed two GPUs?
For 2015, we've continued to update our gaming notebook workloads, and cycled out some of the older tests and added a few new ones to the mix. Since we don't have a back-inventory of gaming laptops, the new tests only have limited results, but as you will see the result is pretty clear. We have kept a couple of the older benchmarks as well in order to have more devices for comparison. As always you can turn to our Notebook Bench to compare this against any other notebook we have tested.
3DMark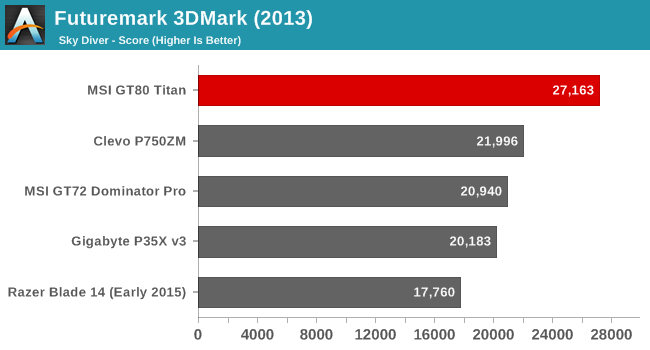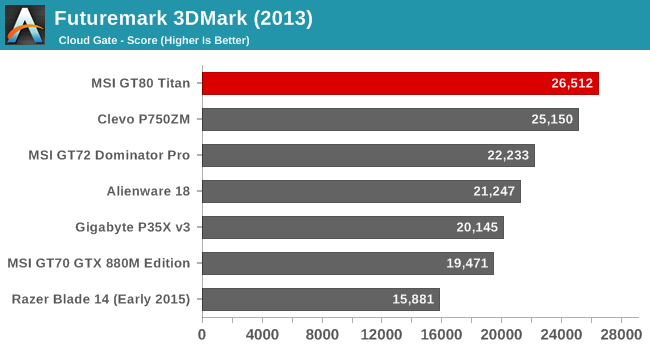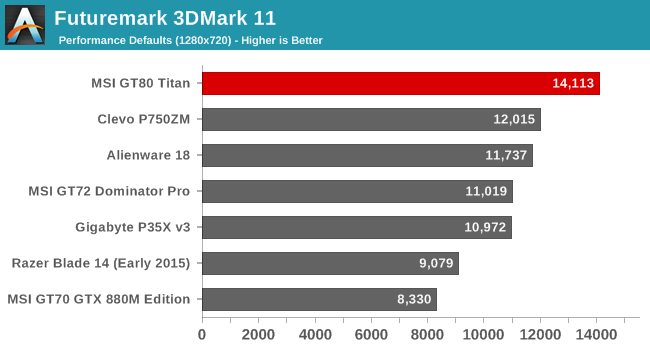 Starting out with some synthetics, we have FutureMark's 3DMark benchmarks. The Fire Strike is the most demanding one in our test (they have since added a couple of new Fire Strike tests that are even more demanding) and already we can see the huge lead that the GT80 Titan has over any other laptop we have tested. The GT80 Titan is almost 60% faster than the GT72 with a single GPU. As the tests get less demanding on the GPU with the Sky Diver and Cloud Gate scores, you can see that the Clevo P750ZM narrows the gap with its much quicker CPU, but not enough to catch up or even really come close.
Bioshock Infinite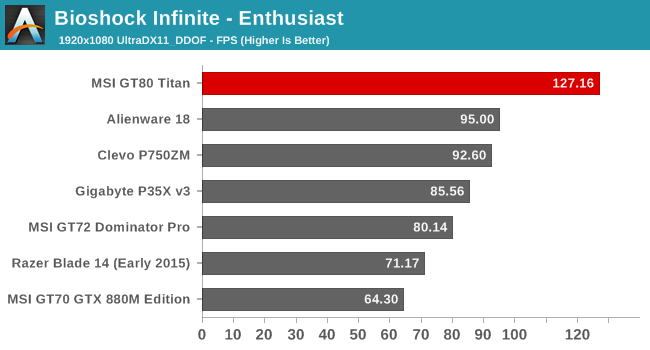 Bioshock is getting a bit long in the tooth, but it is such a great game that it is difficult to see it go. As our first true game benchmark, you can see that the GT80 Titan moves the yardstick quite a bit out.
Tomb Raider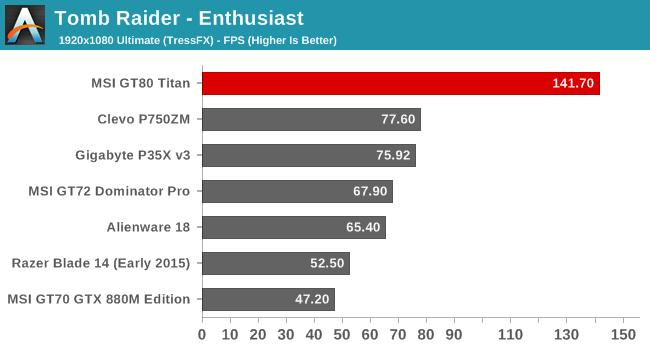 With the Tomb Raider sequel coming out later this year, this is another of our older benchmarks that we have kept around to keep a good mix of comparisons. While other laptops still struggle to keep around 60 fps in this game with everything enabled (TressFX included) the GT80 Titan destroys single GPU devices in this test.
Civilization: Beyond Earth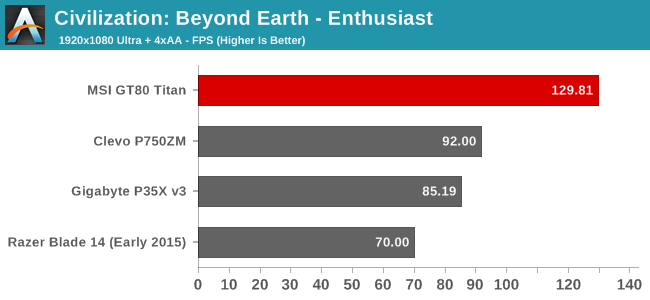 Civ: BE is the latest in the Civilization franchise of turn-based strategy games. The GT80 Titan once again wins this round.
Dragon Age: Inquisition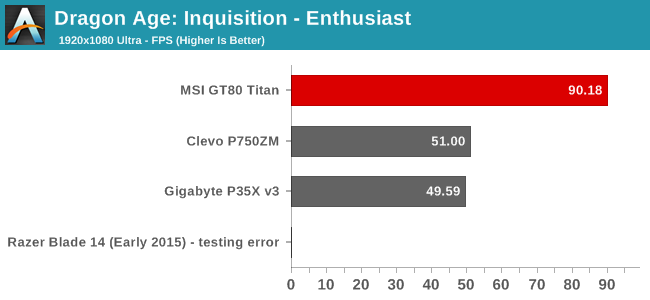 Up next is the latest Dragon Age RPG. We use a custom benchmark here with FRAPS because the built in benchmark is far too short. The Razer Blade was the first device tested with the new benchmark and for some reason, it scored higher than all of the other single GPU devices despite the slower GTX 970M GPU. It is possible it was driver updates or something, but it was consistent across all of the runs. I no longer have the Blade to re-test on so I have removed its scores from the results until they can be re-tested. The GT80 Titan continues its run at the top though.
GRID Autosport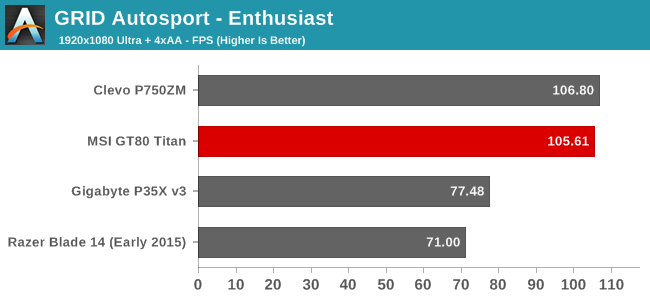 Autosport is the latest version of the GRID series. We finally have a game that needs a really strong CPU to bring out its full potential, with the Clevo squeaking past the GT80 Titan in this test.
Shadow of Mordor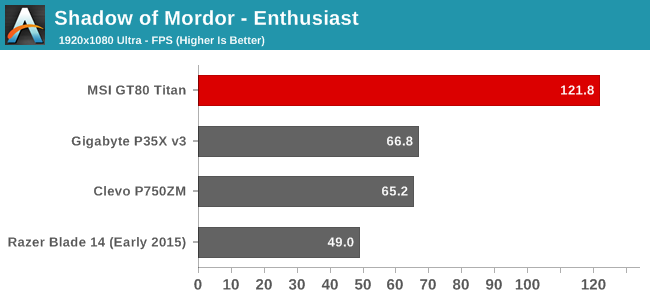 Our final benchmark brings us back to where we started. The GT80 Titan is pretty much the fastest gaming laptop around when you pack it with two GTX 980M graphics cards.
I think the numbers kind of speak for themselves. This laptop can handle anything you want to throw at it. MSI has said that they will be offering GPU upgrades for this device in the future, but in the present there is literally no need. It can easily run any game we threw at it well over 60 fps, and it is somewhat helped by its 1080p panel here too. It will be some time before this laptop has any issues pushing enough polygons for 1080p. It is really a shame that no one seems to be producing higher resolution large laptop panels yet since this is one of the first devices around that can likely handle that.