Taking place today is AMD's 2015 Financial Analyst Day (FAD). For AMD FADs are a combination of roadmap updates and number breakdowns for financial analysts and investors, showcasing where the company intends to go and why investors should continue to back the company.
The last time AMD held a FAD was in 2012. In the intervening years the company has undergone a number of changes for both the good and the bad, including the major console wins, continued struggles with PC market share, and of course a change in leadership from Rory Read to Dr. Lisa Su. Today's FAD in turn is a chance for Dr. Su to show in greater detail her plans for the company, and where those plans will take AMD in the next couple of years.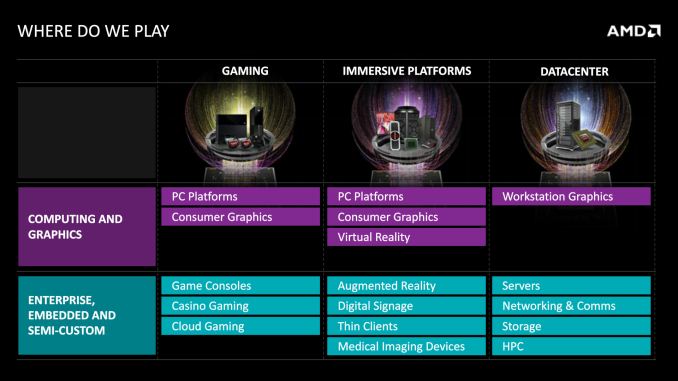 AMD's kicking off today's FAD with a quick overview of what they see as the company's major growth opportunities: gaming, immersive platforms, and the datacenter.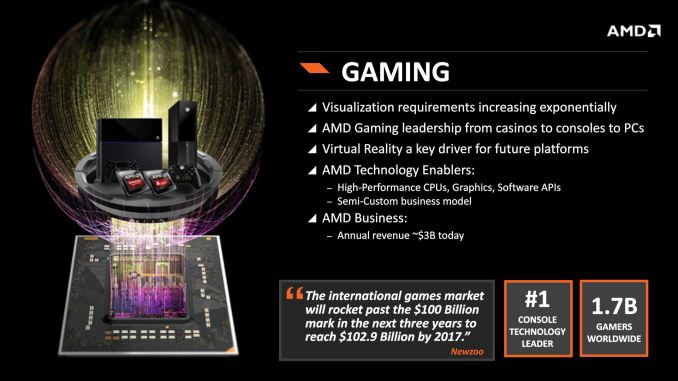 AMD of course is no stranger to gaming – they already attribute ~$3 billion in revenue to it – but AMD believes further growth is possible. They have a strong graphics IP portfolio, powerful silicon, and they are already in everything from casinos to high-end PCs, and everything in between. AMD is banking particularly hard on virtual reality through technologies such as LiquidVR, a somewhat risky affair (ask TV manufacturers about 3D TVs), but one that can potentially pay off well due to the high system requirements of VR.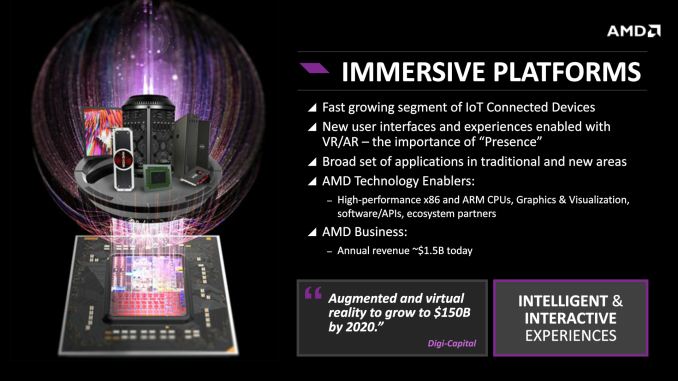 AMD believes their second growth opportunity is immersive platforms, which is sort of a catch-all for everything from IoT to VR; essentially anything with a more "personal" connection to the user than traditional PCs and mobile devices. This broad category means leveraging virtually the entire company, CPU and GPU side, x86 and ARM.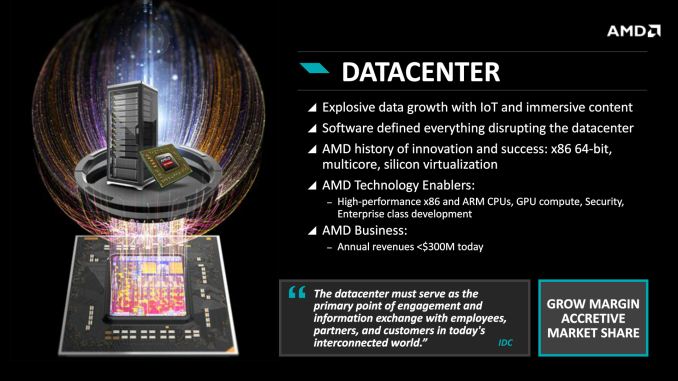 Last but not least, AMD considers datacenters to be their final opportunity for growth. After a solid run with the Opteron series and AMD's jump on 64-bit computing, the company has become increasingly locked out of the server and datacenter market – revenues from it are under $300M these days – and they're looking to get back in. A lot of this will be driven by technology, with AMD relying on their future Zen (x86) and K12 (ARM) CPUs to help improve their competitive positioning, along with some good old fashioned pragmatism in as much as AMD intends to take advantage of the shift to server-side/cloud computing.
Overall, none of the growth opportunities here are surprising given what AMD has been saying in the past. Whereas FAD 2012 marked AMD's intention to shift from being almost entirely PC focused towards being ambidextrous and leveraging semi-custom silicon, FAD 2015 presents AMD as continuing to chase many of those same opportunities which they have already been chasing for the last year or more. Ultimately the key to AMD's growth plans will rely on correctly predicting what opportunities they need to follow to grow – particularly rapidly expanding markets as opposed to stealing revenue from existing players – and then executing on that in a timely manner with solid hardware.