Hammer: Industry-Wide Support
Although the 4-way Opteron demonstration was interesting, it was the public demonstration of Hammer platforms that truly got us excited. AMD had reference boards from all of the major chipset manufacturers, as usual we've provided eye-candy in alphabetical order of course: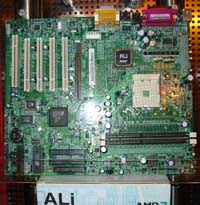 Click to Enlarge
ALi is making their presence known early on with their Hammer solution. Composed of the M1687 AGP 8X controller and ALi's latest South Bridge, it will be interesting to see if this chipset marks ALi's re-entrance into the desktop chipset market after mostly unsuccessful attempts with the Athlon.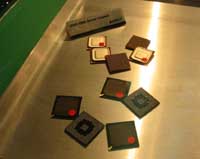 Click to Enlarge
AMD's 8000 series chipset isn't anything new but it will definitely be one of the first shipping platforms for the Hammer.