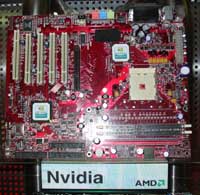 Click to Enlarge
NVIDIA is showing their support with a very early showing of their CK8 chipset which will be a NV17 based nForce solution for the Hammer.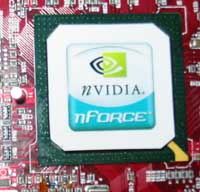 Click to Enlarge
What's very interesting about NVIDIA's chipset is that there doesn't seem to be any on-board frame buffer for integrated video. The reason this is such an important feature that is missing is because we have been hearing all along from chipset manufacturers that the latency introduced by having to use the Hammer's on-die memory controller effectively kills integrated graphics performance. Remember that with previous chipset designs with a unified frame buffer the memory controller was physically right next to the graphics processor (or a part of it), but now the graphics must go all the way to the CPU in order to get access to the memory controller and perform any memory reads/writes. Unless the graphics cores are modified significantly with much deeper buffers to take into account this change in latency, the performance of conventional integrated graphics solutions on Hammer will suffer. NVIDIA's lack of any on-board frame buffer on their reference CK8 board indicates one of two things:
1) The graphics core of the CK8 will be specifically designed around the added-latency memory accesses through Hammer (e.g. through deeper buffers), or

2) The board on display didn't feature integrated graphics much like the nForce 415-D today.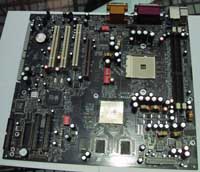 Click to Enlarge
We got a chance to take a look at the SiS 755 both during AMD's press conference and on the show floor. Unlike NVIDIA's solution the 755 reference board did have an on-board frame buffer as you can see in the picture below.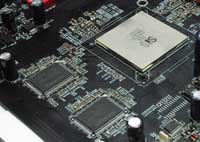 Click to Enlarge
The chipset will be shipping with the new 963 South Bridge which has integrated USB 2.0 and IEEE-1394 (Firewire) support. The chipset will be in mass production by the 4th quarter of this year. According to SiS, they're not seeing a lot of demand for the product but they're definitely being asked a lot of questions by OEMs. It seems like everyone is waiting to see if AMD can pull off what will end up being their most important product launch in their long history of CPU releases.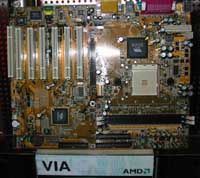 Click to Enlarge
Of course no story covering AMD chipsets would be complete without VIA and thus we have VIA's Hammer chipset - the K8HTA.