Java Server Performance
The SPECjbb 2013 benchmark has "a usage model based on a world-wide supermarket company with an IT infrastructure that handles a mix of point-of-sale requests, online purchases, and data-mining operations." It uses the latest Java 7 features and makes use of XML, compressed communication, and messaging with security.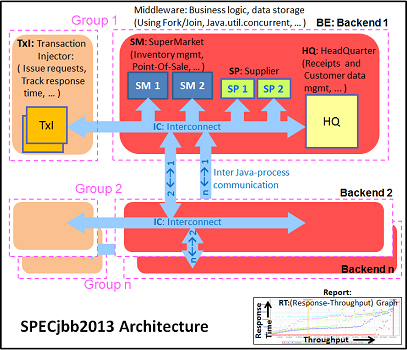 We tested with four groups of transaction injectors and back-ends. We applied relatively basic tuning to mimic real-world use. We used this JVM configuration setting for the systems limited to 32 GB (all Xeon E3):
"-server -Xmx4G -Xms4G -Xmn2G -XX:+AlwaysPreTouch -XX:+UseLargePages"
With these settings, the benchmark takes about 20-27GB of RAM. For the servers that could address 64 GB or more (Atom, Xeon D and Xeon E5), we used a slightly beefier setting:
"-server -Xmx8G -Xms8G -Xmn4G -XX:+AlwaysPreTouch -XX:+UseLargePages"
With these settings, the benchmark takes about 43-57GB of RAM. The first metric is basically maximum throughput.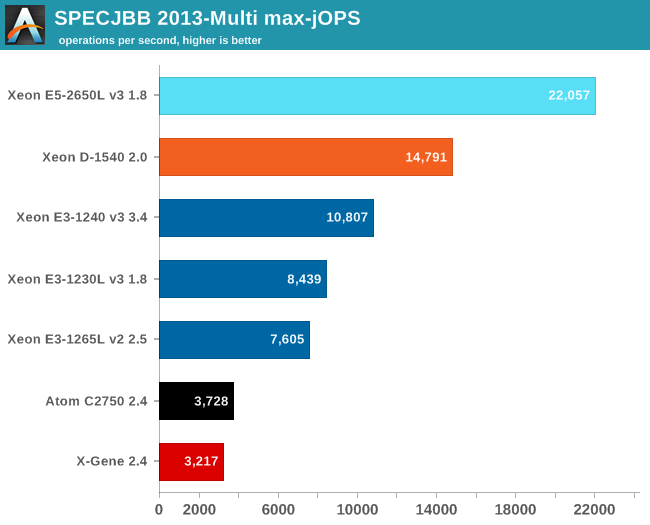 As long as you run enough JVMs on top your server, the Xeon D and Xeon E5 will not dissapoint. The Xeon D is at least 37% faster than the previous Xeon E3 generation, the Xeon E5 delivers 50% more.
The Critical-jOPS metric is a throughput metric under response time constraint.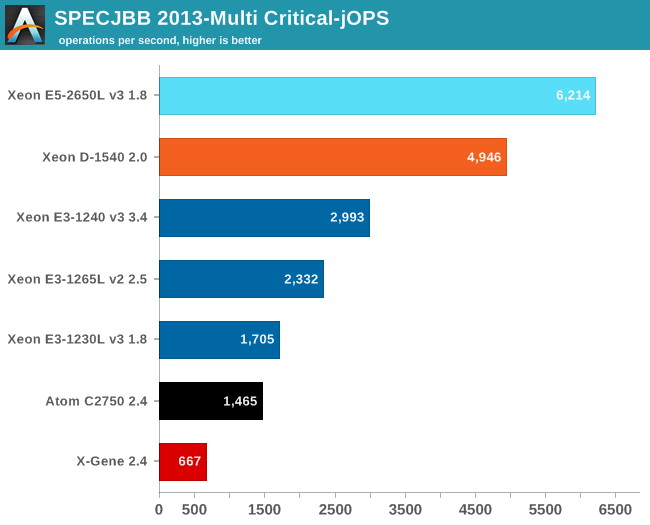 The Xeon D seems to be slightly hindered by the lack of memory bandwidth in the max throughput benchmark, but less than in our HPC benchmark. It is important to understand that maximum throughput is very important in a HPC benchmark, but for a Java based back-end server, the critical benchmark matters much more than the maximum one. The reason is simple: the critical benchmark tells you what your customers will experience on a daily basis, the maximum throughput benchmark descibes what you will get in the worst case scenario when your server is pushed to its limits.
In the critical benchmark, the Xeon D is at least 65% faster than any Xeon E3. The Broadwell core is a minor improvement over the Haswell core when you look at performance only (single threaded integer performance), but once it is integrated in a chip like the Xeon D, it is astonishing how much performance per watt you get. A 60-70% increase in performance per watt is a rare thing indeed.
SPECJBB®2013 is a registered trademark of the Standard Performance Evaluation Corporation (SPEC).