OpenFoam
Computational Fluid Dynamics is a very important part of the HPC world. Several readers told us that we should look into OpenFoam and calculating aerodynamics that involves the use of CFD software.
We use a realworld test case as benchmark. All tests were done on OpenFoam 2.2.1 and openmpi-1.6.3.
We also found AVX code inside OpenFoam 2.2.1, so we assume that this is one of the cases where AVX improves FP performance.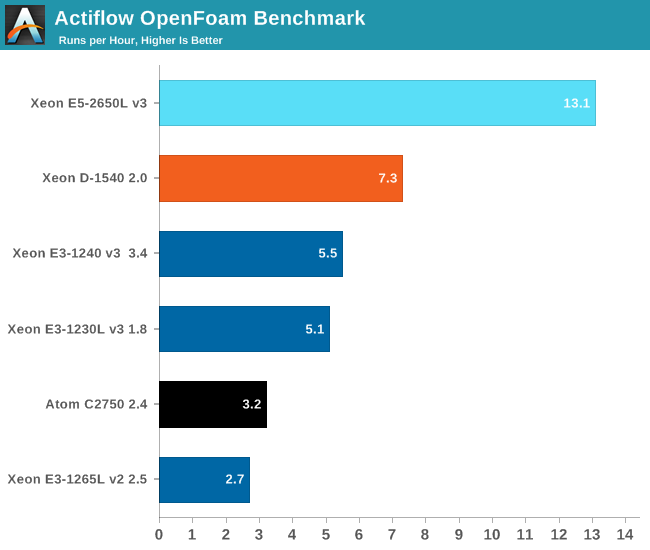 HPC code is where the Xeon E5 makes a lot more sense than the cheaper Xeons. The Xeon E5 is no less than 80% faster with 50% more cores than the Xeon D. In this case, the Xeon D does not make the previous Xeons E3 look ridiculous: the Xeon D runs the job about 33% faster. Let us zoom in.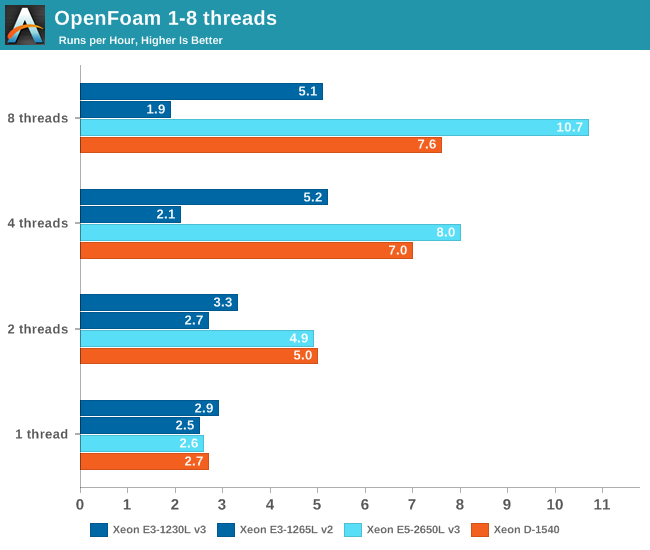 OpenFoam scales much better on the Xeon E5, and we've seen previously that a second CPU boost performance by 90% offering near linear scaleability. Double the number of cores again and you get another very respectable 60%. Eight cores are 34% faster than four, and 4.1 times faster than one.
Compares this to the horrible scaling of the Xeon E3 v2: 4 cores are slower than one. The Xeon E3 v3 fixed that somewhat, and doubles the performance over the same range. The eight cores of the Xeon D are about 2.8 times faster than one - that is decent scaling but nowhere near the Xeon E5. There are several reasons for this, but the most obvious one is that the Xeon E5 really benefits from the fact that it has almost twice the amount of bandwidth available. To be fair, Intel does not list HPC as a target market for the Xeon D. If the improved AVX2 capabilities and the pricing might have tempted you to use the Xeon D in your next workstation/HPC server, know that the Xeon D can not always deliver the full potential of the 8 Broadwell cores, despite having access to DDR4-2133.