Web Server Performance
Websites based on the LAMP stack - Linux, Apache, MySQL, and PHP - are very popular. Few people write html/PHP code from scratch these days, so we turned to a Drupal 7.21 based site. The web server is Apache 2.4.7 and the database is MySQL 5.5.38 on top of Ubuntu 14.04 LTS.
Drupal powers massive sites (e.g. The Economist and MTV Europe) and has a reputation of being a hardware resource hog. That is a price more and more developers happily pay for lowering the time to market of their work. We tested the Drupal website with our vApus stress testing framework and increased the number of connections from 5 to 300.
We report the maximum throughput achievable with 95% percent of request being handled faster than 1000 ms.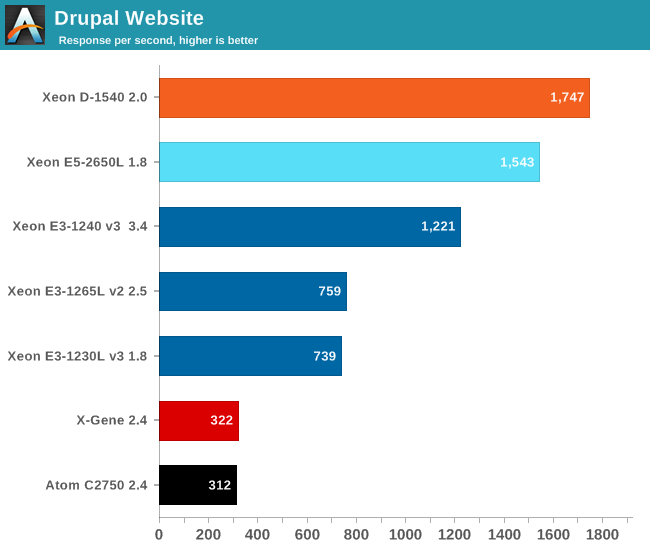 Let us be honest: the graph above is not telling you everything. The truth is that, on the Xeon D and Xeon E5, we ran into several other bottlenecks (OS and Database related) before we ever could measure a 1000 ms 95th percentile response time. So the actual throughput at 1 second response time is higher.
Basically, the performance of the Xeon D and Xeon E5 was too high for our current benchmark setup. Let us zoom in a bit to get a more accurate picture. The picture below shows you the 95th percentile of the response time (Y-axis) versus the amount of concurrent requests/users (X-axis). We did not show the results of the Atom C2750 beyond 200 req/s to keep the graph readable.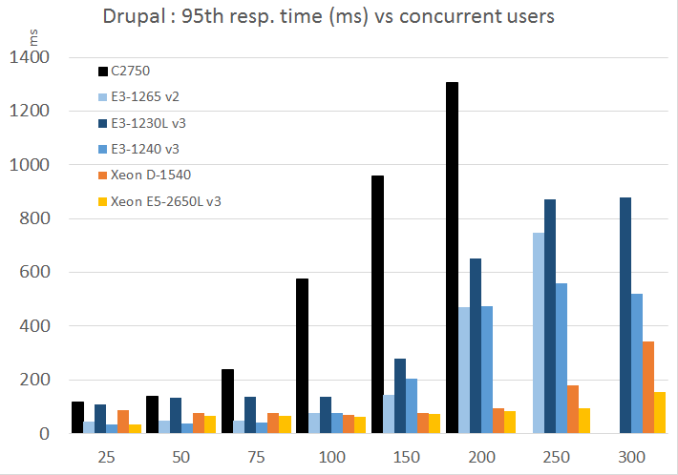 We warm up the machine with 5 concurrent requests, but that is not enough for some servers. Notice that the response time of the Xeon D between 50 and 200 requests per second is lower than at 25 request per second. So let us start our analyses at 50 request per second.
The Xeon E3-1230L clock speed fluctuates between 1.8, 2.3 and 2.8 GHz. It is amazing low power chip, but you pay a price: the 95th percentile never goes below 100 ms. The highly clocked Xeon E3s like the 1240 keeps the response time below 100 ms unless your website is hit more than 100 times per second.
The Xeon D once again delivers astonishing performance. Unless the load is more than 200 concurrent requests per second, the server responds within 100 ms. There is more. Imagine that you want to keep your 95th percentile. response time below half a second. With a previous generation Xeon E3, even the 80W chip will hit that limit at around 200-250 requests per second. The Xeon D sustains about 800 (!) requests per second (not shown on graph) before a small percentage of the users will experience that response time. In other words, you can sustain up to 4 times as manyhits with the Xeon D-1540 compared to the E3.