HTPC Credentials
Given the ECS LIVA X's fanless nature and the presence of Intel HD Graphics, we expect most purchasers to use it as a media playback machine / HTPC. Given the specifications, it is quite clear that we are not looking at a madVR capable machine, but one targeted at the entry-level / average HTPC user or someone looking for a HTPC to put in a second or third room (non-primary HTPC). There are two HTPC aspects that we will explore in this section, one related to network streaming (OTT services), and the other related to local file playback. Prior to that, we have a small sub-section dealing with refresh rate accuracy.
Refresh Rate Accurancy
AMD and NVIDIA have historically been able to provide fine-grained control over display refresh rates. The default rates are also quite accurate. Intel used to have an issue with 23 Hz (23.976 Hz, to be more accurate) support, but that was resolved with the introduction of Bay Trail and Haswell. As expected, the ECS LIVA X has no trouble with refreshing the display appropriately in the 23 Hz setting.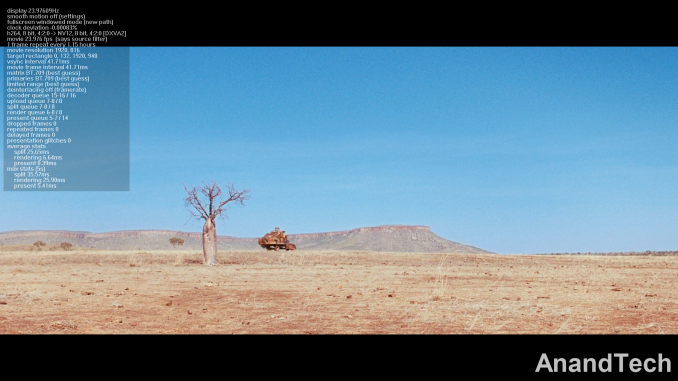 The gallery below presents some of the other refresh rates that we tested out. The first statistic in madVR's OSD indicates the display refresh rate.
Network Streaming Efficiency
Evaluation of OTT playback efficiency was done by playing back our standard YouTube test stream and five minutes from our standard Netflix test title. Using HTML5, the YouTube stream plays back a 720p encoding, while Adobe Flash delivers a 1080p stream. Note that only NVIDIA exposes GPU and VPU loads separately. Both Intel and AMD bundle the decoder load along with the GPU load. The following two graphs show the power consumption at the wall for playback of the HTML5 stream and the Adobe Flash stream in Mozilla Firefox (v 35.0). The Flash plugin version used for benchmarking was 16.0.0.257. GPU load was around 36.04% for the HTML5 stream and 23.34% for the Flash stream.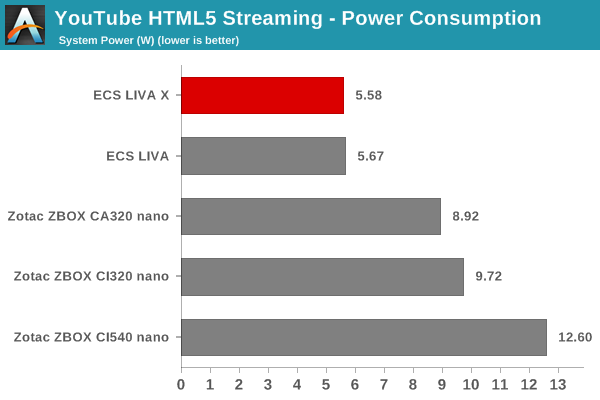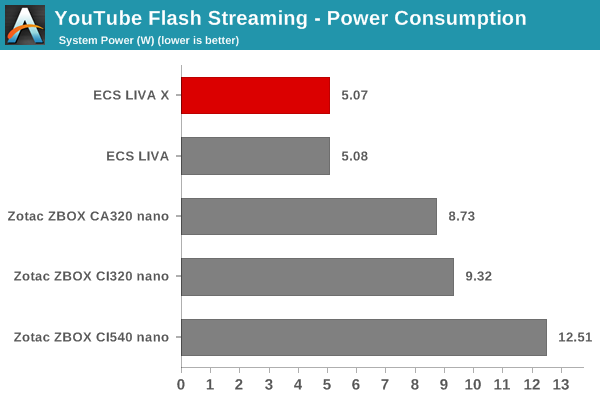 Netflix streaming evaluation was done using the Windows 8.1 Netflix app. Manual stream selection is available (Ctrl-Alt-Shift-S) and debug information / statistics can also be viewed (Ctrl-Alt-Shift-D). Statistics collected for the YouTube streaming experiment were also collected here. GPU load in the steady state for the Netflix streaming case was 3.82%.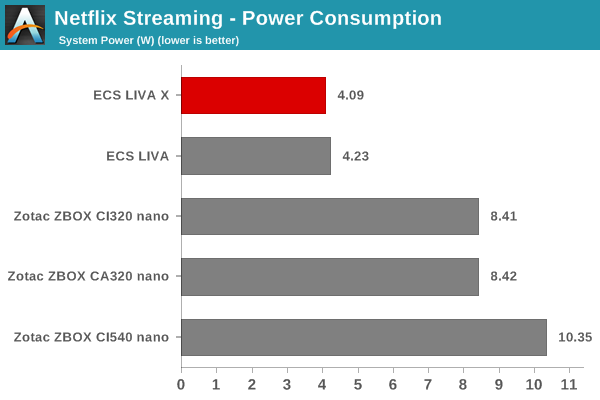 The ECS LIVA X easily manages to be the most power efficient of the passively cooled PCs that we have evaluated so far.
Decoding and Rendering Benchmarks
In order to evaluate local file playback in the ECS LIVA X, we concentrate on EVR-CP and Kodi. We already know that EVR works quite well even with the Intel IGP for our test streams. The decoder used was LAV Filters bundled with MPC-HC v1.7.7 for EVR-CP and hardware accelerated decoding enabled (default configuration) for Kodi 14.0
ECS LIVA X - Decoding & Rendering Performance
Stream
EVR-CP
XBMC
GPU Load (%)
Power (W)
GPU Load (%)
Power (W)
480i60 MPEG2
52.95
5.87
30.87
5.07
576i50 H264
48.12
5.81
56.95
5.81
720p60 H264
58.44
6.57
66.45
6.31
1080i60 MPEG2
85.72
7.96
82.44
7.21
1080i60 H264
95.96
8.62
86.87
8.09
1080i60 VC1
92.40
8.27
83.84
7.95
1080p60 H264
75.15
7.61
67.37
6.65
1080p24 H264
30.91
5.52
26.54
5.05
4Kp30 H264
81.67
7.83
45.93
6.05
The number of streams / decoder - renderer combinataions with issues is lower than what we had with the ECS LIVA - probably due to the slight bump in the clock speeds.
In our Zotac ZBOX CI320 nano review, I had erroneously mentioned that HD audio bitstreaming was not working for Bay Trail-M based systems. This turned out to be a pilot error - HD audio bitstreaming works if the drivers are directly downloaded off Intel's website.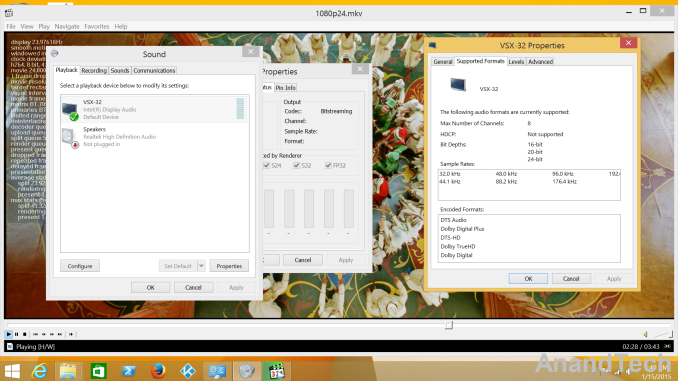 In addition to usage as a HTPC / media playback machine with Windows 8 / 8.1, OpenELEC is also well supported for users who don't want to pay the OS tax. The ECS LIVA X is a nice little media playback machine with decent enough CPU performance for those who don't have too much 60 fps interlaced content.