ABIT KR7A-RAID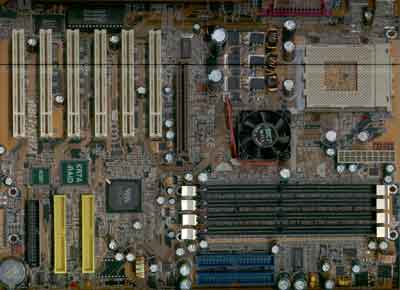 Click to Enlarge
ABIT KR7A-RAID

CPU Interface

Socket-A

Chipset

VT8366A North Bridge
VT8233 South Bridge

Form Factor

ATX

Bus Speeds

100 - 200MHz (in 1MHz increments)

Core Voltages Supported

1.100 - 1.850V (in 0.025V increments)

I/O Voltages Supported

3.5/3.65V

DRAM Voltages Supported

2.55 / 2.65 / 2.75 / 2.85 V

Memory Slots

4 184-pin DDR DIMM Slots

Expansion Slots

1 AGP Slot
6 PCI Slots

Onboard RAID

HighPoint HPT372 (RAID 0, 1, 0+1,span)

Onboard USB 2.0/IEEE-1394

N/A

Onboard Audio

N/A
It took ABIT a lot of time and hard work to gain their reputation among hardware enthusiasts, there is no way they would give it up without a fight. With increasing pressure from other manufacturers to produce more stable boards with more overclocking features, ABIT still managed to come up with a design that is still eye catching.
The moment you see the KR7A-RAID you will notice its 6 PCI slots and 4 DIMM slots; the most useful of the two being the 4 DIMM slots. As we have stated numerous times before, it's quite an engineering accomplishment to be able to have 4 DIMM slots on a DDR board like the KR7A-RAID. The board worked just fine with all slots populated.
As the name indicates, the KR7A-RAID features a HighPoint RAID controller. The only difference between the controller used on this board and what ABIT has previously used is its support for ATA-133. However even with multi-drive RAID arrays you will find it difficult to be limited by the ATA-100 spec. We've already covered the issues with this RAID controller in our i845 motherboard roundup.
On the overclocking side, the KR7A-RAID uses ABIT's trademark SoftMenu III setup. ABIT is the only manufacturer in this roundup to offer voltage adjustments for the CPU core, I/O, and memory. However, the memory voltage adjustment option only has 4 settings with a 2.85V maximum, whereas their AMD 760 board (KG7-RAID) provided more values.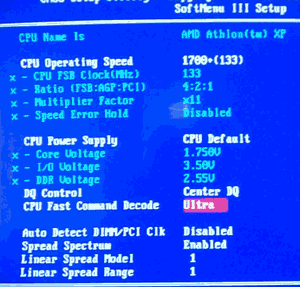 There is a heatsink and fan on the KT266A's North Bridge, which is also the case for almost all the other KT266A motherboards. Besides the two integrated USB ports at the back of the board among the I/O panels, ABIT also included the headers for the second and third USB ports on the left side of the board. All you need is plug in the extra USB ports and you are ready to go.
We had high expectations of the KR7A-RAID and after our testing we had even more positive things to say. The KR7A-RAID combines features, flexibility and stability in a package that we can easily recommend to anyone looking for a KT266A based motherboard.