AOpen AK77 Plus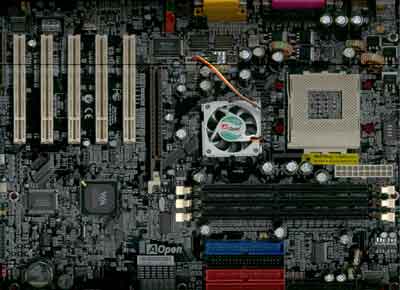 Click to Enlarge
AOpen AK77 Plus

CPU Interface

Socket-A

Chipset

VT8366A North Bridge
VT8233 South Bridge

Form Factor

ATX

Bus Speeds

100 - 248MHz (in 1MHz increments)

Core Voltages Supported

1.100 - 1.850V (in 0.025V increments)

I/O Voltages Supported

Not Configurable

DRAM Voltages Supported

Not Configurable

Memory Slots

3 184-pin DDR DIMM Slots

Expansion Slots

1 AGP Slot
6 PCI Slots
1 CNR Slot

Onboard RAID

N/A

Onboard USB 2.0/IEEE-1394

N/A

Onboard Audio

Analog Devices AD1885 AC'97 Codec
From the outside, it seems that AOpen's AK77 Plus would be a pretty decent competitor but there's always room for improvement.
The board comes in with 3 DIMM slots all of which can be populated without sacrificing stability. The AK77 Plus features on-board RAID courtesy of a Promise PDC20265R IDE RAID controller, for more information on this controller you can read about it in our i845 DDR Motherboard Roundup.
Our major complaints stem from poor overclocking options. In order to change FSB frequencies between 100MHz and 133MHz you must use a jumper and there is also no multiplier control from within the BIOS. There's no reason for AOpen not to offer these options within the BIOS as most competing manufacturers have been doing so for quite some time.
Another interesting fact we noticed was that the board was only providing our test Athlon XP CPU with 1.70V instead of the 1.75V default it was set to. This could result in instability, especially under stressful conditions.

In order to improve the design we'd suggest that AOpen consider implementing 100/133MHz FSB and multiplier control as options that can be easily adjusted from within the BIOS.