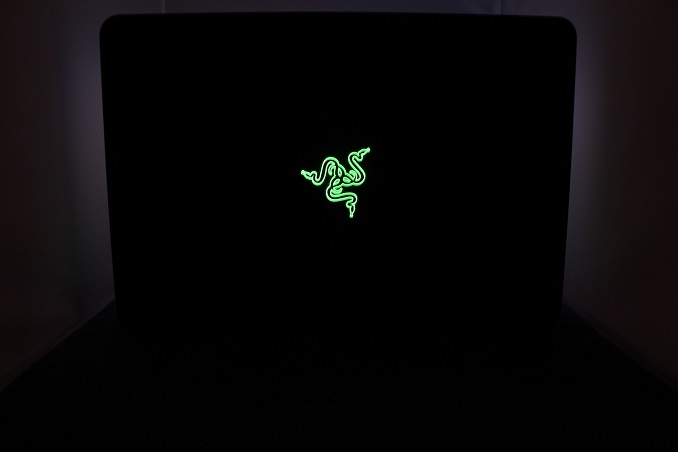 Introduction
Razer moved from being a peripheral maker to a system builder in 2012, with the original Razer Blade. Since then, they have evolved and tweaked their gaming laptop systems several times. While the original Blade was a 17 inch gaming laptop, later on a 14 inch model was introduced that caused a rename of the 17 inch model to the Razer Blade Pro. These two devices are still the only two laptops available from Razer, and in 2014 the Razer Blade got another refresh with the New Razer Blade being released in April of this year. The significant updates over the 2013 model are the display, moving from a (rather poor) 1600x900 panel to a 3200x1800 QHD+ IGZO display and an upgraded GPU to push all of the extra pixels they just added. The NVIDIA GeForce GTX 870M replaces the GTX 765M from the 2013 model.
Razer has achieved this update without changing their design philosophy for the Blade. The Blade is a powerful gaming system packed into a thin and (relatively) light form factor. The 2013 chassis and 2014 chassis are nearly identical in size, with the new model only 1mm (0.039") thicker and 150 grams (0.33 lbs) heavier than the outgoing model despite the significant increase in performance. Here's a breakdown of the old and new Razer Blades:
Razer Blade 14-Inch Specifications
2013
(Last Model)
2014
(New Model)
Processor
Intel Core i7-4702HQ
(4x2.2GHz + HTT, Turbo to 3.2GHz, 22nm, 6MB L3, 37W)
Intel Core i7-4702HQ
(4x2.2GHz + HTT, Turbo to 3.2GHz, 22nm, 6MB L3, 37W)
Chipset
Intel HM87
Intel HM87
Memory
8GB DDR3L-1600
8GB DDR3L-1600
Graphics
NVIDIA GeForce GTX 765M 2GB GDDR5
768 CUDA cores,
797 MHz/863 MHz core
4 GHz memory
128-bit memory bus

Intel HD 4600 Graphics
(20 EUs, up to 1.15GHz)
NVIDIA GeForce GTX 870M 3GB GDDR5
1344 CUDA cores,
941 MHz core
5 GHz memory clocks
192-bit memory bus

Intel HD 4600 Graphics
(20 EUs, up to 1.15GHz)
Display
14" LED Matte 16:9 900p
AU Optronics AUO103E
14" Glossy 16:9 3200x1800
Sharp LQ140Z1JW01 IGZO
Multitouch with LED Backlight
Hard Drive(s)
Samsung PM841 256GB
mSATA 6Gbps SSD
Samsung PM851 128/256/512GB
SATA M.2
Optical Drive
-
-
Networking
Killer Wireless-N 1202
Dual Band 2x2 802.11a/b/g/n
Bluetooth 4.0
Intel Wireless-AC 7260HMW
Dual Band 2x2:2 802.11a/b/g/n/ac
Bluetooth 4.0
Audio
Realtek ALC269 HD audio
Stereo speakers
Combination mic/headphone jack
Realtek ALC269 HD audio
Stereo speakers
Combination mic/headphone jack
Battery
70Wh
70Wh
Front Side
-
-
Right Side
USB 3.0
HDMI 1.4a
Kensington lock
USB 3.0
HDMI 1.4a
Kensington Lock
Left Side
AC adapter
2x USB 3.0
Combination mic/headphone jack
AC adapter
2x USB 3.0
Combination mic/headphone jack
Back Side
-
-
Operating System
Windows 8 64-bit
Windows 8.1 64-bit
Dimensions
13.6" x 9.3" x 0.66"
345mm x 235mm x 16.8mm
13.6" x 9.3 " x 0.70"
345mm x 235mm x 17.9mm
Weight
4.1 lbs
1.88 kg
4.47 lbs
2.03 kg
Extras
Webcam
Killer Networks wireless networking
Backlit anti-ghosting keyboard
2.0 MP Webcam
Razer Synapse 2.0 Software
10-point Multitouch Display
Backlit anti-ghosting keyboard
Warranty
1year limited
1 year limited
Pricing
$1799 for 128GB
$2200 for 128GB
$2400 for 256GB
$2700 for 512GB
With a starting price of $2199 for the 128GB model -- and really, let's just skip the 128GB and go start with the 256GB offering, as there's not much point in a gaming notebook with only 128GB of storage -- the Razer Blade is far from inexpensive, but for the price you can get a gaming laptop that is actually portable. There are certainly less expensive systems around, but few can pack this much power into such a small chassis.
As a comparison, The Alienware 14 inch laptop with a 1080p panel and GTX 765M GPU looks downright portly compared to the Razer Blade, with the Alienware having a 41.7mm (1.64") thick body and 2.77 kg (6.10 lbs) in weight. In case the numbers don't make it obvious, the Alienware is 2.3x thicker and 1.37x as heavy for the same 14 inch screen with a less powerful GPU. The Alienware 14 with a 256GB SSD does cost $450 less, but portability is clearly the strength of the Razer Blade. It is not as light as an Ultrabook, but if you need a more powerful system that you can still take with you, this is the laptop to consider.

Looking at the rest of the internals, there is not a lot to complain about if performance is what you are after. The Intel Core i7-4702HQ is the same Haswell quad-core 8-thread 37 watt chip found in the 2013 Razer Blade, and it features a base clock of 2.2 GHz with a maximum Turbo of 3.2 GHz. The only options for storage are all M.2 based SSD drives, with capacities from 128GB to 512GB. The Samsung PM851 found in the Blade is the same OEM version of the 840 EVO as the Surface Pro 3, and has excellent speeds as we will see later in the review.
The wireless card gets an upgrade to an 802.11ac model with the Intel Dual Band Wireless-AC 7260 model, which is a 2x2:2 card for a maximum connection speed of 867 Mbps. The only real complaint about the Razer Blade is the amount of RAM available. 8GB of DDR3L-1600 is generally enough for most gaming tasks, but for a laptop at this price point it would be nice to see at least an option to add 16GB or more. While the Blade is not a workstation class machine, the CPU inside does support all of the Virtualization options from Intel, but with only 8GB of memory the number of virtual machines you could run on here is pretty limited. One might also consider the ALC269 audio codec as being low on the absolute scale, but in is one of Realtek's highest 2-channel audio solutions with an embedded speaker amplifier.