After reading the previous pages of this review, you should already know that the Corsair Gaming K70 RGB is one of the most advanced keyboards ever made. It has practically endless customizability options, from macros and key remapping to timers and complex lighting effects. The user can set practically any key to perform almost any input action, no matter how complex it may be. If Corsair introduces the ability to record absolute mouse positions when programming macros, which we hope to see in future versions of the CUE software, then the Corsair Gaming K70 RGB should be able to perform every input action conceivable.
As for the lighting options, the programming capabilities are insane and we can imagine that some users will spend hours creating very complex visual effects. Thankfully, the ability to import profiles, actions, and lighting effects means you can simply visit Corsair's forum and download files that other users have created and potentially save yourself a lot of time and effort.
The only real problem with the Corsair Gaming K70 RGB is that it uses a completely standard layout; there aren't any extra keys to use for special functions. Of course, you can reprogram every single key but you will have to sacrifice at least one key if you want to introduce the manual switching of modes and/or profiles. You simply cannot keep every single key mapped to its original purpose and add advanced functions, unless you maintain a default profile and set the other profiles to initiate automatically once an application has been launched.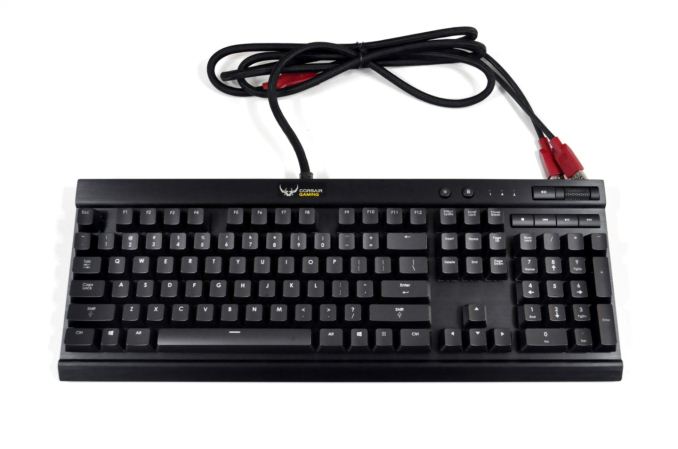 In terms of quality, the Corsair Gaming K70 RGB leaves us no room for complaints. The aluminum chassis has outstanding mechanical strength and makes the body of the keyboard extremely robust. Cherry MX switches are known to be of the highest quality and our texture analyzer verified that, as all typical keys required an actuation force between 45cN and 48cN. As with all such keyboards, the larger keys (especially the Space Bar) require less force to actuate, due to their size and weight. And with a 50 million keystrokes rating, these switches will most likely outlast the lifespan of the user, let alone the keyboard. Inside the keyboard, the assembly quality and the soldering job are immaculate, without a single weak spot to be found.
Corsair also seems quite proud of their new Corsair Utility Engine software and they have every reason to be. It is by far the most advanced keyboard tuning software that we have seen to this date. The programming options and capabilities are enormous and, should Corsair add just a few more options such as the recording of absolute mouse positions and on-the-fly macro recordings, it has the potential to become the best software for an advanced keyboard. As it is still an early version, we are hopeful that Corsair will add these options in the future, after addressing the already known bugs and quirks that testers have found of course.
To give you some idea of what's possible, the picture below depicts the gaming mode I have programmed for an online action-RPG. Keys 1-7, CTRL, Tab and Space control basic game functions, F1 to F4 initiate macros, and the six keys to the right of the main keyboard have been reprogrammed to execute quick text inputs of common battle chat messages. Space has also been remapped to L-Shift, as I personally find the combination of CTRL, Tab, and L-Shift uncomfortable. Programming the entire mode, including the macros, took me less than 10 minutes and dramatically increased my in-game performance and gaming comfort, as I no longer needed to juggle between hitting Shift and Tab with my pinky finger while keeping the rest of my fingers on the numeric buttons.
The Corsair Gaming K70 RGB has only one real enemy: its own price tag. Actually, the competition from other companies is minimal, with very few products (such as the still unavailable $170 Razer Chroma, which "ships in 3-4 weeks") capable of coming anywhere near the Corsair Gaming K70 RGB in most respects. The major competition that the Corsair Gaming K70 RGB faces comes from Corsair themselves.
With an MSRP price of $170, the Corsair Gaming K70 RGB is far more expensive than its predecessor, the Vengeance K70, which retails for $112 at the time of this review. The capabilities of the RGB version are on a completely new level of course, but the Vengeance K70 remains a perfectly good product for users that simply want a high quality mechanical keyboard and do not care about advanced programming and lighting features.
For those that do want a very advanced keyboard, the Corsair Gaming K70 RGB has another major adversary; the Corsair Gaming K95 RGB has an MSRP price of $190, just $20 higher. For just $20 more, you get a bunch of extra keys that can be programmed to switch profiles/modes, launch applications, execute macros, and pretty much do anything that your heart desires. Unless desktop space is a problem, we believe that the current pricing makes the Corsair Gaming K95 RGB is a far more sensible choice. But ultimately, the choice is yours: the K70 RGB is available now while you'll have to wait a bit longer for the K95 RGB.