HTPC Aspects - Network Streaming and Local Playback
The unique appearance of the ZBOX OI520 makes it a good candidate for use in an entertainment center. The fans are, for the most part, quite silent. Given the specifications, it is quite clear that we are not looking at a fully madVR-capable machine, but one targeted at the average HTPC user or someone looking for a HTPC to put in a second or third room (non-primary HTPC). There are two HTPC aspects that we will explore in this section, one related to network streaming (OTT services), and the other related to local file playback. Prior to that, we have a small sub-section dealing with refresh rate accuracy.
Custom Refresh Rates
We found last year that Haswell provided excellent display refresh rate accuracy, and reconfirmed that in multiple Haswell mini-PC reviews. Our experience with the ZBOX OI520 was also flawless.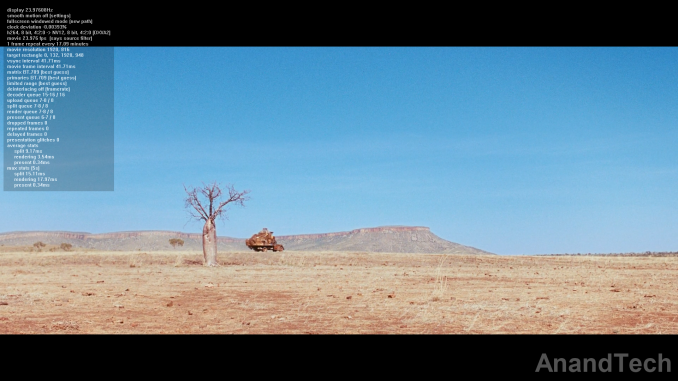 The gallery below presents some of the other refresh rates that we tested out. The first statistic in madVR's OSD indicates the display refresh rate. madVR itself drops plenty of frames to keep up with the playback requirements (which is expected given the system specifications), but those are not related to the refresh rate of the display.
Network Streaming Efficiency
Evaluation of OTT playback efficiency was done by playing back our standard YouTube test stream and five minutes from our standard Netflix test title. Using HTML5, the YouTube stream plays back a 720p encoding, while Adobe Flash delivers a 1080p stream. The power consumption at the wall as well as the GPU usage while playing them on Mozilla Firefox are provided in the graphs below.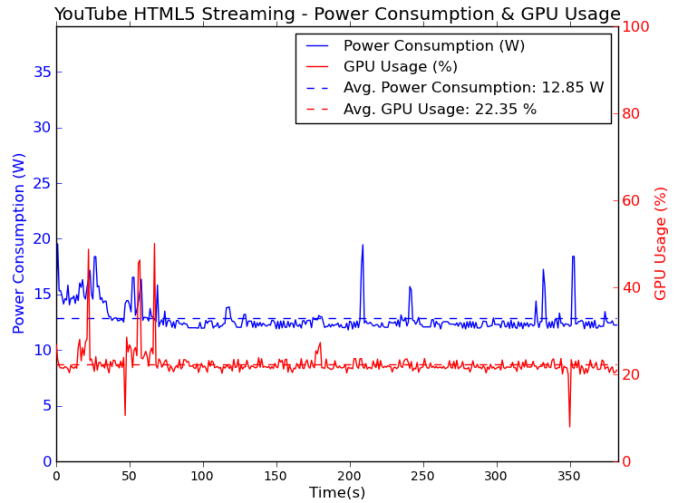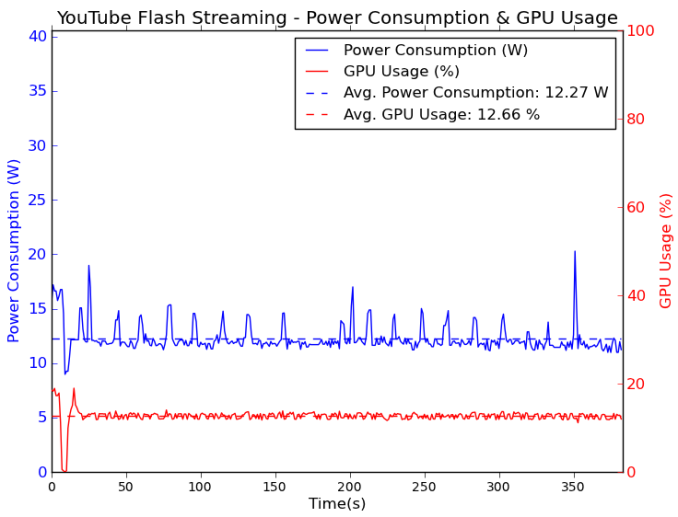 Netflix streaming evaluation was done using the Windows 8.1 Netflix app. Manual stream selection is available (Ctrl-Alt-Shift-S) and debug information / statistics can also be viewed (Ctrl-Alt-Shift-D). Statistics collected for the YouTube streaming experiment were also collected here.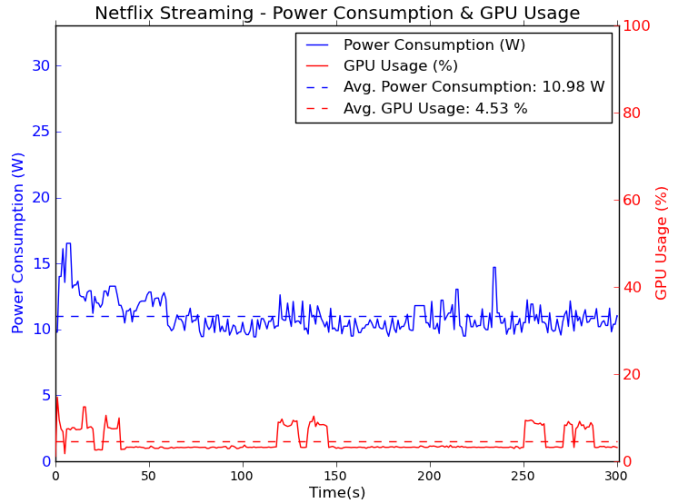 Playback using Adobe Flash is leaner on the resources compared HTML5 streaming. This is likely due to the fact that the HTML5 stream delivers a 720p version which needs scaling in addition to decoding for display on a 1080p screen. In any case, the power numbers for YouTube and Netflix streaming are quite low, similar to the NUCs.
Decoding and Rendering Benchmarks
In order to evaluate local file playback, we concentrate on EVR /EVR-CP, as well as madVR in its default settings. madVR also has an option to utilize the hardware scaler that is specific to Intel HD Graphics (instead of the specific algorithms that can be configured via its interface). The decoder used is from the LAV filters integrated in MPC-HC v1.7.3. The following table summarizes the GPU usage and power consumption at the wall in various cases. Numbers in bold indicate visible dropped frames. DXVA Scaling in madVR helps in playback of the 720p60 stream, but interlaced high frame rate content seems best suited for playback using EVR-CP / EVR only.
Zotac ZBOX OI520 Plus - Decoding & Rendering Performance
Stream
EVR
EVR-CP
madVR - Default
madVR - DXVA Scaling
GPU Load (%)
Power (W)
GPU Load (%)
Power (W)
GPU Load (%)
Power (W)
GPU Load (%)
Power (W)
480i60 MPEG2
30.93
13.02
32.37
13.26
71.29
22.84
63.53
17.65
576i50 H264
25.91
12.75
29.01
13.51
78.91
25.14
67.67
19.03
720p60 H264
34.41
13.93
40.38
15.35
99.28
29.18
77.14
25.85
1080i60 MPEG2
33.41
14.70
43.68
16.51
94.70
30.42
95.11
30.62
1080i60 H264
34.88
15.04
50.73
17.88
86.08
29.79
88.40
30.21
1080i60 VC1
34.89
14.95
47.44
17.03
92.75
30.35
93.31
30.41
1080p60 H264
35.24
15.03
49.11
17.35
90.24
30.56
98.43
27.44
1080p24 H264
13.66
11.62
19.75
13.17
35.13
15.83
35.17
15.48
4Kp30 H264
22.23
15.05
49.74
20.99
52.47
26.57
68.97
24.73