Miscellaneous Aspects and Concluding Remarks
The power consumption at the wall was measured with the display being driven through the HDMI port. In the graphs below, we compare the idle and load power of the ZBOX OI520 Plus with other low power PCs evaluated before. For load power consumption, we ran Furmark 1.12.0 and Prime95 v27.9 together. The unit could have been more power efficient compared to the Intel NUC kit if it had come with a SSD instead of the hard drive.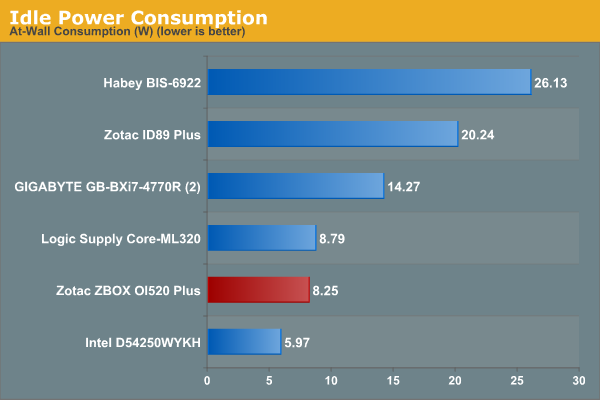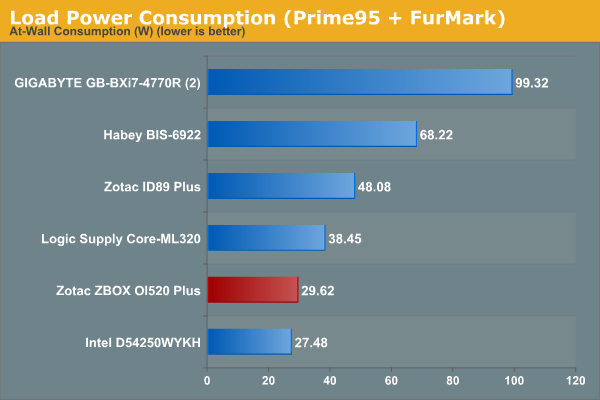 Given the active nature of the thermal solution, it is no surprise that the unit is able to handle full loading without any throttling. In fact, even after a hour of processor-intensive tasks (30 minutes of full CPU loading + 30 minutes of full CPU and GPU loading), the maximum temperature of the cores was only 71 C (as show in the gallery below).
Coming to the business end of the review, it is heartening to see motherboard / mini-PC vendors sit up and build upon Intel's NUC efforts. The OI520's performance is very similar to the high-end NUC, but it has additional I/O options (extra USB 2.0 ports, card reader etc.). For users looking to get a mini-PC that is not just a plain rectangular box, the ZBOX Sphere OI520 makes for a very good choice. Pretty much the only downside is that the Plus model makes for a questionable choice as it come with hard drives instead of SSDs and only one SO-DIMM slot occupied. Readers would be better off grabbing the non-Plus model and putting in a SSD / two SO-DIMM sticks for better performance.