The increasing popularity of home automation (HA) equipment as well as the upcoming wearable market opportunities have fueled the Internet of Things (IoT) revolution. In the home automation front, we have had a number of protocols / technologies vying to be the communication enabler. From a wireless perspective, Z-Wave has enjoyed lot of success amongst service providers, while ZigBee has had its share of vocal backers in the DIY market. However, it can be said without doubt that most of the high-volume HA devices (read, economical ones) have relied solely on Wi-Fi. That said, the importance of mesh-networking in the HA market can't be overstated. Even popular products like the Nest thermostat and the Philips Hue bulbs integrate ZigBee support (though Nest doesn't currently enable it).
IEEE 802.15.4 is a standard for low bandwidth personal area networks. It defines the PHY and MAC layers, leaving the upper layers open for development. ZigBee is one such specification with a custom upper layer. 6LoWPAN (IPv6 over Low Power Wireless Personal Area Networks) is yet another specification which defines the upper layers in such a way as to allow IPv6 packet transmission over 802.15.4 networks (creating a wireless embedded Internet).
The recent security vulnerabilities found in the LIFX connected light bulbs (which use the 6LoWPAN mesh network) stress the importance of having a secure IPv6 communication mechanism for connected devices that use the 802.15.4 standard. In order to improve compatibility while also ensuring that the wheel is not reinvented, some companies have come together to form the Thread Group and develop a new networking protocol to sit on top of the 802.15.4 PHY and MAC layers.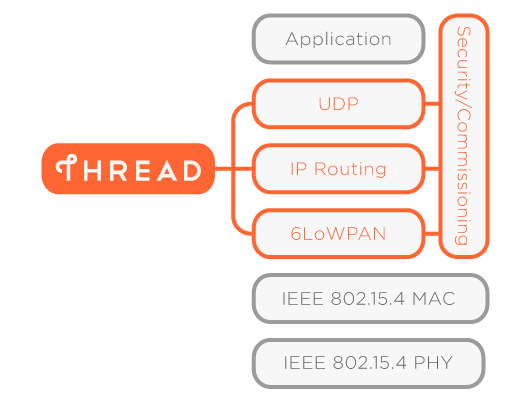 It must be stressed that Thread is not an application protocol or connectivity platform for different networks, but a new networking protocol. The advantage is that it is based on 802.15.4 - this means that existing devices which use ZigBee / 6LoWPAN etc. can easily migrate to Thread with the existing radios with just a firmware update. No new hardware is needed. The Nest thermostats are currently shipping with a version of Thread running on them.
The Thread Group claims that their new approach provides advantages (both technical and certification-wise) over all the other approaches / certification programs currently in the market (including ZigBee PRO / Z-Wave / AllSeen / AllJoyn / Open Interconnect Consortium etc.). There is no denying the fact that a more secure protocol for mesh networks is the need of the hour. It is definitely an advantage that it can work on existing 802.15.4 hardware. That said, in our opinion, 802.11ah (which is being pushed heavily by all current Wi-Fi silicon vendors) will be a force to reckon with. Whether it will form a backhaul network for 802.15.4, or completely obviate the need for it in home automation applications remains to be seen.
The Thread Group is backed by ARM, Big Ass Fans, Freescale Semiconductor, Nest Labs, Inc., Samsung, Silicon Labs and Yale Security. It is a not-for-profit group primarily aimed at educating developers and consumers through a product certification program for its mesh network technology. New members (in addition to the seven founding ones) will start to get accepted in Q3 2014 and the first set of specifications are expected to release later this year.
Source: Thread Group