Battery Life
Both Galaxy Tab Ses feature somewhat small batteries, a downside to pursuing a very thin chassis. The 10.5-inch model gets a 30Wh battery compared to 32.4Wh in the iPad Air, while the 8.4-inch model only has an 18.6Wh battery compared to 23.8Wh for the iPad mini with Retina Display.
For our web browsing workload, the battery size and power requirements of displaying mostly white web pages on a high resolution AMOLED display result in substandard battery life. Both devices deliver around 8 hours on a single charge, which isn't bad in a vacuum - it's just a regression compared to the Galaxy Tab Pro and far behind the other competition.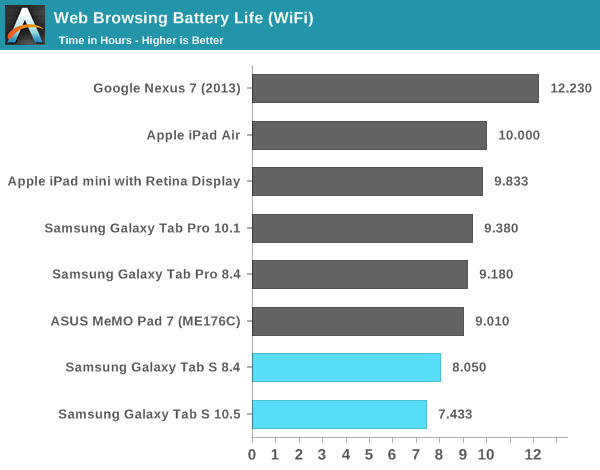 The story changes dramatically however once we look at video playback battery life:
Our video playback test is perfect for an AMOLED display as the final Harry Potter movie ends up having a lot of dark scenes in it. With only a small percentage of the display showing white, display power is reduced substantially, resulting in the best video playback battery life of any tablet we've ever tested. Even the tiny 8.4-inch Galaxy Tab S can last over 15 hours on a single charge.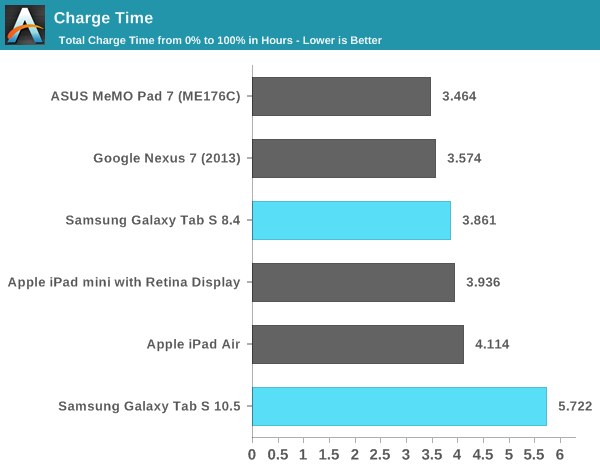 Charge time isn't particularly fast on any of the devices, but the 10.5-inch model in particular takes a while to make it to a full charge. The 10.5 will reach a 90% charge in just under 4 hours, but to make it to 97% takes another hour and the last 3% takes another 42 minutes on top of that. Usable charge time is competitive, but if you're obsessive about always charging to 100% the 10.5-inch model does take a while to get there.