ASUS CUV4X-DLS
ASUS CUV4X-DLS

CPU Interface

Socket-370

Chipset

VIA Apollo Pro133A
VT 694X North Bridge
VT 686B South Bridge

Form Factor

ATX

Bus Speeds

66 / 68 / 75 / 80 / 83 / 85 / 90 / 95 / 100 / 102 / 105 / 110 / 112 / 115 / 116 / 118 / 120 / 124 / 126 / 130 / 133 / 135 / 138 / 140 / 142 / 144 / 146 / 148 / 150 / 155 / 160 / 166 MHz

Voltages Supported

Memory Slots

4 168-pin DIMM Slots

Expansion Slots

1 AGP Pro Slot
5 PCI Slots (5 Full Length)
0 AMR Slots

On-board Audio

N/A

BIOS

Award Medallion BIOS 6.00
In early 2001, ASUS also saw the potential of the Apollo Pro133A chipset and decided to release their own SMP board using the chipset. The result is the CUV4X-DLS, a quality motherboard that is prepared for high-end server applications.

The most noticeable feature of the board is the SCSI controller instead of the IDE RAID setup we usually see in this market segment. ASUS has chosen the LSI LSA0610 32bit Ultra 160 SCSI controller for the CUV4X-DLS, providing two 68-pin Ultra 160 / Ultra-Wide SCSI connectors on the front edge of the board. With each channel supporting up to 16 devices, you can connect a total of 32 devices to the board.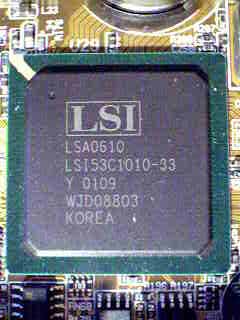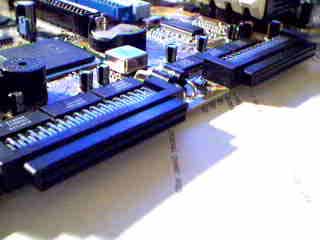 The LSI SCSI controller and the two SCSI connectors.
To further position the CUV4X-DLS in the server market, ASUS has also integrated an Ethernet controller, which comes in quite handy when designing a 1U or 2U server. The controller used on the CUV4X-DLS is the Intel 82559 controller with the Ethernet jack located within the ATX I/O panel, right above the USB ports.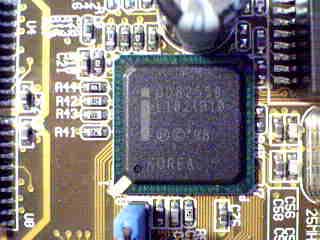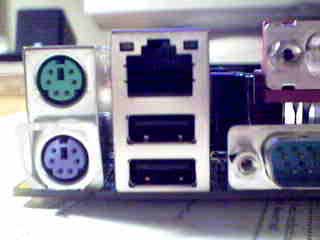 The Intel on-board Ethernet controller and connector
Like other ASUS boards, the CUV4X-DLS uses ASUS's own ASIC for hardware monitoring instead of that included in the 686B South Bridge. We're still not sure why ASUS goes through the extra trouble of this hardware monitoring setup however. The board is also outfitted with four DIMM slots so you have more flexibility in your memory configuration. An AGP Pro slot is also included, so you can use some of the high-end video cards that happen to require such a connector for added power. Of course, regular AGP 4X cards will work just fine as well.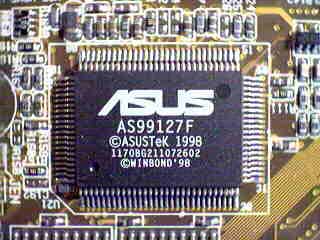 The ASUS ASIC for I/O control.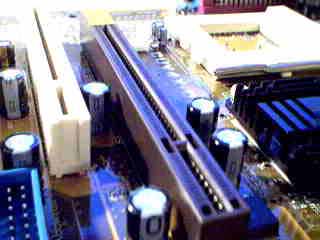 The AGP Pro slot.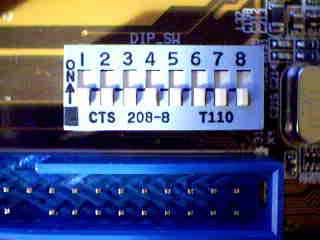 Dipswitches are still available on the board for overclocking.
The board is set by default to operate in jumperless mode, which it does just fine, but dipswitches are also included, mainly for use by OEM's. Performance of the board is quite good as well, as was overclocking. Even though the board does not feature any I/O or CPU core voltage tweaking, we were able to run the system at 148MHz FSB without giving up any stability.

Most SMP Apollo Pro133A boards do not require a terminator in the second CPU socket if you are running only one CPU, possibly due to cost cutting measures since the boards are already so cheap. The CUV4X-DLS is unique in this respect because ASUS has included such a terminator, possibly to increase stability.