ECS D6VAA
ECS D6VAA

CPU Interface

Socket-370

Chipset

VIA Apollo Pro133A
VT 694X North Bridge
VT 686B South Bridge

Form Factor

ATX

Bus Speeds

66 / 68 / 75 / 80 / 83 / 85 / 90 / 95 / 100 / 103 / 105 / 110 / 112 / 115 / 116 / 118 / 120 / 124 / 126 / 129 / 133 / 135 / 138 / 140 / 142 / 144 / 146 / 148 / 155 / 160 MHz

Voltages Supported

Memory Slots

4 168-pin DIMM Slots

Expansion Slots

1 AGP Slot
5 PCI Slots (4 Full Length)
1 CNR Slot

On-board Audio

Avance Logic ALC100P

BIOS

Award Modular BIOS 6.00PG
It's been a while since we last heard from Elitegroup, and this time they come back with a dual Socket-370 motherboard, the D6VAA, based on the Apollo Pro133A chipset. The board also features the Highpoint IDE RAID controller, the same one used on the ABIT VP6, supporting RAID 0, RAID 1, and RAID 0+1 configurations.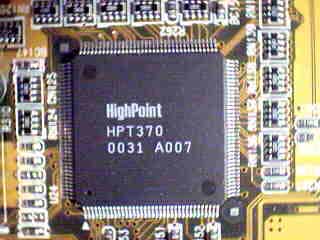 The Highpoint IDE RAID controller.
One thing to look out for is the space around the CPU socket. Some capacitors are close to the CPU sockets, so you should check to make sure your HSF units fit on the board if yours is larger than average. Performance of the board is decent, and the board is fairly stable, although certainly not the most stable tested here.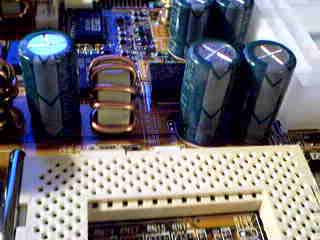 Some capacitors are very close to the CPU socket.
We also noticed that AGP4X did not function properly on our evaluation board, while, running the memory asynchronously to the FSB caused the system to become unstable.

Overclocking on the D6VAA is pretty good as well, as the board was able to run smoothly at 150MHz FSB without compromising stability. Unfortunately, the board does not have any voltage tweaking options that could potentially boost the overclocking results even further.
Overall, the D6VAA is a rock solid motherboard with good performance and reasonable stability. Overclocking was pretty good as well. For general users, the D6VAA should definitely be on the list of boards to consider, especially with ECS's low price.