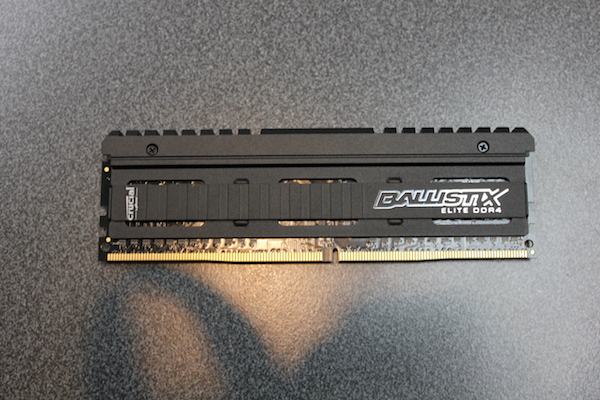 Obviously one of the biggest topics of Computex this year is DDR4. Crucial will be bringing their DDR4 to the consumer market under the Ballistix Elite brand with speeds of 2666MHz and 3000MHz in the beginning. The modules themselves will be 4GB or 8GB at first, although kits will range all the way to up to 32GB (4x8GB). The latencies are still up in the air as the product isn't finalized yet but from what I have heard the latencies will be about CL15 at first, although it's certainly possible that there will be different models with different latencies available. Availability is slated for August but pricing has yet to be announced.
The big thing about DDR4 is that it comes with a lower voltage of 1.2V compared to 1.5V that DDR3 uses by standard. That will result in lower power consumption, which ultimately means longer battery life for mobile devices. In addition, DDR4 is also bringing higher speeds because right at the beginning we are going to see products at 3000MHz, although Crucial told me that they have been able to get the modules to run at up to 3200MHz, so we might see even faster modules pretty soon. DDR4 will also bring support for higher densities (4Gb vs 1Gb), which will allow bigger for higher capacity DIMMs. While Crucial's offerings will be limited to 8GB at launch, they (well, Micron) has quad rank server DIMMs that go to up to 32GB but only at 2133MHz.
In addition to DDR4, Crucial also had the MX100 at their suite. We already reviewed the drive earlier this week when it officially launched, so there isn't really anything new to share, but Crucial was able to tell me that they are working on an SSD toolbox that should be available within a few months (I was told around September). This has been one of the only things missing from Crucial's SSDs, so it's great to see that they are responding to the public demand. The supply of MX100 should also be a lot better than the M500 when it launched, meaning that you shouldn't see any sold out tags at every retailer.