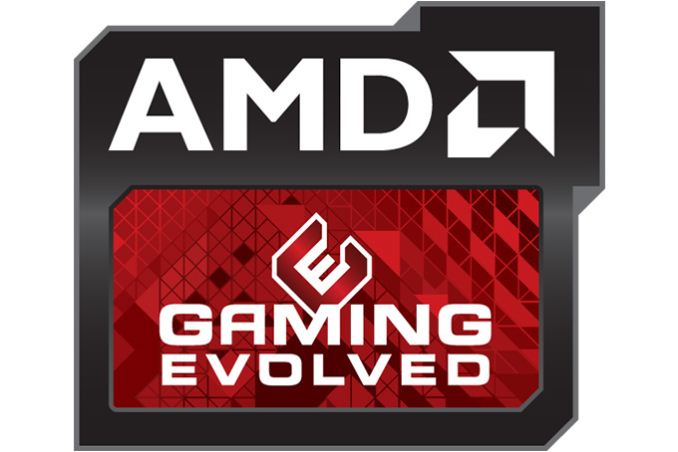 After letting their Never Settle Forever gaming bundle program slowly lapse over the past few months, AMD sends word this morning that they're going to be significantly refreshing the program. The updated program will now include virtually all of AMD's current discrete video cards and will be adding a number of new games to the program.
First and foremost, the latest iteration of the program will now cover almost the entirety of the Radeon 200 series. In short, every GCN based card will be covered, from the low-end $70 R7 240 right up to AMD's new flagship R9 295X2. In fact the only retail card not covered by this program is the R5 230, AMD's Radeon HD 6450 rebadge.
AMD Never Settle Forever Tiers
Video Card
Tier
Number of Free Games
Cur. Number of Games on Tier
R9 295X2
R9 290 Series
R9 280 Series
Gold
3
17+4
R9 270 Series
R7 260 Series
Silver
2
17+4
R7 250 Series
R7 240 Series
Bronze
1
10+4
R5 230
N/A
N/A
N/A
As was the case with the previous iteration of the program, the cards are still separated into three tiers: bronze, silver, and gold. Each tier gets a larger number of free games and a better selection of games within those tiers. This latest rendition of the program will see the R9 280 series, R9 290 series, and R9 295X2 in the gold tier. Elsewhere the R9 270 and even the R7 260 series qualifies for the silver tier, while the R7 250 and R7 240 fall under the bronze tier.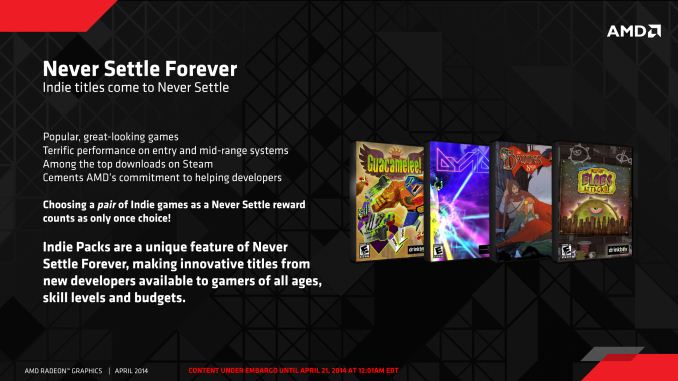 Meanwhile on the games front AMD has added several different games and thrown in a twist in how games are counted for the program. Alongside traditional full budget and bargain bin titles, AMD is also rolling in some indie titles into the program: Guacamelee, Dyad, The Banner Saga, and Tales from Space: Mutant Blobs Attack. The indie games – which are typically lower priced items to begin with – are bundled in a 2-for-1 fashion with 2 of the indie games counting for a single game selection.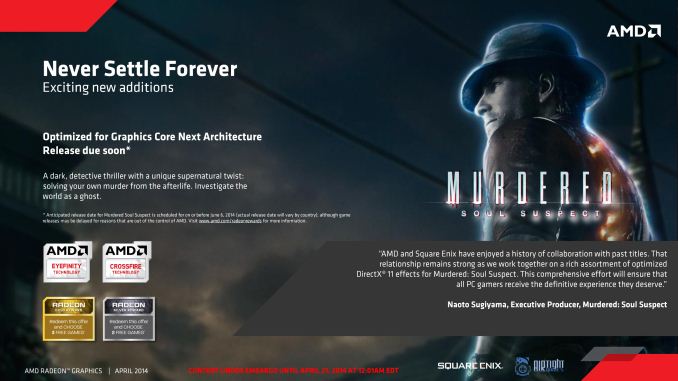 As for full budget titles, AMD's new anchor title for the program is the forthcoming Murdered: Soul Suspect, a GCN-optimized game which is due in June. Murdered, along with AMD's True Audio showcase game Thief, are only 2014 games in the program and are only available at the silver and gold tiers. The rest of the program is being fleshed out with a number of older titles – primarily from the Square Enix and Sega catalogs – ranging from relatively recent summer 2013 games like Company of Heroes 2 and Payday 2, to games going back as far as 2010 such as Darksiders. Many of these titles are essentially classic games at this point, particularly the games available at the bronze tier, so it's worth pointing out that while AMD is giving out free games their catalog isn't as aggressive as in previous Never Settle programs (though it's certainly still stronger than NVIDIA's Spring GeForce Bundle). AMD for their part says that this greater emphasis on classic titles is due to customer demand, though it goes without saying that this is certainly a cheaper option for AMD too.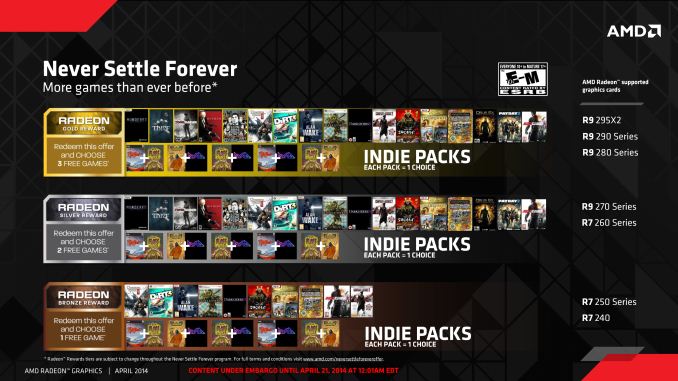 Moving on, as with the first iteration of the bundle AMD is allowing the offer to be banked for a few months, with the idea being to redeem the offer later for newer games. Vouchers from this wave of the bundle will be good until August 31st, a bit over 4 months from now. The availability of any individual game meanwhile depends on how long AMD's supply of keys last and how long AMD is allowed to offer the game. Based on what we saw for the previous iteration of this program and looking at Square Enix's and Sega's release schedule, we suspect the best move is to redeem sooner than later before keys for popular games run out. It doesn't look like either publisher is launching any further major games before September, and while AMD is promising to add further games to the program there doesn't appear to be much that AMD could add other than a handful of recent titles not already part of the program.
On a final note, as always with these bundle programs the distribution of vouchers is taking place at the retailer level. So while most of the usual suspects are participating, including Newegg, Amazon, and Microcenter, it's always a good idea to check with retailers to make sure a purchase qualifies.
Wrapping things up, it's interesting to note just how quickly AMD's supply situation has changed in the last couple of months. 2 months ago AMD's retail partners couldn't keep their $300+ cards in stock even at prices well over MSRP. Now those cards are near or back to their original MSRPs, and AMD is now offering a video game bundle to sweeten the deal. The computer industry is a history of boom and bust, and AMD's fortunes this year have certainly been a microcosm of that.