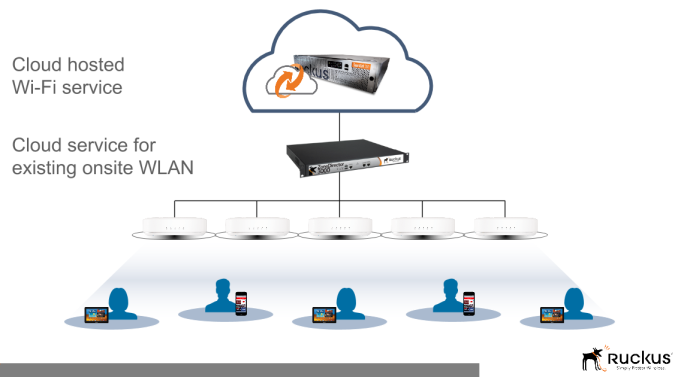 We have been expanding our coverage of wireless networking recently. In particular, there has been plenty of recent action in the enterprise Wi-Fi domain. One of the top requirements in this space is a robust and flexible management interface. In the traditional enterprise Wi-Fi network (be it in a small business or in a public coffee shop, say), a DIY configuration would involve multiple access points, WLAN controllers, policy and content engines, a RADIUS server etc.
Today, Ruckus Wireless is introducing 'Smart Wi-Fi as a Service' through the Ruckus Smart Access Management Service (SAMS) program. The main target market is public Wi-Fi providers (stadiums, convention centers, airports, shopping malls etc.) who need carrier-grade hotspots. The intention of SAMS is to combine the scale, efficiency and cost-effectiveness of cloud-based management with Ruckus's existing Smart Wi-Fi technology. By getting rid of the overhead associated with maintenance of anything other than the APs, the hotspot providers' expenses considerably go down with the SAMS managed public Wi-Fi access program.
Cloud based management also makes it easy to configure, deploy manage and monetize the hotspot users (thanks to the 'outsourced' analytics and demographics information). Ruckus provides two options under SAMS. The SAMS Cloud Onsite Wi-Fi costs $15 per AP per month, while the Hosted Wi-Fi costs $22.50 per AP per month. Service terms are for 1,3 or 5 years.
As WLAN management shifts to the cloud, technologies such as SAMS can help businesses reduce their TCO (total cost of ownership) for the Wi-Fi hotspot infrastructure. It also opens up recurring revenue opportunities for Ruckus's channel partners who sell their product to these businesses.
Source: Ruckus Wireless