The Test
Starting with today's article we've made a small change to our suite of games. We are replacing our last 2012 game, Hitman: Absolution with another Square Enix title: the recently released Thief. Both games make use of many of the same graphical features, and both games include a built-in benchmark that is a good approximation of what a worst case rendering load in the game will behave like, making Thief a solid replacement for the older Hitman.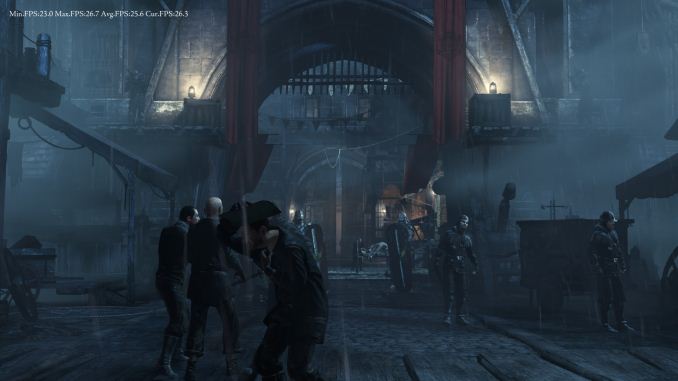 Meanwhile we've also updated all of our benchmark results to reflect the latest drivers from AMD and NVIDIA. For all AMD cards we are using AMD's R9 295X2 launch drivers, Catalyst 14.4. Catalyst 14.4 appears to be a new branch of AMD's drivers, given the version number 14.100, however we have found very few performance changes in our tests.
As for NVIDIA cards, we're using the just-launched 337.50 drivers. These drivers contain a collection of performance improvements for NVIDIA cards and coincidentally come at just the right time for NVIDIA to counter AMD's latest product launch.
We also need to quickly note that because AMD's Radeon R9 295X2 uses an external 120mm radiator, we've had to modify our testbed to house the card. For our R9 295X2 tests we have pulled our testbed's rear 140mm fan and replaced it with the R9 295X2 radiator. All other tests have the 140mm fan installed as normal.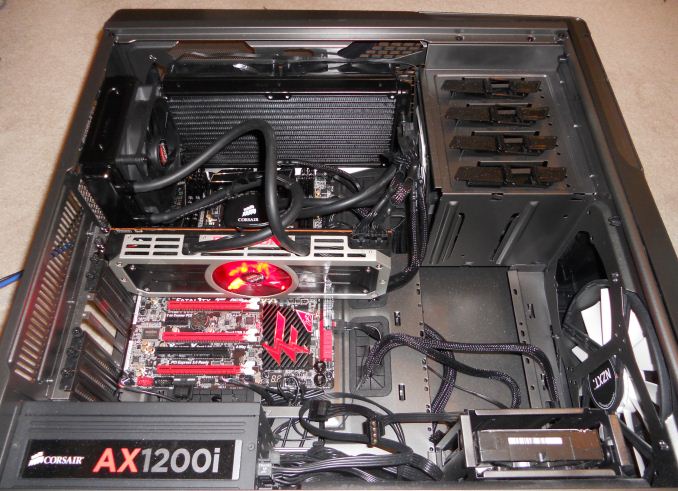 CPU:
Intel Core i7-4960X @ 4.2GHz
Motherboard:
ASRock Fatal1ty X79 Professional
Power Supply:
Corsair AX1200i
Hard Disk:
Samsung SSD 840 EVO (750GB)
Memory:
G.Skill RipjawZ DDR3-1866 4 x 8GB (9-10-9-26)
Case:
NZXT Phantom 630 Windowed Edition
Monitor:
Asus PQ321
Video Cards:
AMD Radeon R9 295X2
AMD Radeon R9 290X
AMD Radeon R9 290
AMD Radeon HD 7990
AMD Radeon HD 6990
NVIDIA GeForce GTX Titan Black
NVIDIA GeForce GTX 780 Ti
NVIDIA GeForce GTX 780
NVIDIA GeForce GTX 690
NVIDIA GeForce GTX 590
Video Drivers:
NVIDIA Release 337.50 Beta
AMD Catalyst 14.4 Beta
OS:
Windows 8.1 Pro