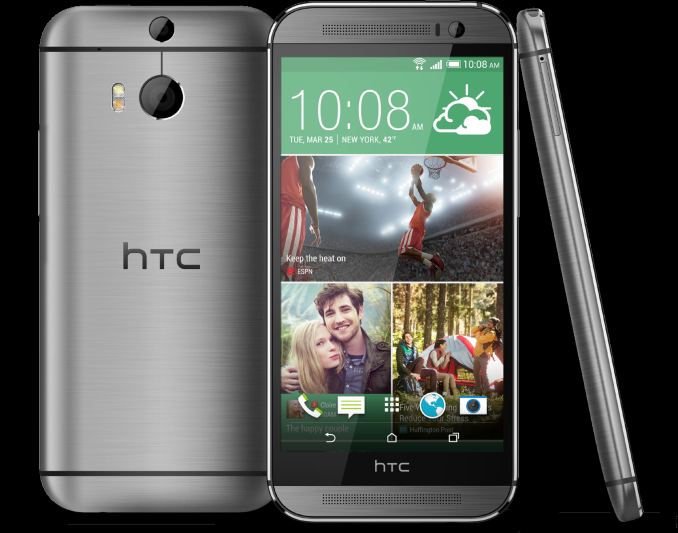 HTC's struggle in the smartphone OEM space has almost become a constant in the past few years, with a dramatic fall from the top of sales and market share in many regions around 2011, to now. While the One line in 2012 was hoped to be the reinvention that would bring HTC back, Samsung effectively dominated 2012 with the Galaxy S3 and Note 2, and while the HTC One/M7 in 2013 was a ground-breaking phone with great critical acclaim, HTC posted its first ever loss.
That brings us to the new One, one of the most leaked devices ever. While the hype surrounding the One (2014) doesn't quite approach Moto X levels, the leaks have certainly served to fan the hype in many ways. As always, the best way to get all of this out of the way is a table to show the specs. Interestingly enough, the Asian SKU will get the MSM8974ACv3 SoC, which is the 2.45 GHz bin of the Snapdragon 801. At any rate, all the relevant information for international units is below.
| | | |
| --- | --- | --- |
| | HTC One (2013) | HTC One (M8) |
| SoC | APQ8064AB 1.7 GHz Snapdragon 600 | MSM8974ABv3 2.26 GHz Snapdragon 801 |
| RAM/NAND | 2 GB LPDDR2, 32/64GB NAND | 2GB LPDDR3, 16/32GB NAND + microSD |
| Display | 4.7" SLCD3 1080p | 5" 1080p LCD |
| Network | 2G / 3G / 4G LTE (Qualcomm MDM9x15 UE Category 3 LTE) | 2G / 3G / 4G LTE (Qualcomm MDM9x25 UE Category 4 LTE) |
| Dimensions | 137.4 x 68.2 x 9.3mm max / 4mm min, 143 grams | 146.36 x 70.6 x 9.35mm max, 160 grams |
| Camera | 4.0 MP (2688 × 1520) Rear Facing with 2.0 µm pixels, 1/3" CMOS size, F/2.0, 28mm (35mm effective), 2.1 MP front facing | 4.0 MP (2688 × 1520) Rear Facing with 2.0 µm pixels, 1/3" CMOS size, F/2.0, 28mm (35mm effective) and rear depth camera, 5MP f/2.0 FFC |
| Battery | 2300 mAh (8.74 Whr) | 2600 mAh (9.88 Whr) |
| OS | Android 4.4 with Sense 5.5 | Android 4.4 with Sense 6 |
| Connectivity | 802.11a/b/g/n/ac + BT 4.0, USB2.0, GPS/GNSS, MHL, DLNA, NFC | 802.11a/b/g/n/ac + BT 4.0, USB2.0, GPS/GNSS, MHL, DLNA, NFC |
| SIM Size | MicroSIM | NanoSIM |
As seen by the table, going from the One 2013 to One 2014 is mostly a jump in platform, size, and battery. Previous pain points like the lack of microSD expansion are gone, although I find it disappointing that HTC has decided to view microSD as a way to cut costs on internal NAND rather than a supporting feature, although it remains to be seen if the 32GB SKU will remain standard on the US operator variants. Some of the disappointment also carries over to the camera, which retains the same sensor from last year when it's become clear that while larger pixel size was a great boon to low light spatial resolution and quality, it came at a great cost to low ISO, daytime spatial quality. HTC has also cut out OIS as they claim that the dual camera system doesn't work with OIS. While the HTC One 2013 was tall, this is even taller. While it may not be as wide as a phablet, it's almost as tall as one, something that makes the top-mounted power button incredibly hard to justify, especially with its awkward positioning on the top right.
While those definitely hurt the new One's first impressions, there's surprisingly a lot to like. The new design, which might have seemed rather "inspired by nature" in photos, is quite striking in person to see, especially with the brushed gunmetal grey finish. The new edges, reminiscent of the 8X, take the all-metal unibody design even further should feel great in the hand, and the size/height concerns are lessened by the new motion gestures that allow double tapping or swiping up with the screen off to turn on the display. While daytime spatial resolution is unlikely to be any better than before, the new depth camera enables some potentially interesting bokeh effects that other phones are unlikely to be able to pull off without requiring still subjects and long shot to shot latency. An example of this bokeh effect, called "UFocus" can be seen above and below. There are other features that are also enabled by the depth camera, such as some perspective shift/warp effects and seasons, which add some rather odd effects and change the color balance. I'm not quite sure who asked for seasons, but if you ever wanted to have 3D leaves falling through a photo, it's there. Something a bit less gimmicky is the copy and paste face feature, which leverages the depth camera to be able to accurately replace faces based upon another face in a photo, which could also have great potential for hilarity.
Camera aside, HTC seems to have made solid improvements upon the 2013 One. The dual-color temperature LED flash first seen in the iPhone 5s has made it into the 2014 One, and the front facing camera has been improved with a new 5MP module. The speakers are now even louder with better bass due to a new amplifier/speaker protection IC and newer speaker modules. Sense 6 is also a solid improvement upon Sense 5.x, with improved Blinkfeed that can adjust feed content based upon social network activity and a skin that heavily utilizes the transparent status bar introduced with Android 4.4, and further flattening of the UI with fewer gradients than before. The buttons are also much less flush than before, a major friction point in the 2013 One. The Snapdragon 801 means that battery life will be dramatically improved from the 2013 One, and while the on screen buttons means that there's a lot of "wasted" bezel area where capacitive buttons could be, it does mean that a three button layout is used again. HTC is also continuing its Advantage program, which gives 50GB of Google Drive storage and one free screen replacement within the first six months of purchase if the display is shattered.
Ultimately, HTC has solidly improved upon the 2013 One, but in some ways the 2014 version is a bit of a disappointment, something that was almost guaranteed to happen by virtue of how impressive the previous version was with its all-metal unibody build, a camera that was different for the right reasons, and speakers that greatly improved the media consumption experience. Ultimately though, it seems that the two major flaws of the 2013 One, its tall profile and poor daytime camera resolution, have been carried forward. Whether those two flaws are too great to bear compared to everything else on offer is another question entirely, and one that remains to be seen.
Edit:
I thought I had posted this, but HTC managed to launch the AT&T, Verizon, and Sprint variants by 1PM EST, the same day as the announcement. Verizon's rumored exclusive only applies to retail sales, and they have a two week exclusive before other carriers can sell the One M8 at retail locations. This means that AT&T and Sprint will only have the phone for sale online until April 8th.
Also, the Developer Edition and Google Play Edition have both been launched, although they won't be available for a few weeks. The GPe will be the 32GB SKU for 699.99 USD. The Developer Edition should be the same SKU for 649.99 USD. The GPe supports 850/900/1800/1900 MHz GSM, 850/AWS/1900/2100 WCDMA, and 700/850/AWS/1900/2600/1800 on LTE, which means bands 17, 5, 4, 2, 7, and 3, respectively. It should be able to do carrier aggregation on bands 4+17 and 2+17.