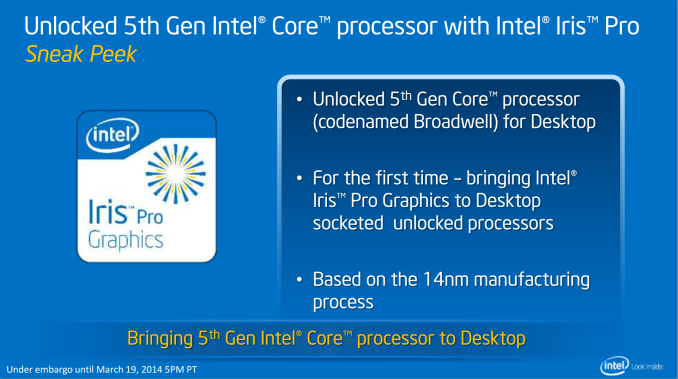 In a somewhat uncharacteristic turn from Intel, we were hooked up and loaded in to a press conference call this week regarding the announcement of some exciting new products coming to market. The purpose of the press conference call was to explain some new technologies coming to the scene, as well as Intel stating that they are listening to their userbase, including enthusiasts. As an enthusiast, these announcements make me very excited, although they do produce more questions than they answer.
The announcement is the introduction of a socketed version of Iris Pro, coming to Intel's Broadwell platform.
So the first big thing here is Iris Pro coming to a socketed platform, which we have requested since the release of Crystal Well BGA parts in devices like the Apple iMac and GIGABYTE BRIX Pro. This should allow users to build SFF socketed systems with Intel's highest end integrated graphics. What was not mentioned was if this will be a new Iris Pro for Broadwell, or just another Iris Pro HD 5200 part with a Broadwell CPU.
The second big part from this one announcement is that the CPU is said to come fully unlocked. This should mean that the CPU multiplier, CPU strap, memory and the uncore should be fully adjustable - Intel have told us that this part will have a similar set of overclocking tools as the other unlocked parts. Intel are not disclosing what the limits are or what is expected, and equally no information regarding the release date, whether this CPU will come with the Broadwell CPU launch or at a later date afterwards.