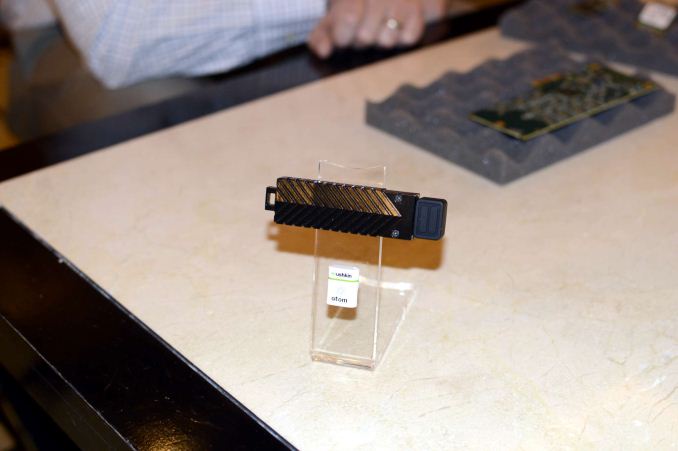 One of the first products we saw at Mushkin's suite is their final USB 3.0 USB stick with a SandForce SF-2281 controller. Not everyone needs ultra-high performance from a USB stick, but if 39K IOPS of random read/write performance sounds enticing, this could be your solution. The Ventura Ultra has been quite popular apparently, remaining sold out at most online stores, and Mushkin is now brining a 480GB model to the party to join the already available 60GB, 120GB, and 240GB capacities.
From a technology standpoint, besides the use of a SandForce controller on a USB stick, the big news with the 480GB Ventura Ultra is the switch to 128Gbit NAND die, which accounts for the doubling of capacity. The Ventura Ultra line also operates in UASP mode, which improves performance substantially and helps to provide SSD levels of performance despite using USB 3.0 (as opposed to SATA).
The target market for Ventura Ultra is more for IT professionals looking for a fast and small "tool kit" device, or perhaps users looking for a small and portable USB-based OS. Pricing and availability weren't given, but while SF-2281 is pretty old news now, it's still far faster than anything else in the USB stick market. Read/write performance is rated at up to 450/445 MB/s, and while Mushkin didn't list prices, at least one online reseller is selling the 240GB model at $299.
As for the Atom, no, we're not talking about Intel's Atom CPU/SoC but rather a second ultra-small USB stick. It's the sort of form factor that allows you to leave the stick plugged into a notebook even when you're putting it in a bag without too much concern for damage. Mushkin promises "big USB 3.0 speeds" despite the tiny size…and they at least partially deliver.
They gave us their product brochures on an 8GB Atom stick, so I was able to run a few quick tests. Write speed for a large 303MiB file ended up pretty poor at just 5MB/s average. Read speeds on the other hand were far more promising – after rebooting, I measured read speeds off the drive for the same file of over 80MB/s. Getting a bunch of useful files on the Atom initially may require some time and patience, but at least copying them back off again won't be nearly as bad.
It's frankly pretty crazy to think just how much storage we're now able to fit into an ultra-small device, as the Atom is available in 8GB, 16GB, and 32GB models. 19.8mm x 16.5mm x 7.5mm isn't all that much larger than a standard USB connector. In fact, the actual flash NAND sits on the opposite side of the USB contacts, and the only reason for the slight protrusion from the side of your laptop is to give you something to grab when removing the Atom. The 8GB model is already available online for $10, so I suspect availability of the other capacities will come soon.