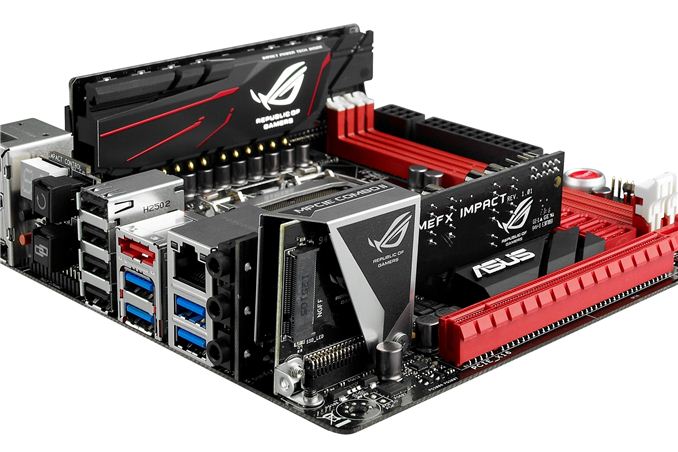 In previous generations, the ASUS Republic Of Gamers (ROG) range has been split across three models – the micro-ATX Gene, the gaming oriented Formula and the more overclocker friendly Extreme. With Haswell and the Z87 Chipset there are two new members to the family: the budget Hero and the miniature Impact. Today we review the Impact, designed to hold true the ROG philosophy in a 17 cm x 17 cm PCB.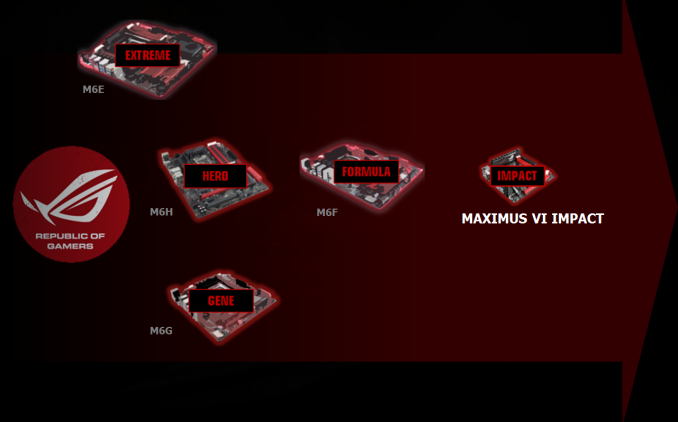 ASUS Maximus VI Impact Overview
The Impact is more expensive than other mini-ITX boards, and at $225 it competes in a serious price bracket with both micro-ATX and full sized ATX brethren. One could argue that being a small form factor product produces a price premium for having to engineer the hardware on a smaller PCB, and that there is potential for it to lack many of the features of full-sized ATX motherboards. ASUS has attempted to engineer the Maximus VI Impact to dispel myths like these.
To start, the right angled power delivery design we initially saw on the P8Z77-I Deluxe is back, this time with Blackwing 60A chokes and 10K black caps, similar to other boards in this price segment. The audio codec is supplied on a custom built PCB in order to provide enough space for filter caps and appropriate DACs to go with the SupremeFX audio philosophy and reported a 107.8 dBA SNR in our testing. The integrated 802.11ac WiFi, a feature on a few ATX boards around this price point, is combined on an mPCIe Combo II card with support for M.2 NGFF SSDs. Along with an Intel i217 Ethernet controller there are four SATA 6 Gbps ports (PCH driven), 1 eSATA port, six USB 3.0 ports, six USB 2.0 ports, four 4-pin fan headers and an 'Impact Control' PCB on the RearIO to support ROG Connect, USB BIOS Flashback, MemOK and a ClearCMOS button. Having four 4-pin fan headers on a mini-ITX is almost unheard of.
On the face of it, outside of the ASUS Maximus VI Hero, you would be hard pressed to find hardware of this variety on a motherboard for cheaper than the Impact. Aside from the hardware, we also get the software: ASUS' Dual Intelligent Processors come in again allowing for optimization of overclocks, power usage and fan controls. Alongside perennial software like BIOS Flashback, USB 3.0 Boost, WiFi Go and GameFirst II there are new additions: Sonic Radar and RAMDisk. The purpose of Sonic Radar is audio spatial location, allowing FPS players to tell where their enemies are coming from: an onscreen 7.1 if you will. RAMDisk essentially bypasses all the $15-$30 tools you can buy online and allocate up to 75% of the total RAM in your machine as a RAMDisk and set up folder mirroring to speed up gaming loading times. The BIOS also gets a Secure Erase feature, allowing users to restart their SSD performance without using a Linux distro or other in-OS tools.
Benchmark wise, the Impact uses MultiCore Turbo like most motherboards in the Z87 era, and the efficiency was good. I had a few issues with DPC Latency – this was initially from a Java update (AI Suite now uses Java, not Flash) but there was still something in the causing an issue to peak north of 200, despite the average being sub-100. While the RMAA results were also very good, our benchmark software detected some crosstalk which we were unable to remove via any software option. Overclocking performance was spot on as well: our chip for the second time in a row hit 4.7 GHz while staying around 90C at load.
Overall, the ASUS ROG Maximus VI Impact does characterize and fulfill the aims and goals most users would expect a high end mini-ITX motherboard. Other mid-range and cheaper mITX models exist, but inevitably the cream does rise to the top if you want as much as mini-ITX can take. I look forward to future revisions of the Impact for sure.
Visual Inspection
To say the Impact looks busy is a mild understatement. With some of ASUS' common features requiring extra ICs, finding space on a mini-ITX board is rough at the best of times. This is partly why the power delivery is on a daughterboard, the audio is an add-on PCB, the WiFi/mPCIe Combo II card is also an add-on PCB, and for the extra buttons of BIOS Flashback, ROG Connect, MemOK , ClearCMOS and a two digit debug are another PCB on the rear IO.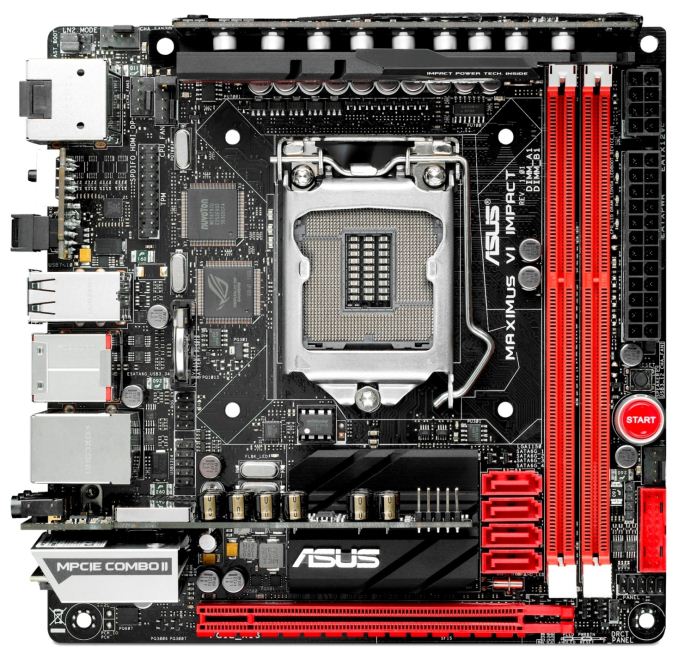 The socket area has been designed to support the myriad of dedicated mini-ITX based CPU coolers on the market – in ASUS' PR Pack with the motherboard this includes options from Thermalright, Noctua, Prolimatech and Scythe. For other coolers, we are right up against Intel minimum specifications in two directions (top and towards the DIMMs) and near on a third, meaning large coolers need not apply. Unlike any other mini-ITX motherboard I have come across, the Impact comes with four 4-pin fan headers. Three are located to the top left of the image above, with the CPU fan header using ASUS' pin-detect for PWM enabled fans. The fourth fan header is next to the start button on the right side of the memory slots.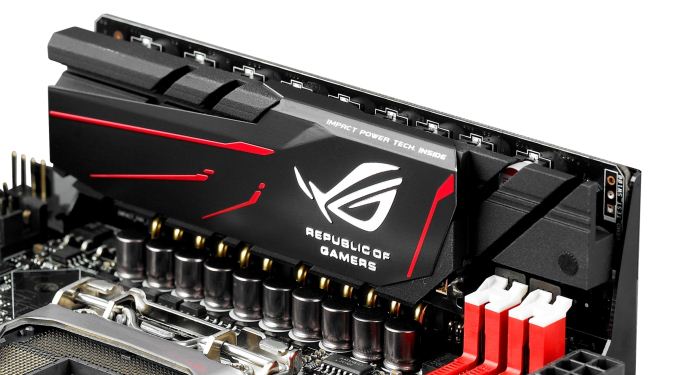 The power delivery daughterboard is designed to be at a height in direct correlation with the RearIO, thus any case with that profile should accommodate the Impact. Like other high end boards in the market, in order for high power efficiency and low temperatures, the Impact uses 60 A chokes, which in this case have been optimized for ASUS and given the 'Blackwing' designation due to their design. These are coupled with 10K black caps which are promoted with a larger temperature operating window and longer lifetime than 2K or 5K caps.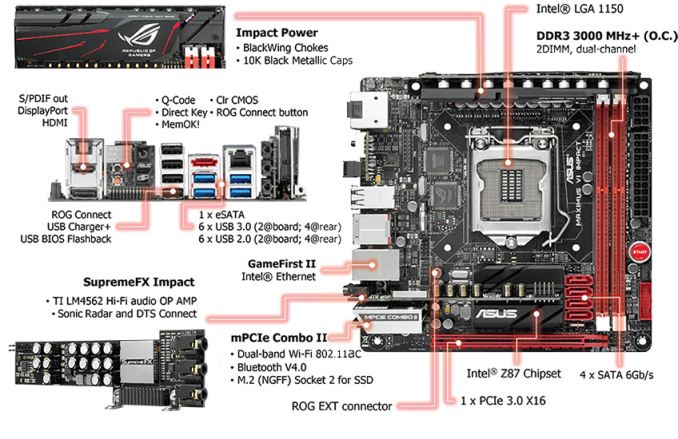 On the right hand side of the board, the memory slot design uses a single sided latch, although the latch is on the side of the PCIe device due to the power delivery. In the top right corner are our power connectors – an 8-pin CPU and 24-pin ATX. Thankfully this is where I have requested power connectors to all the major mini-ITX manufacturers, as most have a tendency to place them in the middle of the motherboard or somewhere inappropriate for airflow or ease of use. Below this is a reset button, a big red start button, a 4-pin fan header, a USB 3.0 header and the front panel header. On the other side of the memory slots are our SATA ports, with the Impact using four SATA 6 Gbps from the chipset. The arrangement of the SATA ports makes it a little frustrating to remove drives with locking cables, something avoided by putting the SATA ports on the edge, although I cannot see where this would be possible with limited edge length.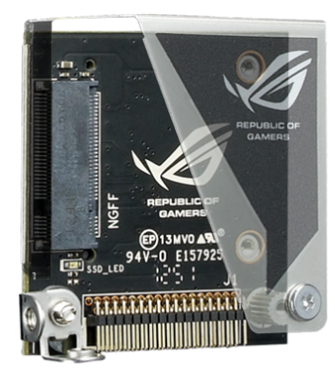 Moving clockwise around the motherboard, the PCIe is a full 3.0 x16 slot, and then we come across the mPCIe Combo II add-in board. The mPCIe Combo II card is a combination half-height mini-PCIe slot and NGFF slot: the former comes bundled with an 802.11ac dual band WiFi card (supporting BT 4.0), and the latter makes the ROG range the first set of consumer motherboards to directly support the NGFF/M.2 SATA SSD standard. The module supports M.2 SSDs up to 110mm in length, as long as you do not mind it hanging out of the back of the card alongside the new SupremeFX PCB.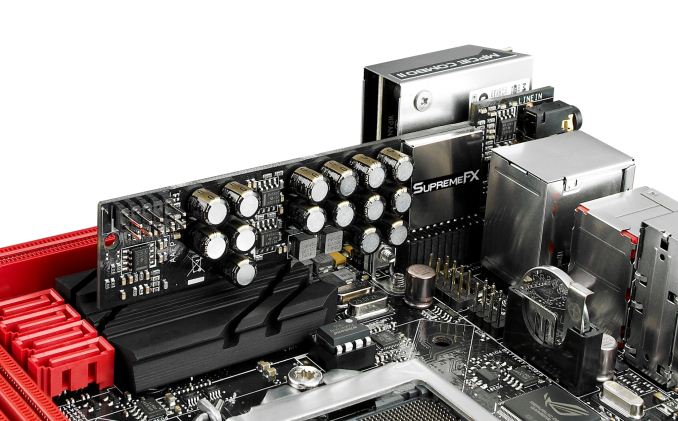 Next to the Combo module is another add-on PCB: the SupremeFX sound. In order to transpose the SupremeFX technology into the mini-ITX form factor, this is the only way ASUS could do it without majorly compromising another feature. The SupremeFX subsystem hides the Realtek ALC1150 codec, supported by ENLA audio capacitors, an EMI protection cover, whole PCB separation between digital and analog signals, and a dual differential design circuit.

The purpose of this allows lossless quality in both the Line-Out and Headphone outputs, rather than just one. For the headphone output, the signal is split into identical analog patterns, filtered, and then via the TI LM4562 Op-Amps one of the signals is inverted and they are merged, giving a stronger output signal with reduced noise. As a result, ASUS are claiming 115 dB SNR in the LineOut and 110 dB SNR with the Headphone output. The Op-Amp used by SupremeFX also supports headphones up to 600 ohms.
Above the SupremeFX audio, the Impact uses the space in between the RearIO and the socket for a removable BIOS chip, a USB 2.0 header, an ROG panel header, the battery and a TPM header.

The RearIO on the Impact is a little different to what we normally see on a motherboard, primarily due to ASUS's long list of added features. First on the list are these two headers: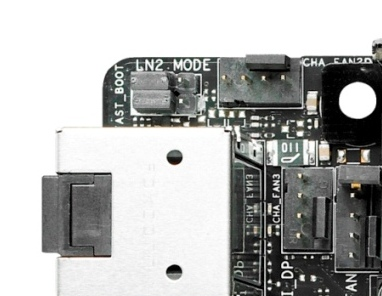 Enabling LN2 mode on an ASUS ROG motherboard is not suggested unless you are actually running on liquid nitrogen as a competitive overclocker – this jumper opens up voltage ranges within the OS in order to push the hardware further. The FastBoot jumper allows users to always use UEFI booting methodology rather than relying on the slower legacy boot sequence.
Next to these are the video outputs, namely a HDMI and DisplayPort with a SPDIF output above them, but then we come onto our last add-in PCB (that makes four, if you were counting) – Impact Control: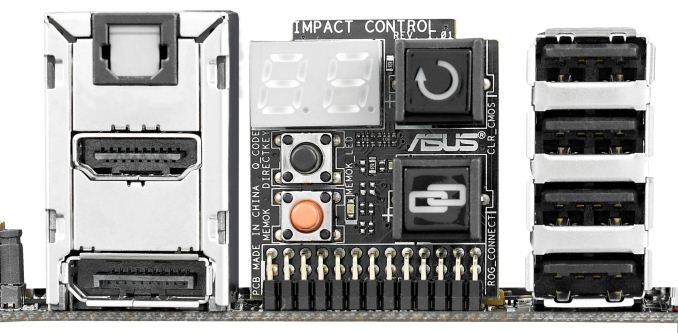 Typically all the features of Impact Control are often found directly on the motherboard, but due to mini-ITX constraints they have been placed here rather than a VGA/DVI-D video combo that a Z87 chipset might feature. On the Impact Control PCB is the two-digit debug LED, a DirectKey button (implements an OC specified in the BIOS), a MemOK button (used for recovering from memory that is too overclocked and not rebooting properly), a USB BIOS Flashback button (for flashing a BIOS without a CPU, DRAM or GPU installed) and an ROG Connect button for manipulating overclocks on-the-fly via a secondary system. Typically the bottom port of our 4-port USB 2.0 hub next to this is used for both USB BIOS Flashback and ROG Connect.
Further along the RearIO is an eSATA port, four USB 3.0 ports, an Intel i217 gigabit Ethernet port, the outputs from SupremeFX and mPCIe Combo II card. What is not shown are the antenna from the 802.11ac dual band WiFi module, which offer an attachment system and mine were pre-connected in the box.
Board Features
ASUS Maximus VI Impact
Price
Link
Size
Mini-ITX
CPU Interface
LGA-1150
Chipset
Intel Z87
Memory Slots
Two DDR3 DIMM slots supporting up to 16 GB
Up to Dual Channel, 1333-3000 MHz
Video Outputs
>HDMI
DisplayPort
Onboard LAN
Intel I217V
5 GHz 802.11ac 2T2R + BT 4.0
Onboard Audio
SupremeFX (Realtek ALC1150)
Expansion Slots
1 x PCIe 3.0 x16
1 x mPCIe (WiFi installed)
1 x NGFF (M.2)
Onboard SATA/RAID
4 x SATA 6 Gbps (PCH), RAID 0, 1, 5, 10
1 x NGFF (M.2) via PCIe 2.0 x1 1 x eSATA
USB 3.0
6 x USB 3.0 (PCH) [1 header, 4 back panel]
Flex IO
x+y+z = 18

| | |
| --- | --- |
| SATA 6 Gbps | 5 |
| USB 3.0 | 6 |
| PCIe 2.0 | 7 |

Onboard
4 x SATA 6 Gbps
1 x USB 3.0 Headers
1 x USB 2.0 Headers
4 x Fan Headers
Probelt Measurement Points
Power/Reset Buttons
LN2 Mode jhumper
FastBoot Jumper
SupremeFX Connector
mPCIe Combo II Connector
ROG_EXT Header
Power Connectors
1 x 24-pin ATX Connector
1 x 8-pin CPU Connector
Fan Headers
1 x CPU (4-pin)
3 x CHA (4-pin)
IO Panel
4 x USB 2.0
4 x USB 3.0
1 x eSATA
2 x Antenna Ports
Intel I217V GbE NIC
DisplayPort
HDMI
Audio Jacks
Impact Control:
- Two Digit Debug
- USB BIOS Flashback
- ROG Connect
- MemOK!
- DirectKey
- Q-Code LED
Warranty Period
3 Years
Product Page
Link
Mini-ITX motherboard with NGFF support, boosted Realtek ALC1150 audio, all the regular ROG buttons, four 4-pin fan headers and power connectors in the right location. As long as the limited CPU cooler options do not bother you, it is a well-rounded product. My only other request would be if there was scope to add in more SATA ports. One product I see requested often is a Mini-ITX geared towards more sufficient storage, allowing for a gaming setup (SSD + DVD/BluRay Drive) but also storage (4+ 2TB 2.5" drives, RAID 5), such as the previously reviewed ASRock Z87E-ITX or Z87I-Deluxe. However in this case, users with an ODD could still survive on a 1TB M.2 SSD and two 4 TB 3.5" drives if required.