Metro: Last Light
Metro: Last Light is the latest entry in the Metro series of post-apocalyptic shooters by developer 4A Games. Like its processor, Last Light is a game that sets a high bar for visual quality, and at its highest settings an equally high bar for system requirements thanks to its advanced lighting system. This doesn't preclude it from running on iGPUs thanks to the fact that it scales down rather well, but it does mean that we have to run at fairly low resolutions to get a playable framerate.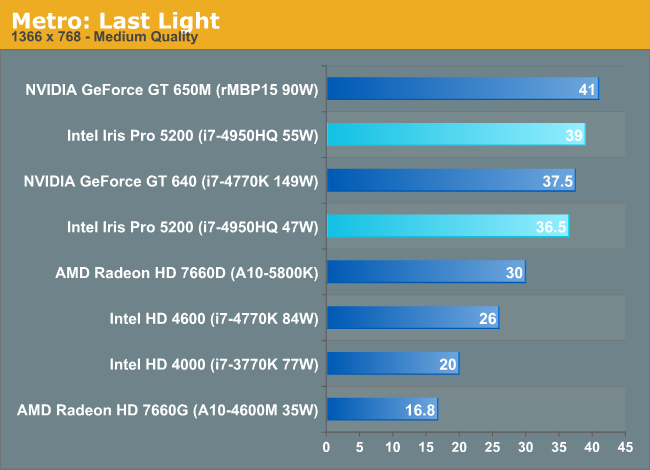 Metro is a pretty heavy game to begin with, but Iris Pro starts off with an extremely good showing here. In its 55W configuration, Iris Pro is only 5% slower than the GeForce GT 650M. At 47W the gap is larger at 11% however. At 1366 x 768 the difference seems less memory bandwidth related and has more to do with efficiency of the graphics hardware itself.
The comparison to mobile Trinity is a walk in the park for Iris Pro. Even a 100W desktop Trinity part is appreciably slower here.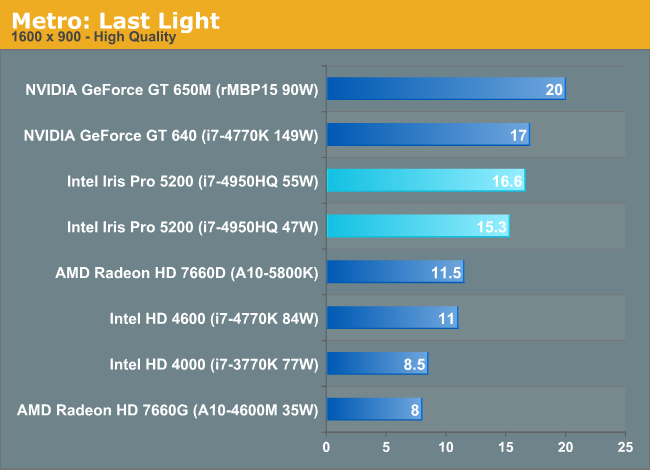 Increasing the resolution and quality settings changes things quite a bit. The 650M pulls ahead, and now the Iris Pro 5200 basically equals the performance of the GT 640. Intel claims a very high hit rate on the L4 cache, however it could be that 50GB/s is just not enough bandwidth between the GPU and Crystalwell. The performance improvement compared to all other processor graphics solutions, regardless of TDP, is still well in favor of Iris Pro. The i7-4950HQ holds a 50% advantage over the desktop i7-4770K and is almost 2x the speed of the i7-3770K.
Comparing mobile to mobile, Iris Pro delivers over 2x the frame rate of Trinity.