BioShock: Infinite
Bioshock Infinite is Irrational Games' latest entry in the Bioshock franchise. Though it's based on Unreal Engine 3 – making it our obligatory UE3 game – Irrational had added a number of effects that make the game rather GPU-intensive on its highest settings. As an added bonus it includes a built-in benchmark composed of several scenes, a rarity for UE3 engine games, so we can easily get a good representation of what Bioshock's performance is like.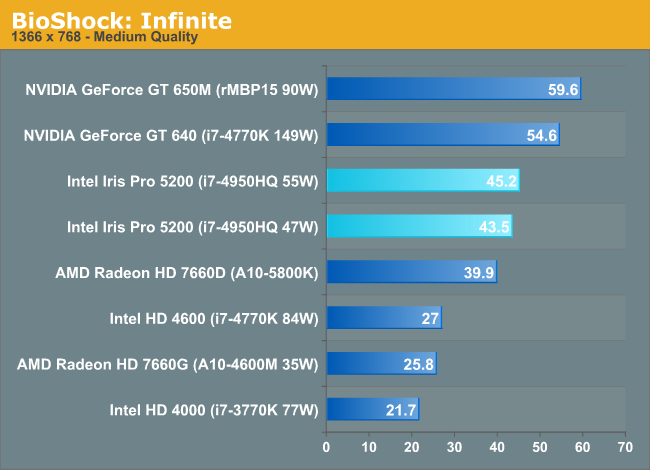 Both the 650M and desktop GT 640 are able to outperform Iris Pro here. Compared to the 55W configuration, the 650M is 32% faster. There's not a huge difference in performance between the GT 640 and 650M, indicating that the performance advantage here isn't due to memory bandwidth but something fundamental to the GPU architecture.
In the grand scheme of things, Iris Pro does extremely well. There isn't an integrated GPU that can touch it. Only the 100W desktop Trinity approaches Iris Pro performance but at more than 2x the TDP.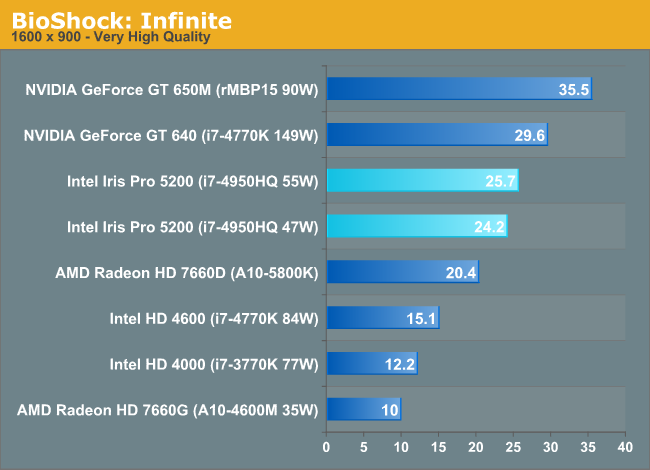 The standings don't really change at the higher resolution/quality settings, but we do see some of the benefits of Crystalwell appear. A 9% advantage over the 100W desktop Trinity part grows to 18% as memory bandwidth demands increase. Compared to the desktop HD 4000 we're seeing more than 2x the performance, which means in mobile that number will likely grow even further. The mobile Trinity comparison is a shut out as well.