Gigabyte Z87X-UD3H BIOS
Out with the old and in with the new - 3D BIOS from Gigabyte is gone. There was a lot of criticism coming from users with my point of view: the 3D BIOS at release was slow, but even when it was faster it failed to provide a sufficient level of detail to satisfy enthusiasts. We all moved into the advanced mode, and then had to shuffle around menus to get to multipliers and voltages. These days are now over, partly due to the fact that Gigabyte are now using 16 MB BIOS chips rather than the 8 MB chips that everyone used in the 7-series. This gives the BIOS engineers double the space to add in extra functionality (for a small BOM increase, which for Gigabyte is 2x for DualBIOS).
The new BIOS from Gigabyte uses a lot of common sense – for those with a 1080p monitor, the new BIOS gives us plenty of information around the BIOS screen itself. At hand we get the motherboard name, BIOS version, CPU installed, speed of the CPU, memory installed, memory speed, various voltages, temperatures and fan speeds. This is what we want in a BIOS, and I am glad we have it here! The only downside for me is that it unfortunately does not work with Korean 1440p monitors (!), but Gigabyte is looking into this.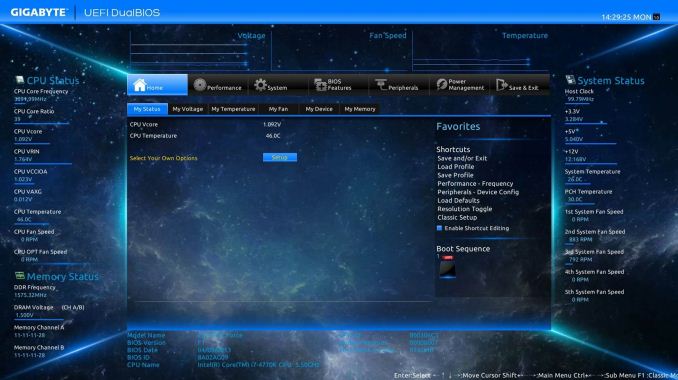 The BIOS looks visually nice – it is calm and collected. Unfortunately for me, as a member of the partially colorblind club, some of the blue text on the blue background is hard to read. This issue can be easily solved, as the older high contrast advanced mode is available at the press of a button.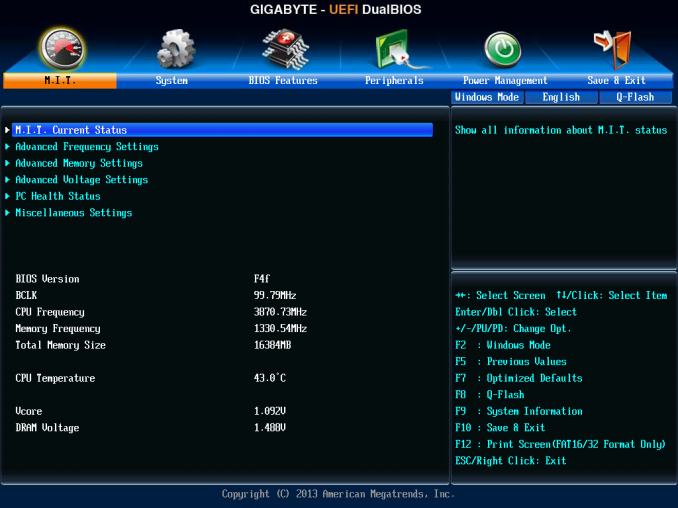 This brings me to a salient point – the new visual to Gigabyte's BIOS does not seem like a new BIOS from the ground up. It feels like a skin on top of the old advanced mode – this means Gigabyte has more leeway in making font and color changes as they need to. Personally I had to go back to the high contrast mode in order to make overclocking changes, but the Gigabyte frontage does offer a few nice features which will start to become commonplace.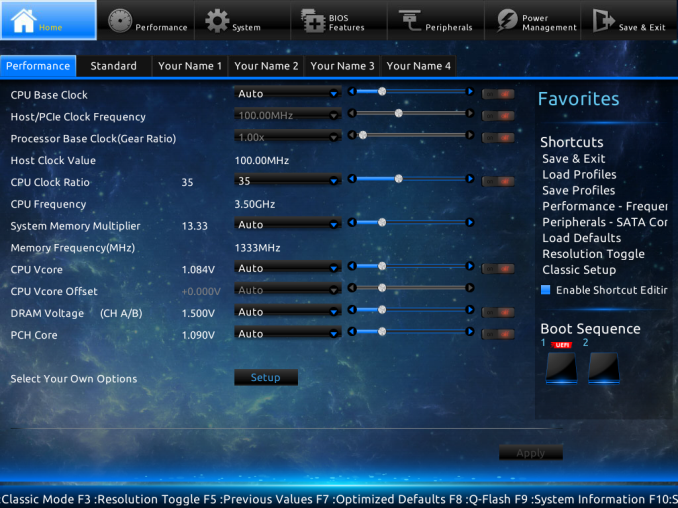 The first thing to notice is the 'Performance/Standard/YourName1/YourName2' tabs just below the top row of icons. These tabs are here for user customizable menus and options. For any set of option in the BIOS, a user can add/remove options in these home screens (much like a smartphone home screen sort of) to make life easier. Gigabyte start the first home screen off by calling it 'Performance' and placing the majority of the manual overclock options in it. I like this, and can see it being used a lot by the enthusiasts that need this level of control.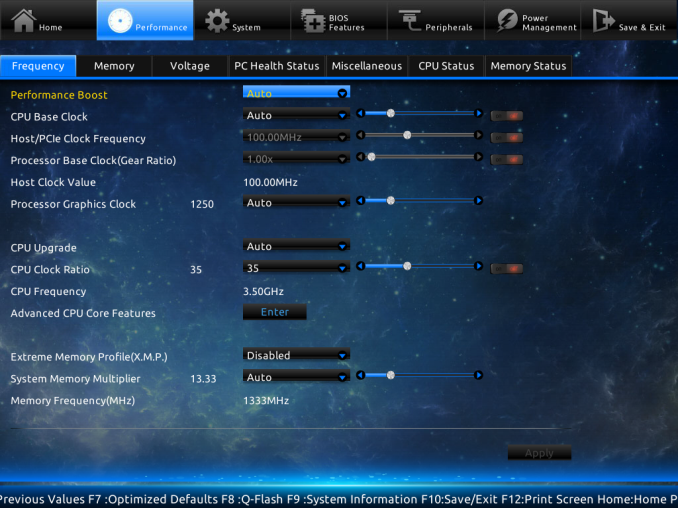 In terms of Gigabyte driven menu options, we start with the 'Performance' option along the top row, which contains a series of tabs (Frequency, Memory, Voltage, PC Health) more akin to a normal advanced mode. Here are our automatic overclock options in terms of 'Performance Boost' or 'CPU Upgrade', with the CPU and memory clocks accessible all in one screen.
I would like to point out that this is essentially the M.I.T. menus in the older BIOS advanced menus, now deemed 'Classic Mode (F3)'. So one of my gripes is potentially still here – having the CPU voltage options in a different menu to the CPU multiplier options is not my ideal scenario. However one could argue that this gripe is nullified by the customizable menus, now that the user can put all the options they want in the same menu.
As part of the performance package, Gigabyte's in-house overclocker, Hi-Cookie, has contributed some of his testing for high-end memory kits into the system: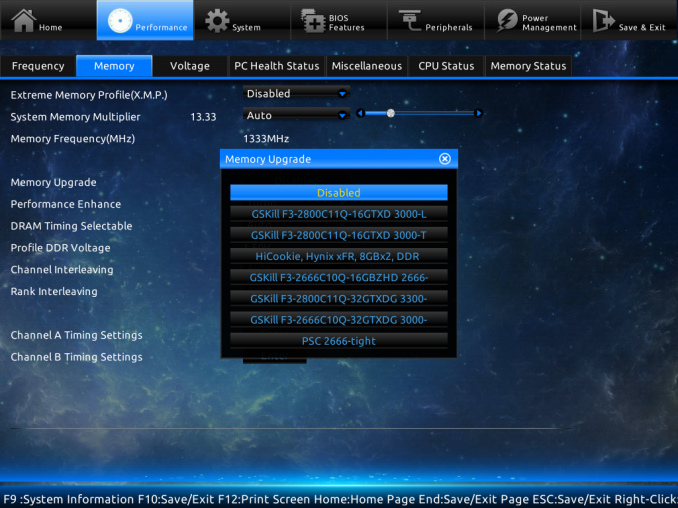 If you are lucky enough to own one of these insane MHz G.Skill or Hynix/PSC kits, here are some 'in-house' options for you.
The '3D' moniker is not completely gone from the BIOS, as Gigabyte retains it as part of its International Rectifier package of power control. In the Voltage->3D Power menu we get our load line calibration options, with a little image to let us know what LLC actually does: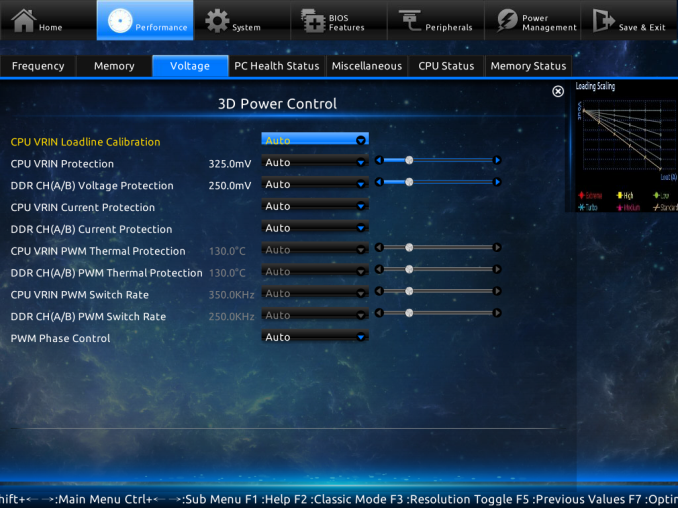 This had been a little request of mine since the start of graphical BIOSes, so I am glad that at least something is here to show (at least in a diagram) what is actually going on.
Our CPU voltage options come under the Voltage -> CPU Core Voltage Control, with the important ones (CPU VRIN, VCore, RING) ready to be adjusted. If I had one suggestion to make, it would be that on the right hand side in the black space, each option in the BIOS would have an explanation of what it does, along with min/max/recommended values. As far as I know this should be coming in a later BIOS update, which is good news.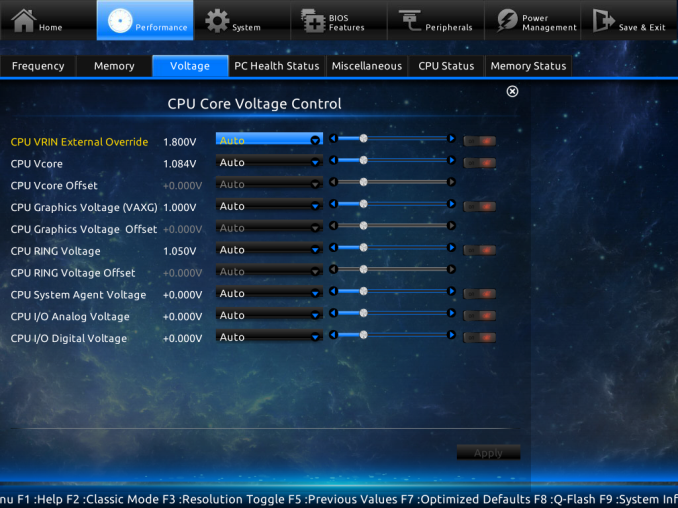 Fan controls are of course a hot topic in our small motherboard world. Over the past 12 months I have ranted and raved about poor fan controls, and BIOS/software options that have no relevance to the real world where fan RPM is not linear to power applied. Gigabyte has a solution in software, but the BIOS is still a little lacking: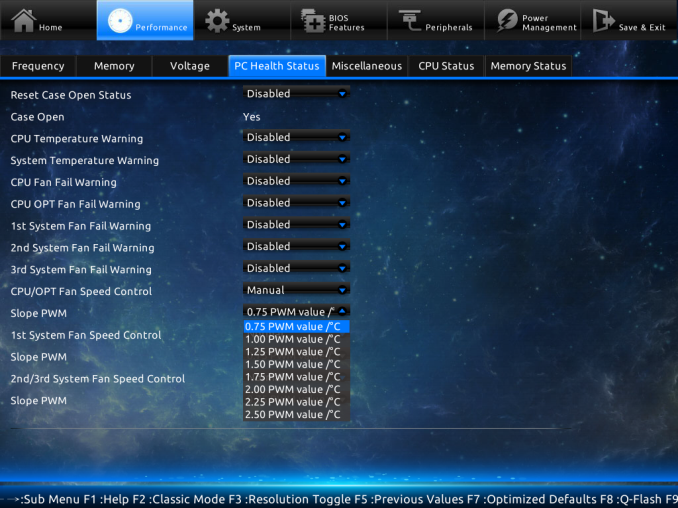 The rest of the BIOS options are relatively standard from previous BIOSes of Gigabyte, with the Save and Exit screen being the source for BIOS profiles and boot override: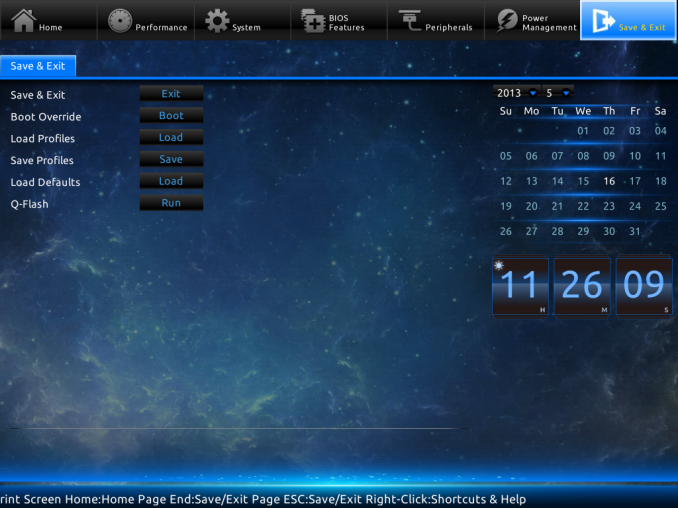 As mentioned before, we still have a high contrast 'classic' mode: