Gigabyte Z87X-UD3H Software
With the launch of the Shark Bay platform, Gigabyte is also upping the game in terms of the software package. The last iteration of their main program, EasyTune6, was looking very dated in comparison to the competition, as well as falling behind in terms of functionality, overclock options and fan controls. With a new dawn comes a new day, and we get a new version of EasyTune to play with.
But first, let us turn attention to the driver and software disk itself. This also gets a redesign, focusing on the new high contrast aesthetics which form the basis of the software: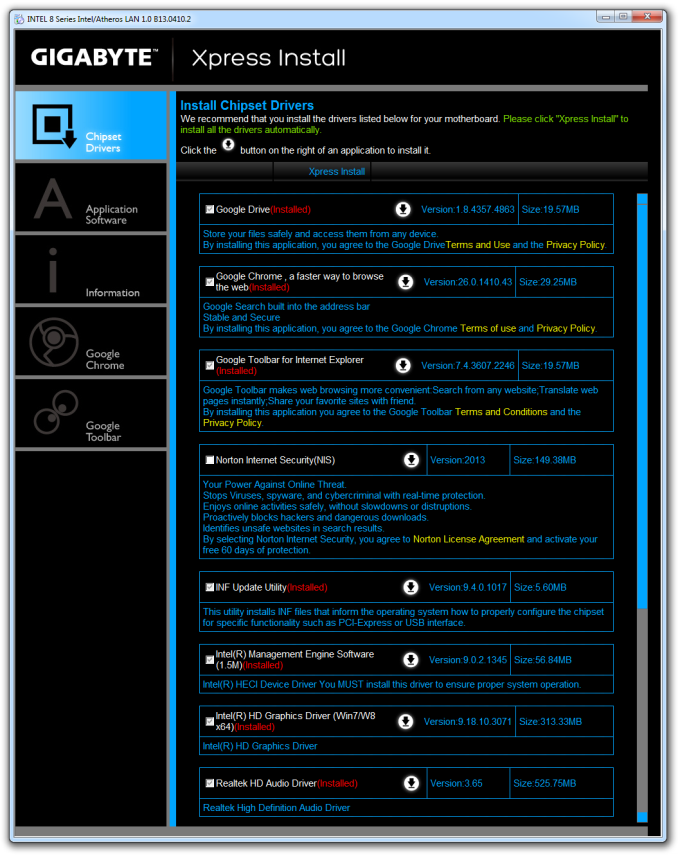 On the left are the main areas of install – Chipset Drivers, Applications, information, and also a bundling of Google Chrome and Google Toolbar. If we take a look at the chipset driver package above, we see that Gigabyte considers the installation of Norton Internet Security as a fundamental requirement to the smooth running of a PC. As you may imagine, I am not fond of this being an automatic install option – for third party software I would rather it be opt-in rather than opt-out. Note that companies like Norton may have an agreement with companies like Gigabyte – "put our free trials on your software disks and we'll pay you", which ultimately may bring the price of the motherboard down. I have no evidence that this is actually the case, though I could imagine it occurring.
The default utilities install applies only to the Gigabyte products, such as EasyTune, @BIOS, EZ Setup, USB Blocker and On/Off Charge. By switching through the menus, other software such as Intel's RST, SCT and cFosSpeed (network management software) can be installed individually.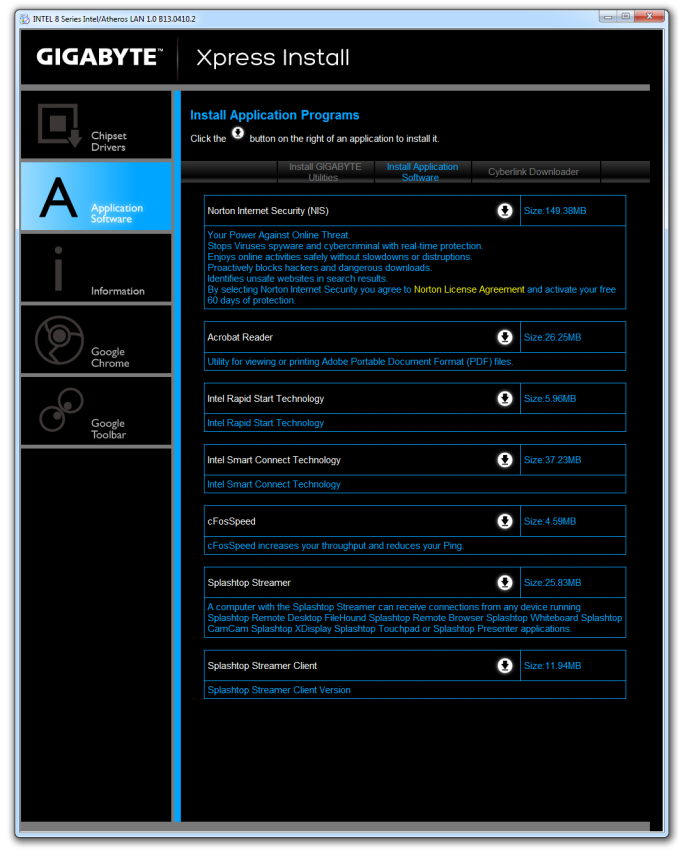 Gigabyte APP Center
The main entry point for the Gigabyte software is through the APP Center, which acts like other software we have seen in the past – a one-stop shop for all the programs at hand. For testing I had an earlier version of the software which had issues installing EasyTune on Windows 7 straight off the CD, but Gigabyte have released updates since which are worth downloading.

Gigabyte Live Update
One feature that is creeping into most of the motherboard ranges is the ability for the software to auto-update, or check the home server for updates to drivers and to the BIOS. Gigabyte's answer is their version of Live Update, which scans and shows what needs to be installed: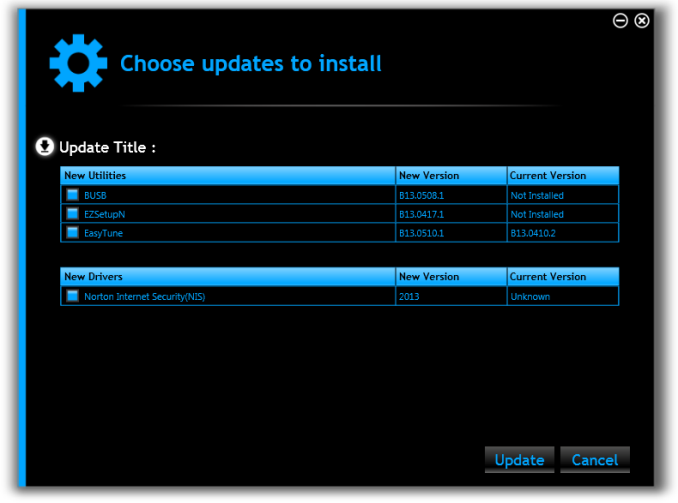 Again, this was another piece of software in which I tested the beta release, and I did come across several issues (which may be updated). Firstly it keeps showing Norton as an option, even when I deselected it from the disk. Next is that the software does not show the size of each download – if I have to update audio drivers at a cost of 175 MB, I would like to know before clicking the download and update button. I did have issues installing the newer version of EasyTune, but Gigabyte has told me this issue should be fixed with the latest edition of Live Update.
Gigabyte EasyTune
The new EasyTune is a much sleeker and optimized display than previous versions of EasyTune. We are still going with the high contrast of blue on black for the UD3H, and when we enter the software the system information showcasing the motherboard in use, BIOS versions, CPU installed, CPU speeds and memory installed.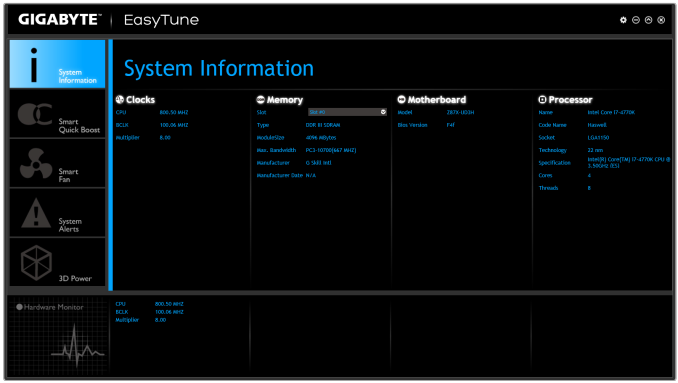 Overclocking happens in the Smart Quick Boost (SQB) menu, where we are offered four versions of overclock, a default setting, and an advanced mode for manual overclocks.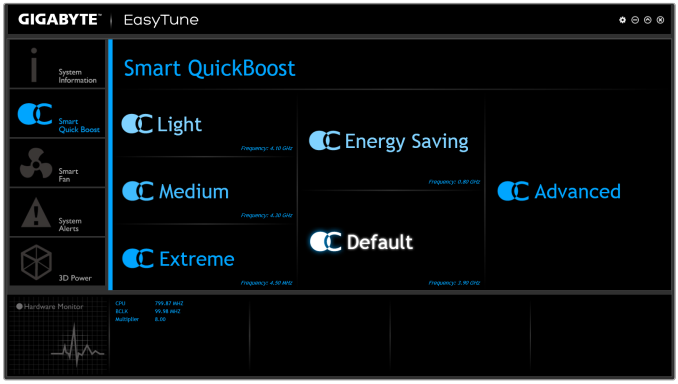 My main issue with SQB, like with the BIOS, is that if I select one of the preset overclocks, the software does not update with all the settings to which that option entails. The CPU speed and multiplier ratios change, but our voltages stay the same, as shown in this next screen shot while we are under the Light SQB setting: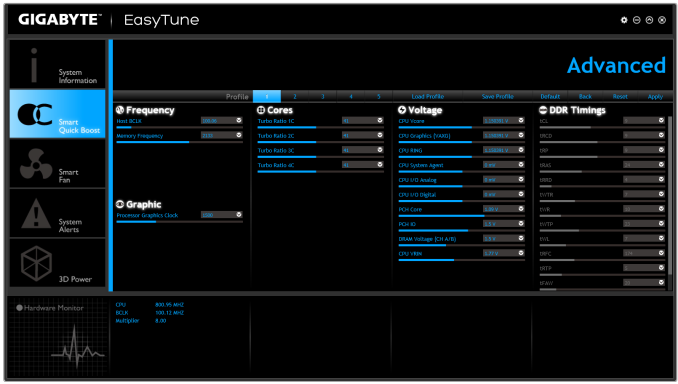 This is one issue which Gigabyte disagrees with me, such that they want the user to easily pull back to default if required. Personally I would like a large amount of synergy between what is being shown on my screen and what is actually being applied to my system, as well as a link between software and BIOS such that whatever I set in EasyTune is automatically transferred into the BIOS as well.
Next up is the rapid improvement from Gigabyte in terms of fan controls. On the face of it, we get much more option in terms of settings, with Gigabyte offering three fan control modes, and auto-calibrate option, and an advanced setting.
In the screenshot above, we see that the system has correctly polled my CPU fan and able to detect what RPM for what power is applied. We then get a customizable graph with multiple vertices so a user can apply their own fan profile. The only issue is the y-axis – it shows the wrong thing. Instead of Fan RPM (what we should have via software algorithm interpolation), we get Fan Duty Cycle, which means the user has to do the mathematics in their head. As shown by the fan test by the software, selecting between 0 and 20% with 'Fan Duty Cycle' does nothing to my RPM, but for whatever reason I still get it as a selectable area in the graph. So close, but only half way there in terms of proper fan controls.
Gigabyte are also including a System Alert section to EasyTune, allowing users to set limits for temperatures and fan speeds such that the software can provide notifications if they go above various values.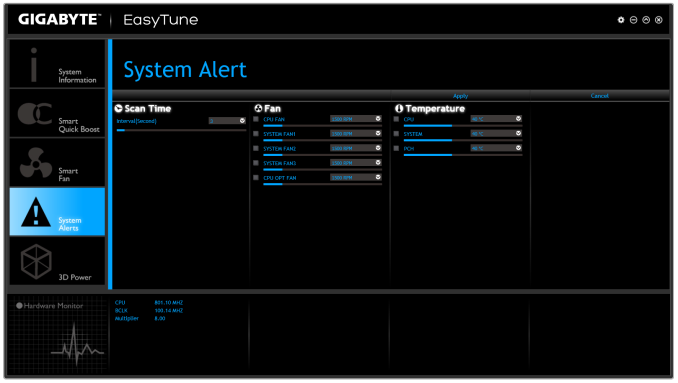 The last part of EasyTune is the 3D Power menu, which offers features such as Load Line Calibration and CPU Phase control. Voltages could also have been in this menu as well as the SQB Advanced menu.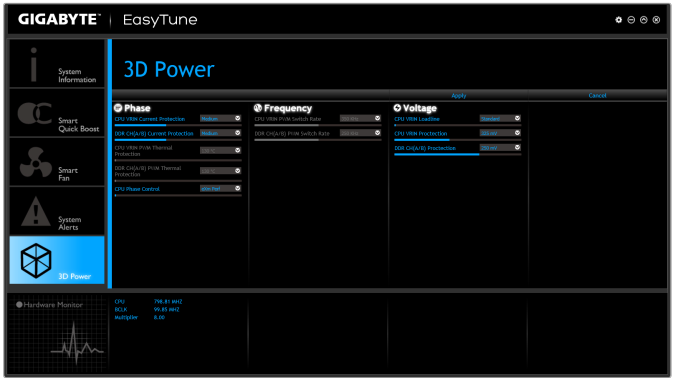 Gigabyte @BIOS
The BIOS updating tool from Gigabyte keeps the same name, but gets a facelift for the 2010s. @BIOS will probe various Gigabyte servers around the world for BIOS updates, download them and then install them. We also get options to update from a file, saving to file, and an option to change the POST image on startup.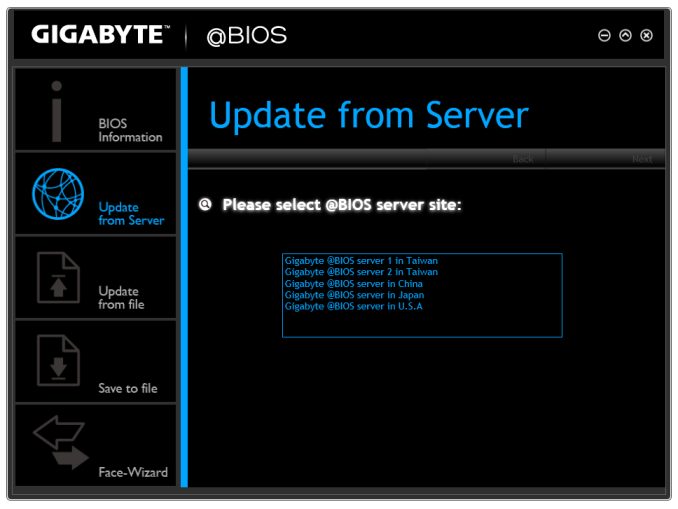 Gigabyte On/Off Charge 2
There are plenty of users wanting to charge devices via USB, and while the USB specifications allow for high current draw, this is usually kept low for data transfer. For charging, a system can eliminate the data lanes and improve the current draw, as long as the USB port is built (and programmed) to do so. This is where On/Off Charge comes in, detecting compatible devices and giving the option to quick charge.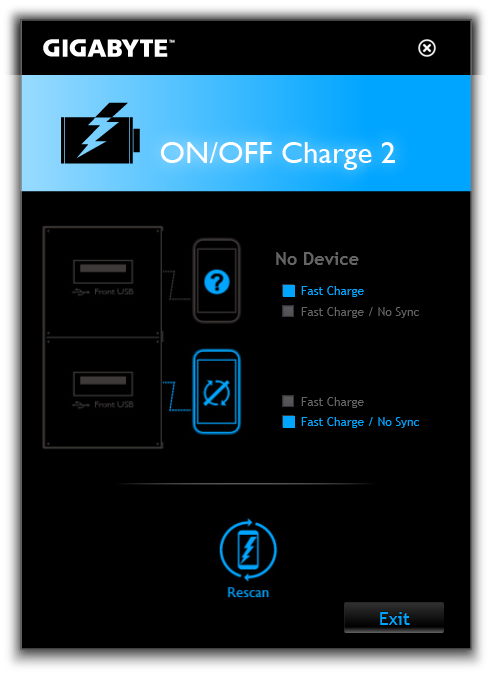 Gigabyte Smart TimeLock
Got things to do, but cannot draw yourself away from the computer? Or what if you want to limit the children from too much computer time? Smart TimeLock is the answer for both of these situations; the admin user can set a maximum amount of allowable time for weekdays and weekends.