Gigabyte Z87X-UD3H Overview
In our review today, the Gigabyte Z87X-UD3H comes in under the radar. On the face of it we have a motherboard that does not to attempt to strike the user visually like some of the others; however it does run our gamut of benchmarks with very few issues.
In terms of connectivity we get an Intel NIC, a total of eight SATA 6 Gbps ports (6 Intel, 2 from controller), ten USB 3.0 ports (four Intel, six from controllers), a Realtek ALC898 audio codec, six fan headers and a PCIe 3.0 x8/x8 + PCIe 2.0 x4 layout of the GPU slots. All the motherboards in our review have variations on these numbers due to Flex IO, or decide to go with x8/x4/x4 PCIe layouts.
With the Z87X series from Gigabyte we also get a new visualization of the BIOS and a new version of EasyTune (hurrah!).
- We are out with the 3D BIOS which, at the beginning, suffered from sluggishness (it was admittedly getting better over time), and in with a new BIOS which allows customization. Users can fill up menus with their own options from the BIOS and then have easy access to what they need to control most (CPU settings, fan controls). Users with 1080p monitors also have a BIOS surround which gives plenty of detail about the system at hand. The older BIOS is still there (the new BIOS is essentially a skin) for users that prefer it.
- The new version of EasyTune aims for simplicity with a deep contrast ratio and a variety of options not too dissimilar from the BIOS. We get a new upgraded fan control system with internal testing of power-to-fan detection, as well as overclock options to suit almost every processor. While I initially tested a beta version of the software, it is continually being improved so expect to see better versions in the weeks after launch.
There were a couple of hiccups in the early beta BIOS I was testing with, which have all been forwarded to Gigabyte in order to be fixed in future public releases. Since then the DPC Latency, which fluctuates on the early BIOSes, is now fixed as of F5 to give 164 microseconds - also Software Update for installing system files works flawlessly, although it still does ask if you want to install Norton. One issue that Gigabyte and I are split on is whether automatic OC options should be translated in the BIOS options, and if EasyTune/BIOS should be in sync, but that ends up being a company choice. When manually overclocking, we had no issue getting to 4.6 GHz with our sample, and the automatic overclock options adjusted the memory unlike some others.
The sticking point of the UD3H is going to be that other motherboards in this review have a few exclusive features – the MSI has a Killer NIC, the ASRock has 802.11ac support, and the ASUS has Dual Intelligent Processors IV. Another kicker is that they all have an ALC1150 based audio system. In the end it comes down to the price-to-functionality ratio – the Gigabyte Z77X-UD3H is $20-$50 cheaper than the other motherboards reviewed today.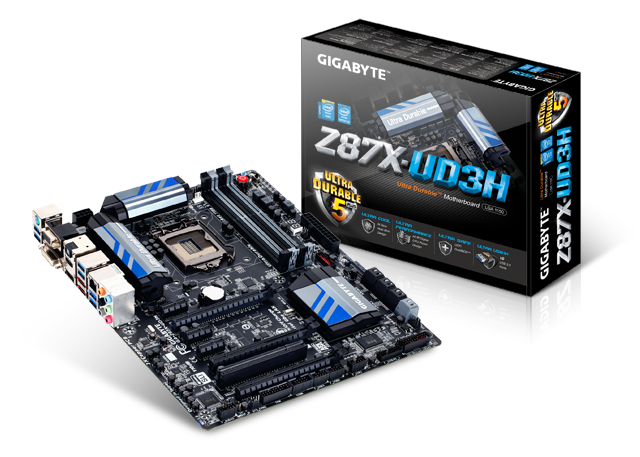 Gigabyte Z87X-UD3H Visual Inspection
At first glance the Z87X-UD3H looks like any regular motherboard. We have slightly new Gigabyte styling compared to the Z77 range of motherboards, with the VRM heatsinks getting a small facelift and making sure that Ultra Durable is the main advertising point. Being the middle of the range motherboard, it contains all the features that for Gigabyte are must-haves (such as Dual BIOS), with room for a few extra controllers, but nothing explosive near the high end gaming or OC boards. Gigabyte is now using the 40A PowIRStage ICs for the majority of the channel range, which should offer a greater longevity with respect to the power delivery over some cheaper variants.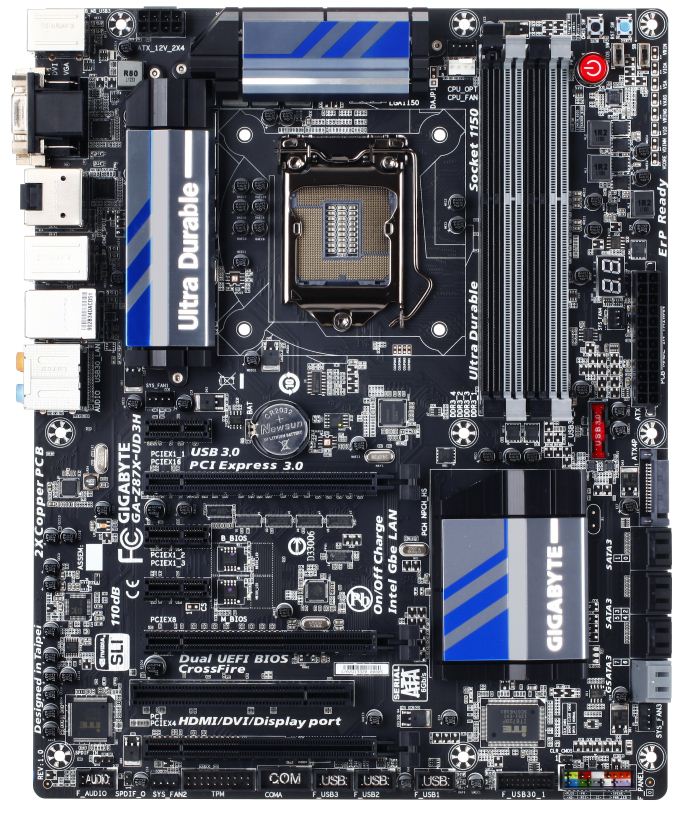 Starting with the socket area, the power delivery chokes and heatsink are right up against the Intel specification limits, as well as the memory slots, meaning that large coolers might reach over and not allow tall memory to be installed (such as G.Skill TridentX). The LGA1150 socket mechanism is exactly the same as 1155 and 1156 before it, meaning be careful when placing the CPU in and out – careful not to drop the CPU into the socket! The CPU is powered by a single 8-pin 12V CPU connector, which will be the most common type of connection in this price range. The socket area has access to four fan headers – two CPU headers to the top right of the socket, a 4-pin SYS header to the bottom left and a 3-pin SYS header next to the 24-pin ATX power connector. The other two headers on board are located under the SATA ports (SYS, 4-pin) and to the left of the TPM on the bottom of the board (SYS, 4-pin).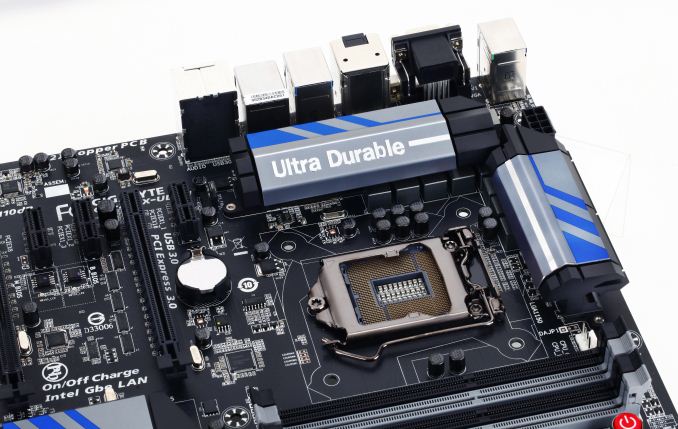 The DIMM slots used are double-sided latch, rather than the single-sided latch we are starting to see higher up the price range. To the top right of the DIMM slots are power/reset/Clear_CMOS buttons, all different colors and the power button is bigger to make sure you are pressing the right one. Beside these are a pair of switches for work on the DualBIOS – the one on the right tells the system to recognize either one BIOS or two (useful if one BIOS is corrupt and needs to be overwritten) and the switch on the left tells the system which BIOS to choose. It seems slightly odd given that the actual BIOS chips are in the middle of the board. Next to these switches are a set of voltage check points for users to monitor voltages themselves rather than rely on software.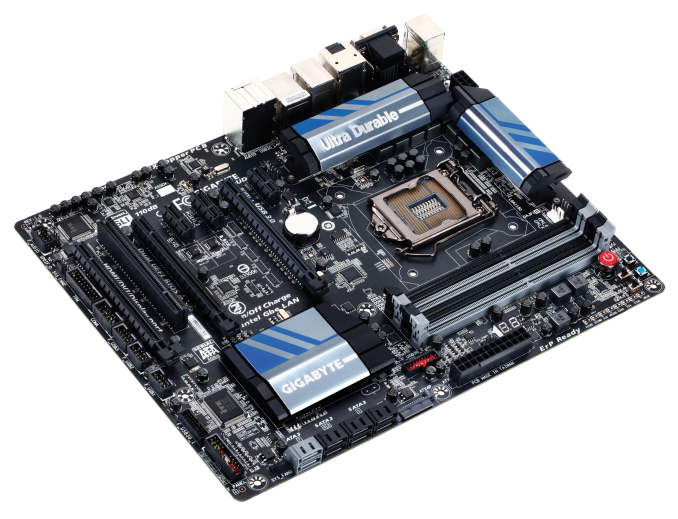 Going clockwise around the board we reach the two-digit debug display, which personally I find a must on any motherboard. This is next to a fan header and the 24-pin ATX power connector. Below we have a USB 3.0 port powered by the Intel chipset, and a SATA power connector to supply extra power to the PCIe slots. Of all the variations of possible VGA power additions (4-pin molex, SATA, 6-pin PCIe), I tend to prefer the SATA power connectors just because it tends to be out of the way compared to the others.
The chipset heatsink is of a reasonable size, and next to the SATA ports: Gigabyte are using six SATA 6 Gbps from the Flex IO of the chipset and then adding in an additional SATA 6 Gbps controller for a total of eight ports. Given that Gigabyte are using four Intel USB 3.0 ports on this motherboard, this would mean the Flex IO leans to eight PCIe 2.0 from the chipset to bring the total of SATA6/USB3/PCIe2 to 6+4+8=18, the magic number.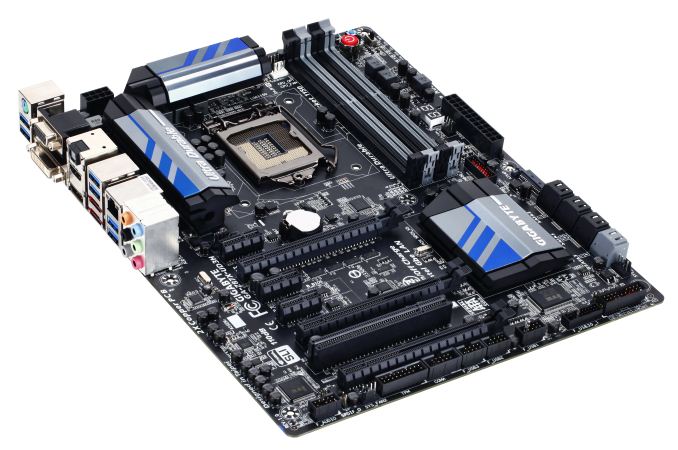 The bottom of the board contains our usual array of front panel audio, TPM, USB 2.0 ports, and front panel headers. We also get a second Intel USB 3.0 header, as well as a COM port. The audio on the Z87X-UD3H is the Realtek ALC898, compared to most of the other motherboards in this review which use an ALC1150 derivative.
The PCIe layout on the Z87X-UD3H is one that is going to crop up time and time again on the Z87 motherboard range, with three full length PCIe slots in an x16/-/x4 or x8/x8 + x4 configuration (meaning the final four lanes are from the chipset, and are CrossFireX compatible with questionable scaling onto a third GPU). Most manufacturers not using a PLX bridge chip have a choice between the PCIe 3.0 x8/x8 + PCIe 2.0 x4 or the PCIe 3.0 x8/x4/x4, with the latter being in general better for tri-GPU gaming but will disable two-way SLI with anything in the third slot due to the x8 limitation of SLI. The Gigabyte Z87X-UD3H can do two-way SLI when a non-GPU card is in the third slot, although AMD tri-GPU scaling is not as efficient as it could be due to the PCIe 2.0 x4 – this being the tradeoff.

The rear IO of the Z87X-UD3H points to video outputs and USB 3.0. From left to right we have a PS/2 port, two USB 3.0 (controller), D-Sub, DVI-D, SPDIF output, HDMI, DisplayPort, four more USB 3.0 (controller), two eSATA 6 Gbps, Intel GbE and audio outputs.
Gigabyte Z87X-UD3H Board Features
Gigabyte Z87X-UD3H
Price
Link
Size
ATX
CPU Interface
LGA-1150
Chipset
Intel Z87
Memory Slots
Four DDR3 DIMM slots supporting up to 32 GB
Up to Dual Channel, 1066-3000 MHz
Video Outputs
D-Sub
DVI-D
HDMI
DisplayPort
Onboard LAN
Intel
Onboard Audio
Realtek ALC898
Expansion Slots
2 x PCIe 3.0 x16 (x16/- or x8/x8)
1 x PCIe 2.0 x4
3 x PCIe 2.0 x1
1 x PCI
Onboard SATA/RAID
6 x SATA 6 Gbps (PCH), RAID 0, 1, 5, 10
2 x SATA 6 Gbps (Controller), RAID 0, 1
2 x eSATA 6 Gbps (Shared PCH)
USB
4 x USB 3.0 (PCH) [2 headers]
6 x USB 3.0 (Renesas) [6 rear panel]
6 x USB 2.0 (PCH)
Flex IO
x+y+z = 18

| | |
| --- | --- |
| SATA 6 Gbps | 6 |
| USB 3.0 | 4 |
| PCIe 2.0 | 8 |

Onboard
8 x SATA 6 Gbps
2 x USB 3.0 Headers
3 x USB 2.0 Headers
6 x Fan Headers
1 x TPM Header
1 x COM Header
Front Panel Header
Front Panel Audio Header
Power/Reset/Clear_CMOS Buttons
Two Digit LED Debug
Voltage Check Points
Power Connectors
1 x 24-pin ATX Power
1 x 8-pin CPU Power
1 x SATA VGA Power
Fan Headers
2 x CPU (4-pin)
4 x SYS (3 x 4-pin)
IO Panel
1 x PS/2 Port
6 x USB 3.0
D-Sub
DVI-D
HDMI
DisplayPort
SPDIF Output
2 x eSATA 6 Gbps
Intel NIC
Audio Jacks
Warranty Period
3 Years
Product Page
Link
In terms of our 18 port Flex IO, the Z87X-UD3H splits this for six SATA 6 Gbps, four USB 3.0 and eight PCIe 2.0 lanes. In terms of controllers on the board, while we do get a healthy number of USB 3.0 ports total (ten!) and SATA 6 Gbps ports (eight!), other motherboards in our test today in a similar price bracket are using Realtek ALC1150 audio and/or an EM shield to help improve SNR and quality. Nonetheless, the ALC898 does well in our tests by comparison.