Kabini: Mainstream APU for Notebooks
AMD will be building two APUs based on Jaguar: Kabini and Temash. Kabini is AMD's mainstream APU, which you can expect to see in ultra-thin affordable notebooks. Note that both of these are full blown SoCs by conventional definitions - the IO hub is integrated into the monolithic die. Kabini ends up being the first quad-core x86 SoC if we go by that definition.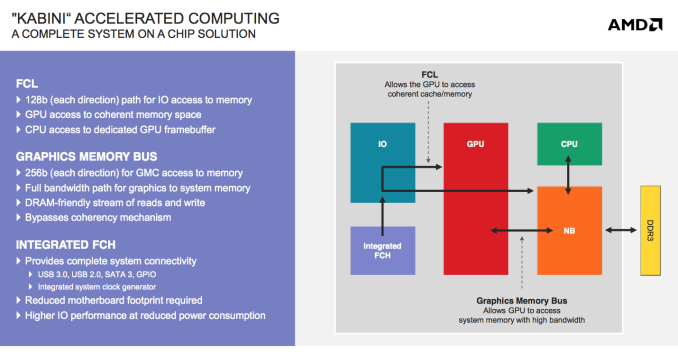 Kabini will carry A and E series branding, and will be available in a full quad-core version (A series) as well as dual-core (E series). The list of Kabini parts launching is below: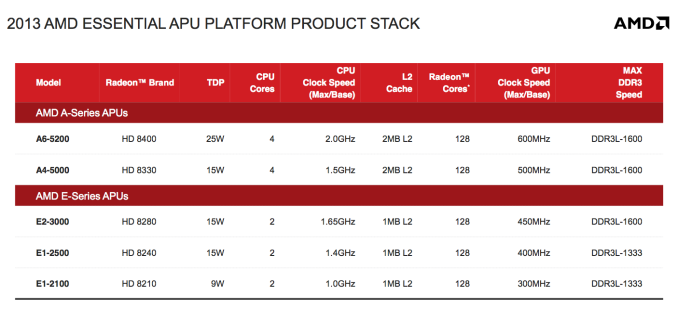 On the GPU side we have a 2 Compute Unit implementation of AMD's Graphics Core Next architecture. The geometry engine has been culled a bit (1/4 primitive per clock) in order to make the transition into these smaller/low cost APUs. Double precision is supported at 1/16 rate, although adds and some muls will run at 1/8 the single precision rate.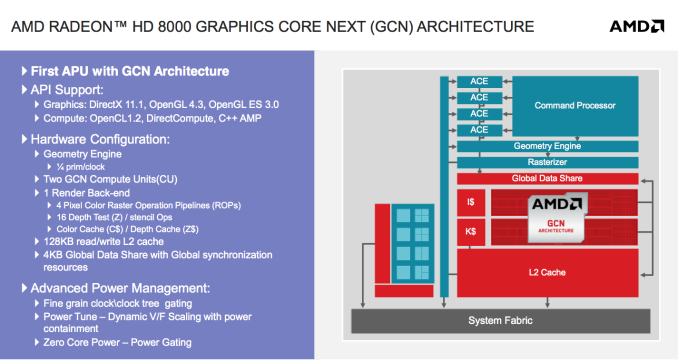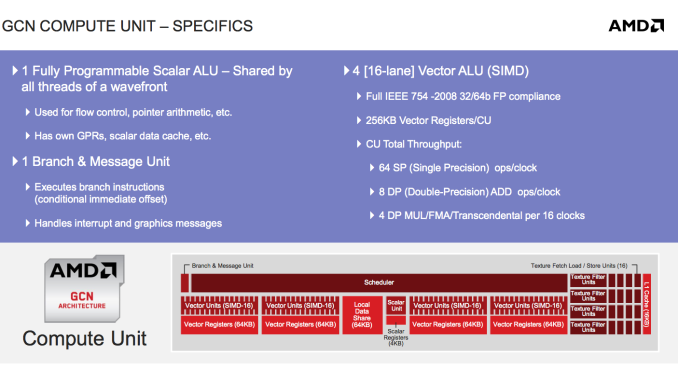 Kabini features a single 64-bit DDR3 memory controller and ranges in TDPs from 9W to 25W. Although Jaguar supports dynamic frequency boosting (aka Turbo mode), the feature isn't present/enabled on Kabini - all of the CPU clocks noted in the table above are the highest you'll see regardless of core activity.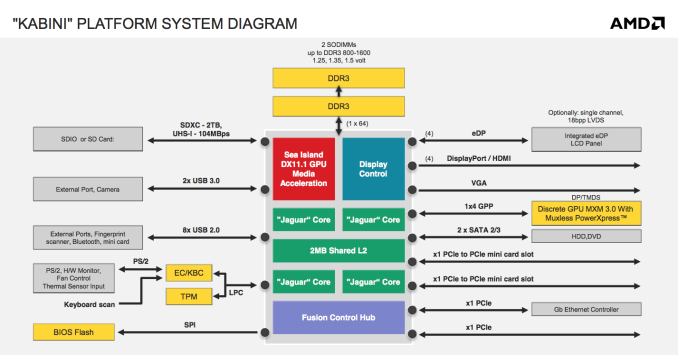 We have a separate review focusing on the performance of AMD's A4-5000 Kabini APU live today as well.
Temash: Entry Level APU for Tablets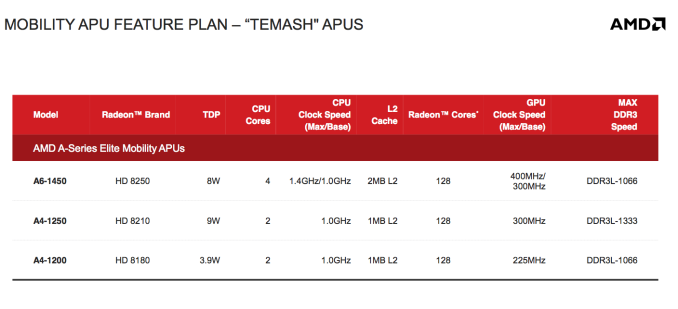 While Kabini will go into more traditional notebook designs, Temash will head down into the tablet space. The Temash TDPs range from 3.9W all the way up to 9W. Of the three Temash parts launching today, two are dual-core designs with the highest end A6-1450 boasting 4 cores as well as support for turbo core. The A6-1450's turbo core implementation also enables TDP sharing between the CPU and GPU cores (idle CPUs can be power gated and their thermal budget given to the GPU, and vice versa).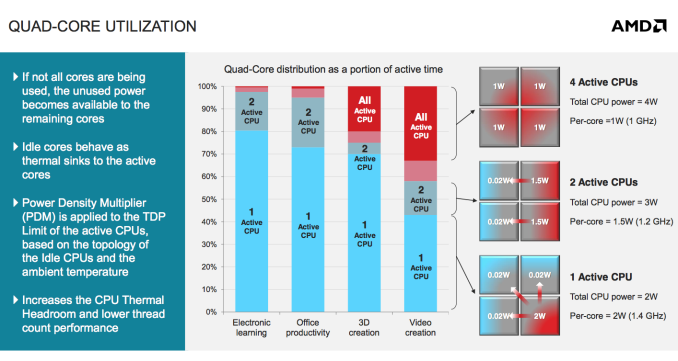 The A4-1200 is quite interesting as it carries a sub-4W TDP, low enough to make it into an iPad-like form factor. It's also important to note that AMD doesn't actually reduce the number of GPU cores in any of the Temash designs, it just scales down clock speed.
Xbox One & PlayStation 4
In both our Xbox One and PS4 articles I referred to the SoCs as using two Jaguar compute units - now you can understand why. Both designs incorporate two quad-core Jaguar modules, each with their own shared 2MB L2 cache. Communication between the modules isn't ideal, so we'll likely see both consoles prefer that related tasks run on the same module.
Looking at Kabini, we have a good idea of the dynamic range for Jaguar on TSMC's 28nm process: 1GHz - 2GHz. Right around 1.6GHz seems to be the sweet spot, as going to 2GHz requires a 66% increase in TDP.
The major change between AMD's Temash/Kabini Jaguar implementations as what's done in the consoles is really all of the unified memory addressing work and any coherency that's supported on the platforms. Memory buses are obviously very different as well, but the CPU cores themselves are pretty much identical to what we've outlined here.