Final Words
Bobcat was a turning point for AMD. The easily synthesized, low cost CPU design was found in the nearly 50 million Brazos systems AMD sold since its introduction. Jaguar improves upon Bobcat in a major way. The move to 28nm helps drive power even lower, which will finally get AMD into tablet designs with Temash. Despite being lower power, Jaguar also manages to increase performance appreciably over Bobcat. AMD claims up to a 22% increase in IPC compared to Bobcat. Combine the IPC gains with a more multi-core friendly design and Jaguar based APUs should be appreciably faster than their predecessors.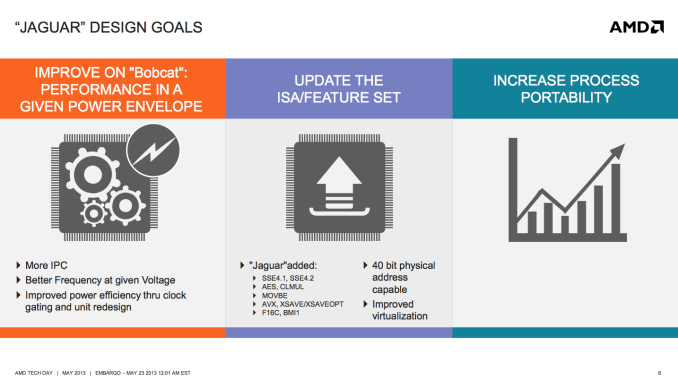 Quite possibly one of the only real weaknesses with Jaguar is the lack of aggressive turbo modes in any of the shipping implementations of the design. It appears that the first implementations of Jaguar were under time constraints, leaving many features (including improved thermal monitoring/management and turbo boost) on the cutting room floor. Kabini and Temash seem ripe for a mid-cycle update enabling turbo across more parts, which could do wonders for single threaded performance.
The Jaguar power story actually looks very good, it's just hampered by traditional PC legacy. None of the launch APUs here support the low power IOs necessary to drive platform power down even further. AMD is getting very close though. Jaguar's core power is easily sub-2W for lightweight tablet tasks, the rest of the platform (excluding display) drives it up to 4 - 7W. AMD definitely has the right building blocks to go after truly low power tablets in a major way, should it have the resources and bandwidth to do so.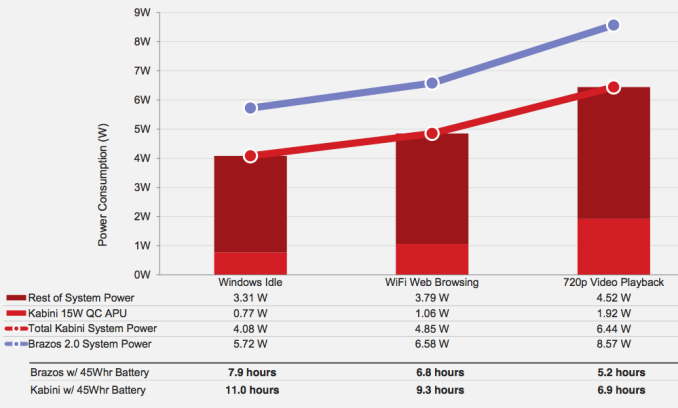 In its cost and power band, Jaguar is presently without competition. Intel's current 32nm Saltwell Atom core is outdated, and nothing from ARM is quick enough. It's no wonder that both Microsoft and Sony elected to use Jaguar as the base for their next-generation console SoCs, there simply isn't a better option today. As Intel transitions to its 22nm Silvermont architecture however Jaguar will finally get some competition. For the next few months though, AMD will enjoy a position it hasn't had in years: a CPU performance advantage.
I can't stress enough how important it is that AMD continues to focus on driving the single threaded performance of its cat-line of cores. Second chances are rare in this business, but that's exactly what AMD has been offered with the rise of good enough computing. Jaguar vs. Atom is the best CPU story AMD has had in years. Regular updates to the architecture coupled with solid execution are necessary to ensure that history doesn't repeat itself in a new segment of AMD's business.
Long term, I can't help but wonder what Bobcat's success will do to shape AMD's future microarchitecture decisions. I'm not sure what Jim Keller's SoC project is, but I'm wondering if the days of really big cores might be over. I don't know that really small cores are the answer either, but perhaps something in between...