ASRock Z87
We are luckily enough one of the first few (if not the first) to showcase the ASRock Z87 range in all its glory. ASRock have a series of motherboards lined up for users, following the normal naming structure we have come to expect:
ASRock Z87 Extreme3
ASRock Z87 Extreme4
ASRock Z87 Extreme6
ASRock Z87 Extreme6/AC
ASRock Z87 OC Formula
ASRock Z87 OC Formula/AC
ASRock Z87 Professional
ASRock Z87E-ITX
ASRock Z87M Extreme4
ASRock Z87M OC Formula
The big thing to notice is the use of AC in the name of a few of them, which should mean 802.11ac support, and would signify that ASUS and ASRock are both in the game for placing the high end WiFi on their motherboards.
A-Style
For a lot of their high end range of products, ASRock are applying something they call A-Style. This combines features such as upgraded sound, a HDMI input (tablet -> PC -> Monitor for control or gaming), 802.11ac, 'Waterproof by Conformal Coating' (perhaps some superhydrophobic coating) and Home Cloud. As we get nearer the launch date ASRock will be updating their microsite with more information. The one that interests me most as a classically trained chemist and an overclocker is the waterproof coating:
It looks too good to be true. I understand the physics behind the lotus effect (superhydrophobicity), and it is something being applied to mobile phones to protect electronics from being dropped into water, but it would clearly be interesting to see in action beyond the PR video.
ASRock Z87 Extreme3
It has been known in the past that the cheaper end of ASRock's Extreme range offers a little extra for the price point. Insert the Extreme3, which looks like a fully functioning ATX motherboard: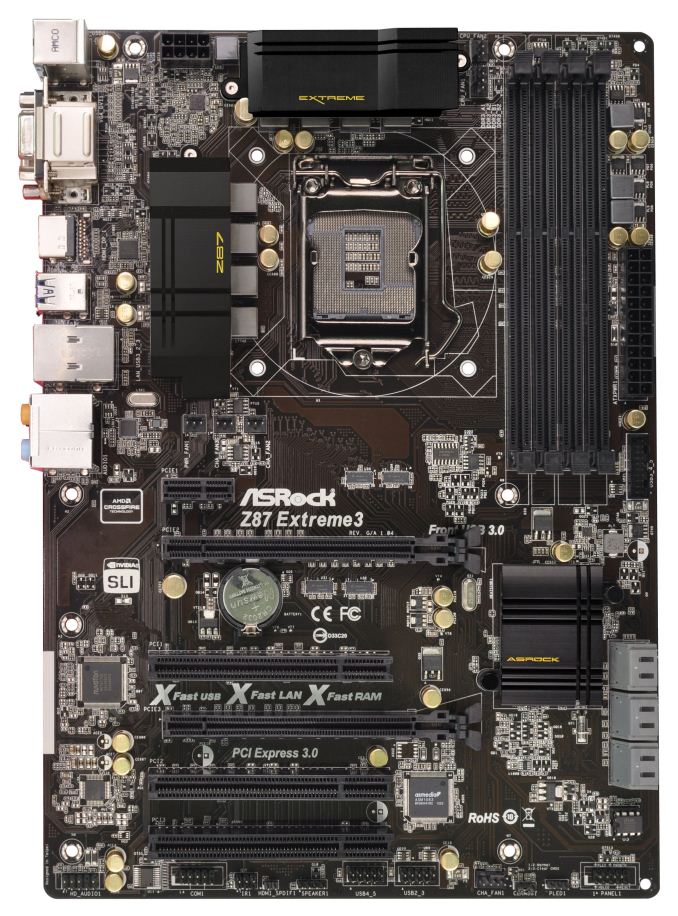 At this price point we do not get single-sided latches for the memory, but we do have what looks like a full SLI capable motherboard, featuring an x8/x8 layout and a few PCI slots. ASRock have also adorned this motherboard with six can headers, and we get what seems to be a standard six SATA ports and six USB 3.0 ports. It is worth noting there is no DisplayPort.
ASRock Z87 Extreme4
Whereas the Extreme3 is for the low end of the channel range, the Extreme4 is usually a nice middling product to look at for a few extra features.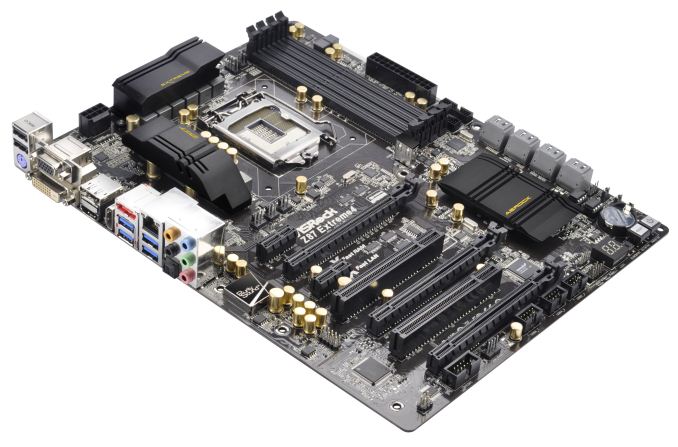 From the Extreme4 on we get a sound solution that ASRock are calling Purity Sound, which according to the ASRock microsite is a Realtek ALC1150 under an EMI shield with a pair of TI NE5532 amplifiers for 600 ohm headphone support. The system also moves up to three full length PCIe slots, supporting what looks like x8/x4/x4 with the traces. ASRock are using ASMedia controllers for extra SATA ports and extra USB 3.0 ports – we have 8 of each. Also onboard are power/reset buttons and a debug LED.
Users will note on the rear IO what looks like two HDMI ports, as well as all the other video outputs we might find on a Haswell system. One of these ports is a HDMI in, allowing users to use a pair of HDMI cables and a quick toggle to move between tablet/smartphone and PC. Personally I think I would prefer a front panel HDMI for this feature, but then again I cannot see myself ever wanting to HDMI in to my monitor via my TV – I have enough access to do it direct from the monitor to my mobile device.
ASRock Z87 Extreme6 and Extreme6/AC
The Extreme6 and Extreme6/AC are the same board; all that differs between the two is that onboard the AC model is an AC WiFi card: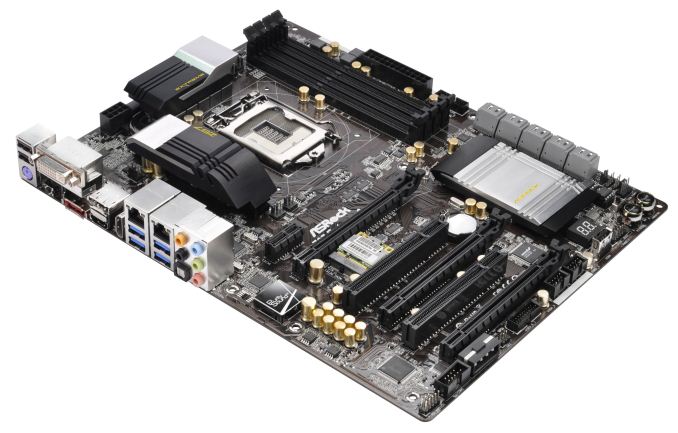 Aside from the 802.11ac card, the Extreme6 builds further upon the concept of the Extreme4. We now have a large set of 10 SATA ports, dual NIC, HDMI in (again), and a 4-pin molex connector for extra VGA power suggesting a definite x8/x4/x4 setup. There is also a USB port sticking out of the board, Purity Sound, two onboard BIOSes (switchable) and a total of 8 USB 3.0 ports. I will note that one of the features other motherboard manufacturers are using is a matte coating to disguise where the traces are. This obviously carries a small cost, which ASRock are foregoing here.
ASRock Z87 Extreme9/AC
The top end model of the ASRock channel range at launch will be the Extreme9/AC. I have a sneaky suspicion that a non-AC model may be launched, as well as an Extreme11 (with an LSI 2308 SAS chip and a pair of PLX 8747 chips) at a later date. Nonetheless, the Extreme9/AC is well kitted out to potentially be one of the top Z87 motherboards: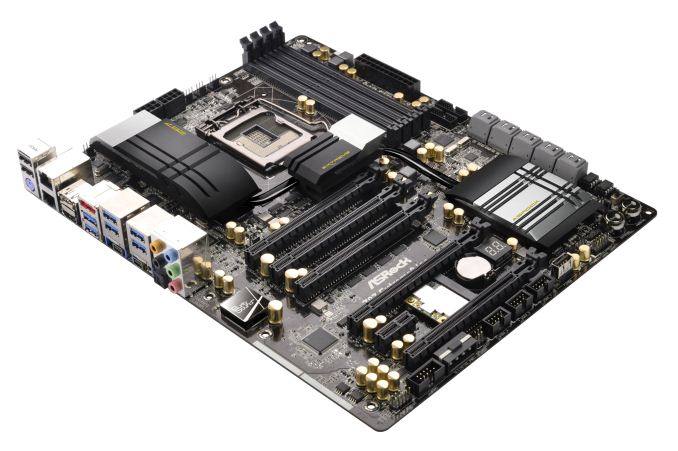 To start we notice the extended heatsink going around the board, which we would assume covers up a PLX 8747 chip for x8/x8/x8/x8 lane allocation. Having three full-length PCIe at the top, and the second one being wired in for x16, suggests that ASRock are also looking at making the second slot bypass the PLX chip for better single GPU performance. We also have two CPU 8-pin power connectors for overclockers who want to push the motherboard. Alongside all the Extreme6 features that have made their way here (10 SATA ports, USB port sticking out, single side latches, dual NIC, Purity Sound), we can see 10 USB 3.0 ports all in, as well as what looks like a Thunderbolt chip. This seems to be a dual port chip, judging by the two mDP ports on the side, but on the board itself is a significant sized chip with wavy traces indicative of a TB.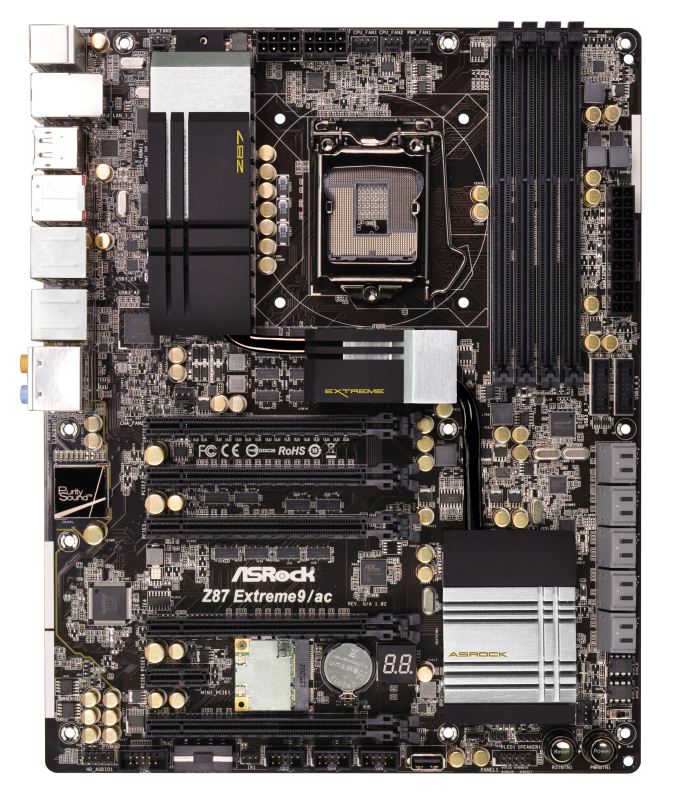 ASRock Z87 OC Formula and OC Formula/AC
When I reviewed the Z77 OC Formula from ASRock earlier in the year, I was pleasantly surprised on many fronts. Here we had a motherboard for enthusiasts – it was easy to use, had a positive user experience, and showcased that ASRock can deliver good products and ones that can perform at the top of the game. The Z87 OC Formula then has to be a platform whereby ASRock can step up to the plate and get another base hit, and it looks a bit good: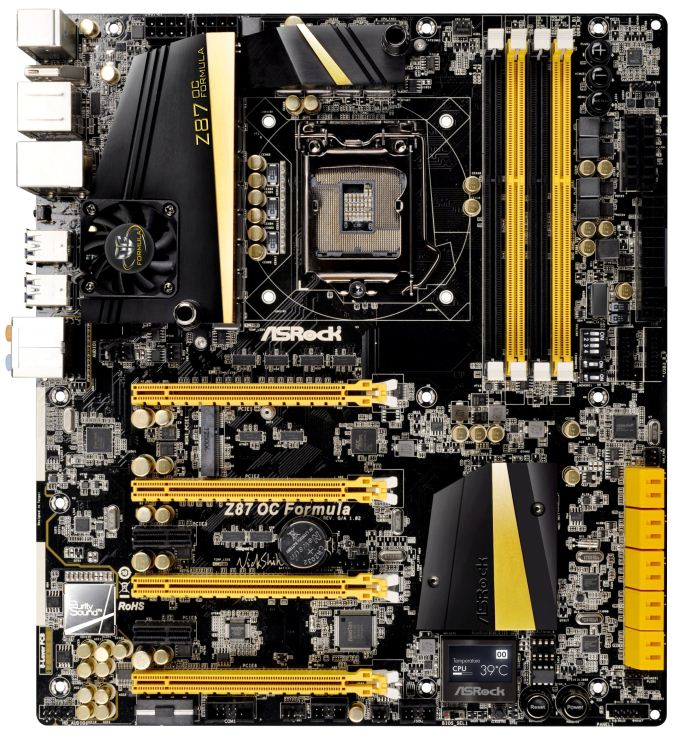 I hope you all see this image correctly, because there seems to be something fairly magical underneath the chipset heatsink. Yes, that is an LCD screen! Judging from the Waterproof video at the top of the page, it seems this is an add-on unit that will hopefully come with the box. It currently shows CPU temperature, but I think it will also be used for POST codes as well as other features (your own message, voltages, temperature from other sensors, etc).
Elsewhere on the OC Formula we have upgraded features from the old model – we now get four way GPU usage, though clearly without a PLX chip. This seems to be like the Gigabyte Z87X-OC which uses an x8/x4/x4 + x4 layout – that final x4 being PCIe 2.0 from the PCH. We get ten SATA ports, Purity Sound, a total of 12 USB 3.0 ports (two onboard headers and eight on the rear IO, and the combination VRM heatsink + water cooling apparatus as seen on the last OC Formula.
The OC Formula also gets an LN2 switch and a Slow mode switch, as seen on ASUS boards, and a double set of voltage read points alongside a trio of OC buttons. We only have a single NIC, but the AC edition will come bundled with an 802.11ac card. I also note we are using double sided latches on the DIMMs, whereas I would have expected the single side latch mechanism like on the Z87 Professional.
ASRock Fatal1ty Z87 Professional
Since I started reviewing, I have been fairly critical of Fatal1ty boards. My general feeling is that the motherboard industry does not need celebrity endorsement, especially one where we are not too clear if they have had any input in the design at all. At least when Jenson Button endorses hair care products, you can be pretty sure he uses them, but I would not bet he had any input into the chemistry behind it. The Z87 Professional carries on the Fatal1ty moniker and styling, so it clearly is beneficial to ASRock's sales: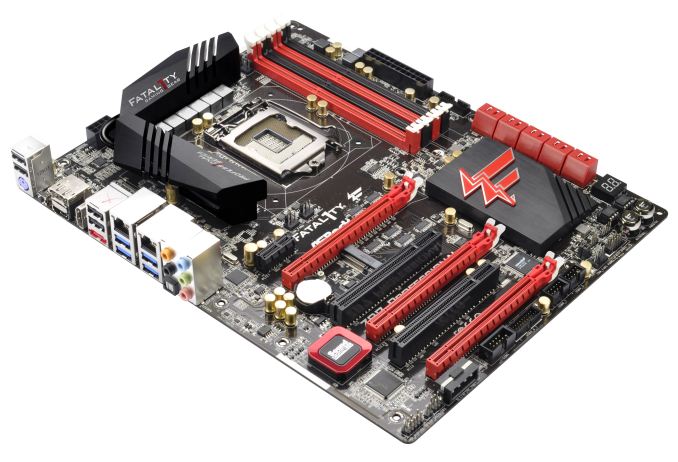 Putting this motherboard next to the Extreme6 and we get almost an identical board with a few changes. We still have a trio of PCIe slots, 10 SATA ports, a two digit debug, some USB 3.0 and a HDMI in. The major changes are out with the Purity Sound and in with the Creative Sound Core3D, and the Fatal1ty specific BIOS/software package with the mouse software for 1000 Hz support.
ASRock Z87E-ITX
ASRock are coming out of the gate with at least one mITX SKU, and given that we recommended the Z77E-ITX, it will be interesting to see how it has developed over time for the new platform.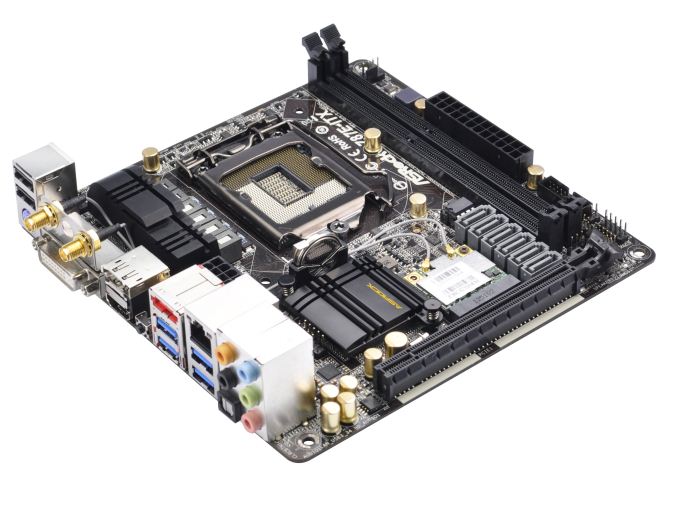 At this point I am going to be overly critical on a number of points. Firstly, the CPU 8-pin connector is in the middle of the motherboard, when it really needs to be on the edge. Next, the six SATA 6Gbps connectors are all up against each other, which means with locking SATA cables if you need to take the one at the bottom out then the user will have to take out the other five, in order, first. On a positive note we see that the socket has plenty of room to move north and south for coolers, and like the Z77E-ITX, we get an mSATA on the rear of the motherboard: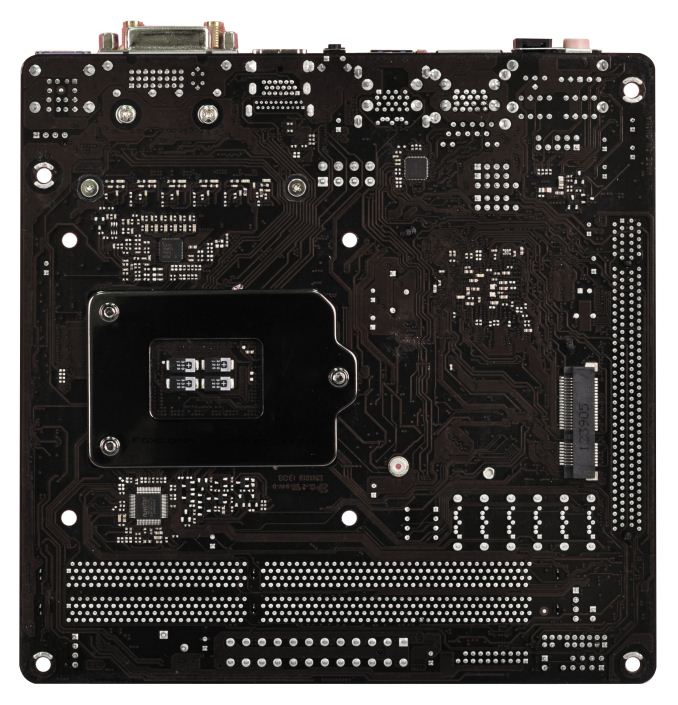 Also worth noting that the board does come with WiFi, but due to no AC in the name we could postulate that it would be 802.11n rather than 802.11ac.
ASRock Z87M Extreme4
With every chipset release ASRock does like to come out with a microATX board in the middle of the range, and this time it is the Z87M Extreme4.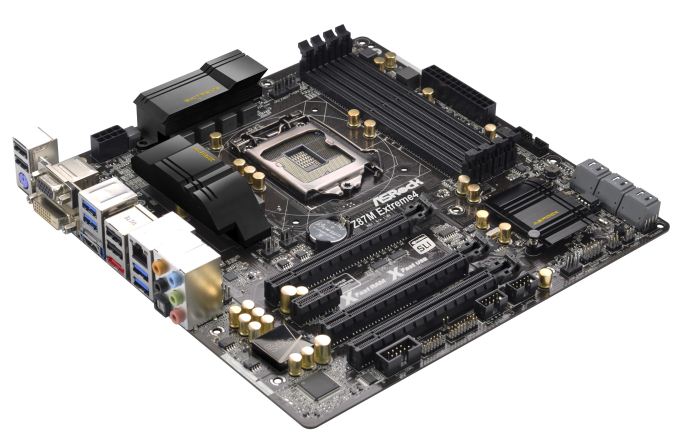 At hand we have the A-Style still present in the form of Purity Sound, but overall it seems more like a stripped down Extreme3 but with SLI capabilities. On board are six SATA ports and six USB 3.0 (like the Extreme3), no DisplayPort (like the Extreme3) , an x16/x1/x8/x4 PCIe layout and a TPM. Nothing ultimately stands out at me looking at the motherboard images, except the front panel audio has been shifted up towards the IO rather than on the south of the motherboard.
ASRock Z87M OC Formula
A new addition to the lineup is the mATX version of the OC Formula. On one hand we know this is going to be having the software and BIOS package like the bigger brother, but the hardware needs to be comparable as well.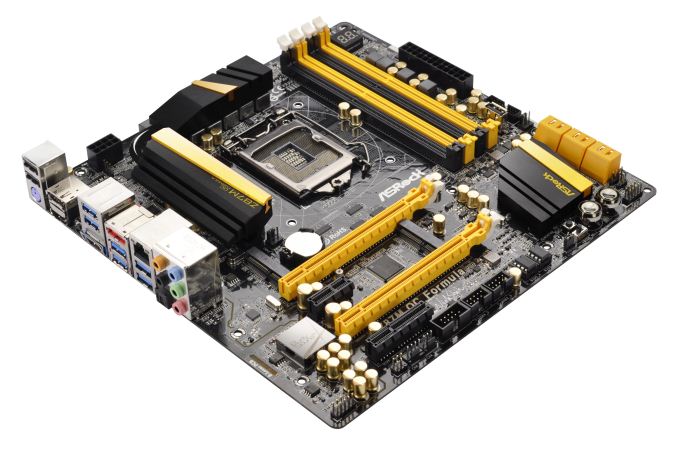 At first glance it looks a little strange – sure we get Purity Sound, and x8/x8 PCIe combination, an LN2/Slow Mode pair of switches, but there is no combined air/water cooler and no mini-LCD screen. The system uses a two-BIOS methodology, but we have six SATA ports and what looks like an mPCIe and an mSATA on board. USB 3.0 ports number 8 in total, but at least there is the single sided latch DIMM slots, as well as Power/Reset buttons and a two-digit debug.