Silent Running Performance
There was a tremendous amount of data on the previous page; we need to make it easier and condense it into more readily useful information. So we'll start by culling all of the test results where the coolers had to run at higher than 34dB, leaving us with a healthy cross-section of quieter cooling solutions.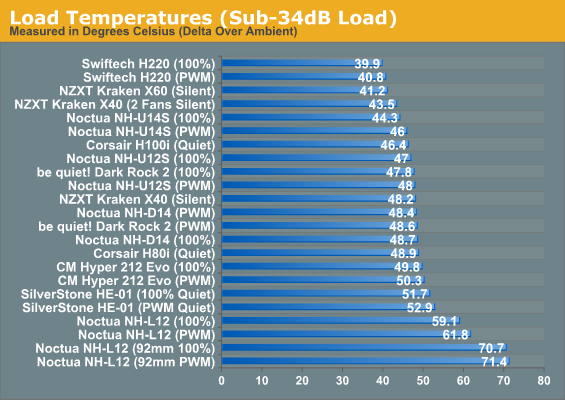 This is where Swiftech makes their move. The H220 offers essentially the best low noise performance out of all of the coolers we've tested. Unfortunately, load noise takes the Cooler Master Seidon 240M out of the equation at any level; even with PWM enabled, the 240M went up to 38dB.
You'll also notice that while the top four positions are held by closed loop coolers, air cooling essentially makes its comeback here as a quieter solution overall. The air coolers we've tested are all, outside of SilverStone's HE-01, designed to be silent, so this isn't a surprise. The surprise is more that closed loop coolers running at quiet settings are having a much harder time competing.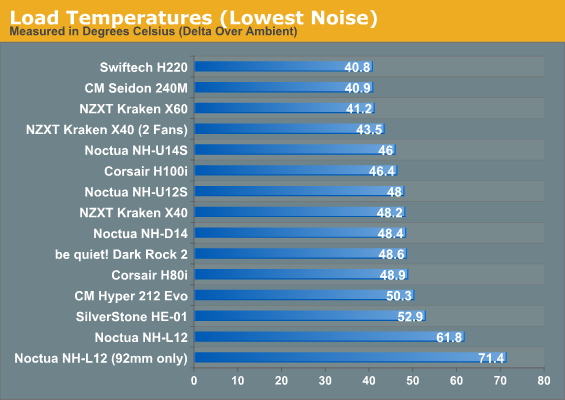 Culling all of our data down to the lowest noise settings is even more interesting. Swiftech's H220 continues to do well, but the Seidon 240M sort of cheats: this may be its quietest, but it's still running at 38dB, 5dB higher than the more expensive H220. The NZXT Kraken X40 turns out to do much better in a push-pull configuration, though, and its noise level is just 31.2dB, 2dB quieter than the H220 in exchange for running about 2-3C warmer. The second fan turns the Kraken X40 into a dark horse contender and brings it into the overall conversation; adding the second fan doesn't actually increase load noise at the Kraken's silent setting, but it does bring thermals down by a healthy 5C.