Projected Performance: Can AMD Catch up with Intel?
I keep going back to this slide because it's incredibly relevant. It's the only indication we have from AMD of what its future roadmap will look like in terms of performance increases: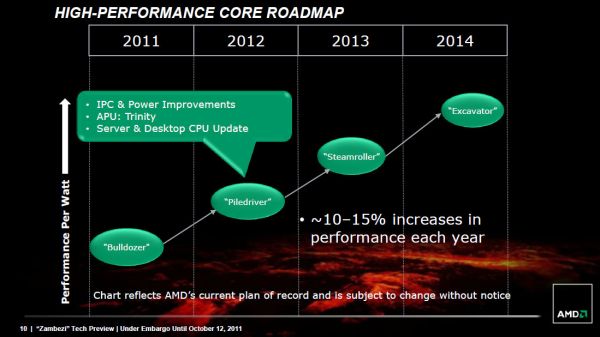 Each year AMD promised to increase performance of its high-end cores by roughly 10 - 15%. Astute observers will note that, at this rate, AMD will almost never catch up to Intel. AMD at the time was careful to point out that it's talking about 10 - 15% gains in core performance, and it could potentially see even larger increases in total chip performance by pulling other levers. Vishera is an example of AMD doing just that. The Piledriver cores by themselves don't increase performance tremendously, but they do give AMD a little more thermal headroom to work with thanks to some more efficient design decisions and better transistor choice. With Vishera, AMD took the additional power headroom and turned into a frequency advantage. The result is AMD's FX-8350 can operate in the same power envelope as the outgoing FX-8150, yet runs at an 11% higher base clock (turbo frequency remains the same). Through frequency and core level improvements, AMD was able to deliver a bit more than the 10 - 15% performance increased in promised.
If AMD is able to repeat these improvements again next year, I wondered whether or not it would get any closer to closing the gap with Intel - particularly when it came to single threaded performance. We already know from our Haswell investigations that Intel is expecting around a 5 - 15% increase in CPU performance from Haswell over Ivy Bridge. If we assume that Haswell delivers towards the 15% end of that spectrum, and if we assume that Steamroller delivers the same level of improvements that we saw from Piledriver/Vishera, we end up with some pretty interesting predictions for where things end up next year. I modeled the 2013 performance of high-end AMD and Intel platforms based on those two factors and plotted the curves in a few different benchmarks. For each generation I used the parts that AMD stacked up against one another (they are also fairly similarly priced). For 2011 I used the FX-8150 vs. Intel's Core i5 2500 and for 2012 I used the FX-8350 vs. Intel's Core i5 3570. The 2013 data is of course projected based on a 15% increase in performance from Haswell, and a repeat of the Vishera vs. Zambezi increase for AMD. This is mostly an interesting experiment so don't get too invested in the data.
We'll start with Cinebench, by far the most painful of the tests for AMD from a single-threaded performance perspective: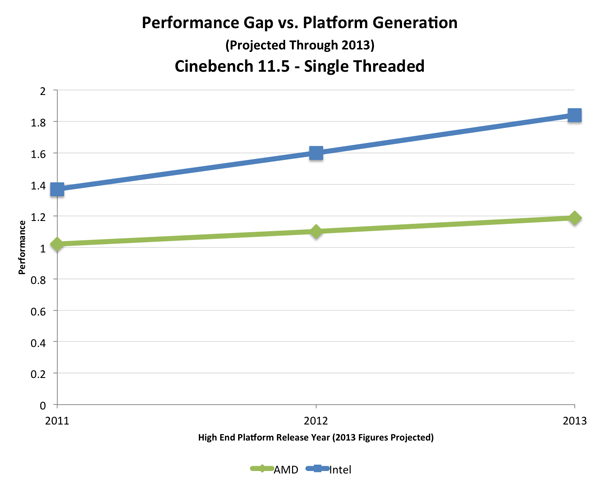 The Vishera gains here were decent but not enough to dramatically shrink the performance gap. Furthermore, Intel put a good amount of distance in place with Ivy Bridge and if it can continue that with Haswell I don't see much hope here.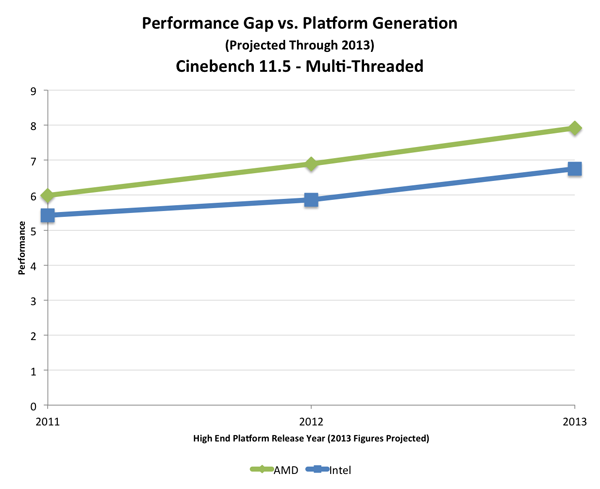 The multithreaded Cinebench results begin in AMD's favor and remain so even with our projected performance data.
Mozilla's Kraken benchmark is another example of single threaded performance gone awry for AMD.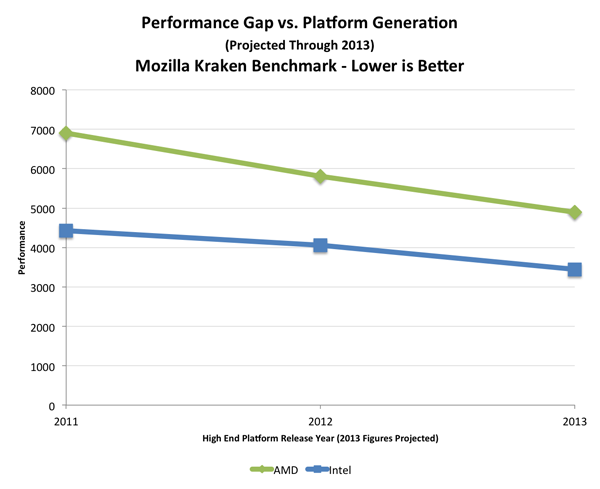 Thankfully, Vishera does close the gap by a decent amount and if AMD extends those gains it is on an intercept course with Intel. The bad news is, that intercept wouldn't be in 2013.
POV-Ray provides another point of view on single threaded performance, here the situation looks far less dire than under Cinebench: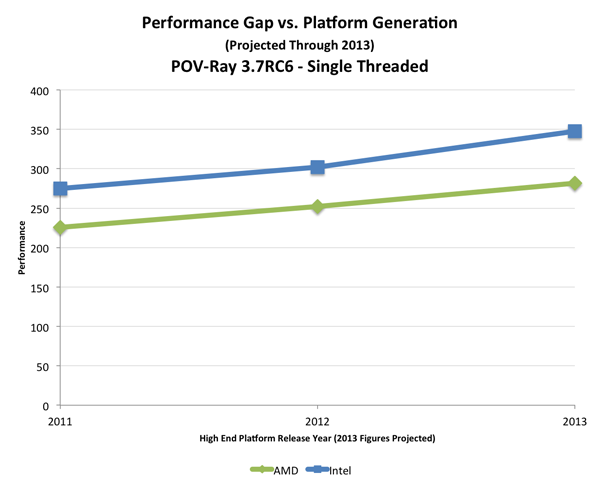 Unfortunately the curves remain fairly distinct.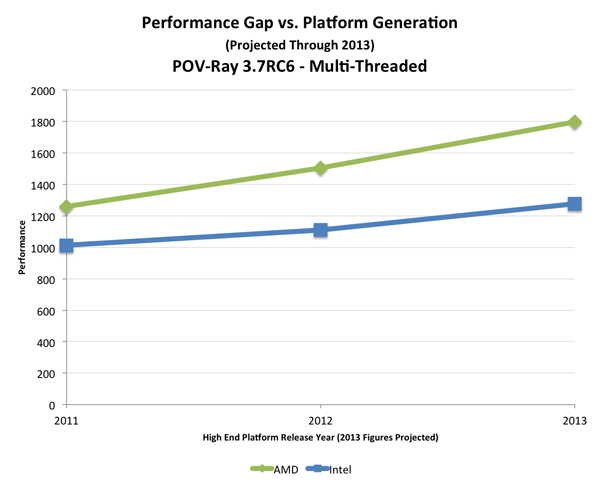 Once again, when we increase thread count we see AMD pull ahead.
SYSMark is a particularly telling benchmark as it is lightly threaded and does a good job of simulating all types of workloads: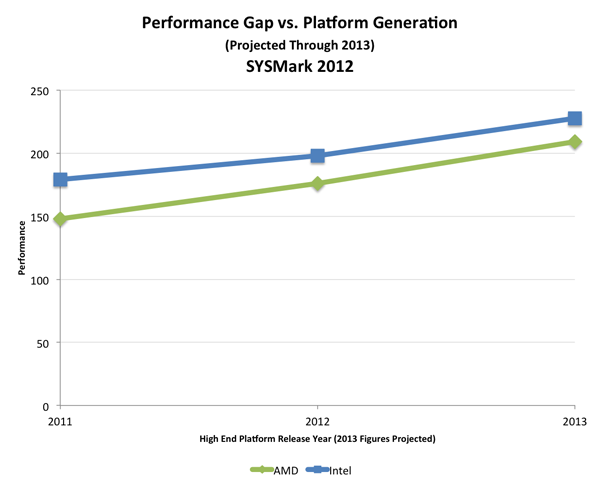 The result here is AMD closing in, albeit slowly, on Intel's performance advantage. I suspect this is quite possibly the best case scenario for AMD, it doesn't necessarily want to surpass Intel in performance but it wants to get close enough where pricing and other factors (e.g. GPU performance in its APU parts) can make a bigger difference.
Our Visual Studio 2012 test is a good combination of single threaded and multithreaded workloads in one: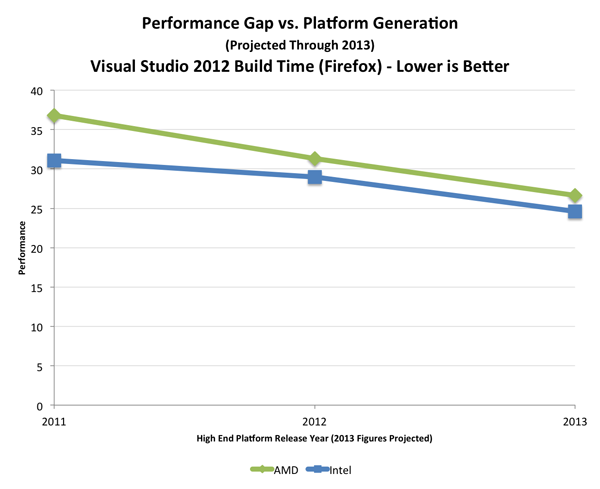 With Vishera, AMD did a lot to close the gap betwen itself and Intel. Another increase like this and we won't see AMD surpass Intel, but the two should remain fairly close.
These last two tests show us the other side of the coin. If both AMD and Intel continue on their present tracks, what will happen in a test where AMD already does well today?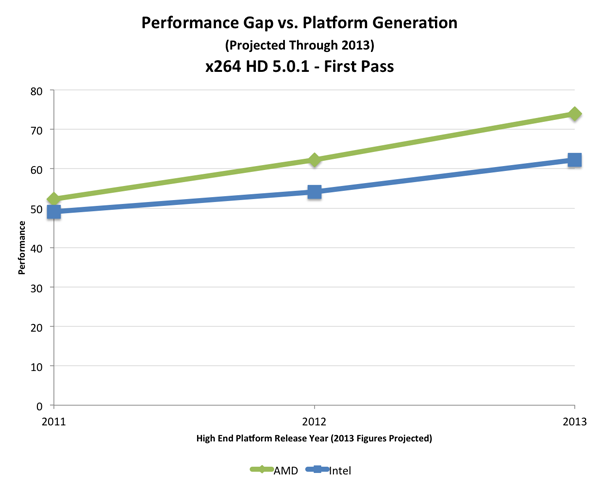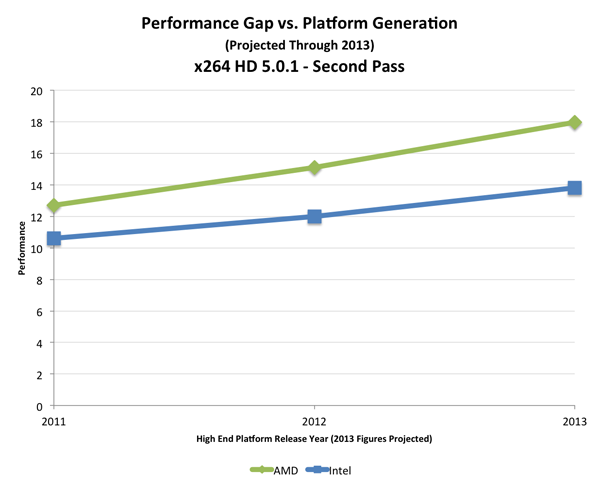 In areas where AMD holds a significant advantage, Haswell would need to deliver more than a 15% gain in performance at the same price point to catch up.
None of the results here are all that surprising. AMD remaining on its current course isn't enough to dramatically change its standings vs. Intel in another year. Vishera definitely cut into the performance delta, but the 2013 follow-up will have to do even more to really have an impact. Steamroller is far more focused on increasing IPC, however without a new process node it'll be difficult to demonstrate another gain in frequency like we see today with Vishera. I suspect the real chance for AMD to approach parity in many of these workloads will be with its 20nm architecture, perhaps based on Excavator in 2014.