Power Consumption
With Vishera, AMD was in a difficult position: it had to drive performance up without blowing through its 125W TDP. As the Piledriver cores were designed to do just that, Vishera benefitted. Remember that Piledriver was predominantly built to take this new architecture into mobile. I went through the details of what makes Piledriver different from its predecessor (Bulldozer) but at as far as power consumption is concerned, AMD moved to a different type of flip-flop in Piledriver that increased complexity on the design/timing end but decreased active power considerably. Basically, it made more work for AMD but resulted in a more power efficient chip without moving to a dramatically different architecture or new process node.
In mobile, AMD used these power saving gains to put Piledriver in mobile APUs, a place where Bulldozer never went. We saw this with Trinity, and surprisingly enough it managed to outperform the previous Llano generation APUs while improving battery life. On desktops however, AMD used the power savings offered by Piledriver to drive clock speeds up, thus increasing performance, without increasing power consumption. Since peak power didn't go up, overall power efficiency actually improves with Vishera over Zambezi. The chart below illustrates total system power consumption while running both passes of the x264 HD (5.0.1) benchmark to illustrate my point:

In the first pass Vishera actually draws a little less power, but once we get to the heavier second encode pass the two curves are mostly indistinguishable (Vishera still drops below Zambezi regularly). Vishera uses its extra frequency and IPC tweaks to complete the task sooner, and drive down to idle power levels, thus saving energy overall. The picture doesn't look as good though if we toss Ivy Bridge into the mix. Intel's 77W Core i5 3570K is targeted by AMD as the FX-8350's natural competitor. The 8350 is priced lower and actually outperforms the 3570K in this test, but it draws significantly more power: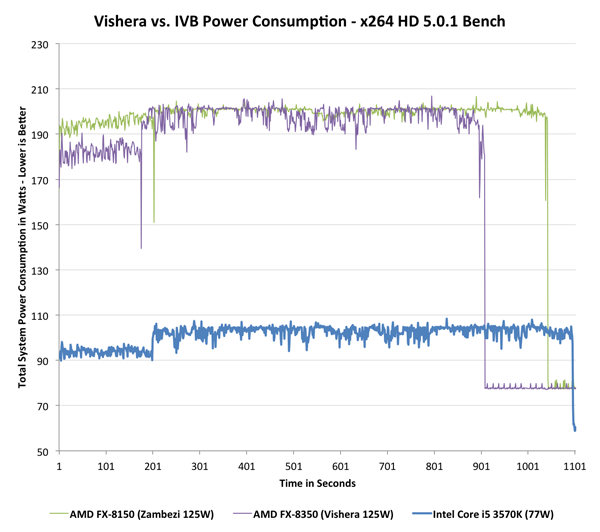 The platforms aren't entirely comparable, but Intel maintains a huge power advantage over AMD. With the move to 22nm, Intel dropped power consumption over an already more power efficient Sandy Bridge CPU at 32nm. While Intel drove power consumption lower, AMD kept it constant and drove performance higher. Even if we look at the FX-8320 and toss Sandy Bridge into the mix, the situation doesn't change dramatically: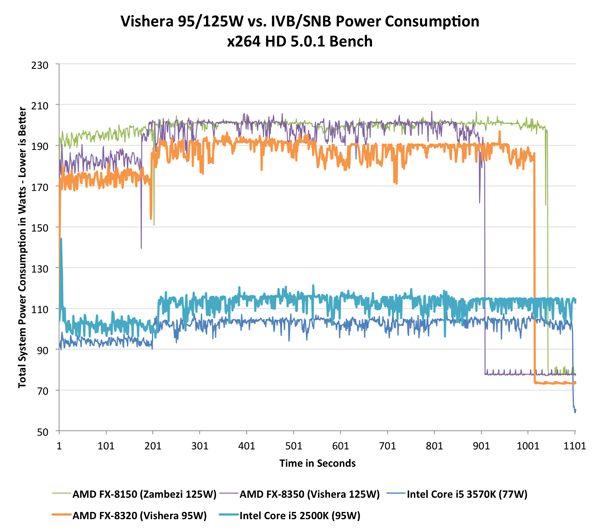 Sandy Bridge obviously consumes more than Ivy Bridge, but the gap between a Vishera and any of the two Intel platforms is significant. As I mentioned earlier however, this particular test runs quicker on Vishera however the test would have to be much longer in order to really give AMD the overall efficiency advantage.
If we look at average power over the course of the two x264 encode passes, the results back up what we've seen above: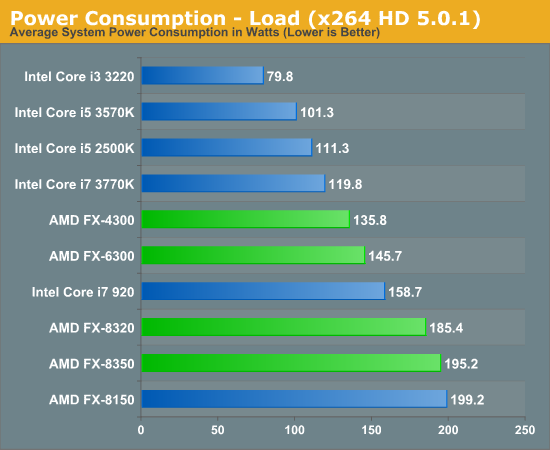 As more client PCs move towards smaller form factors, power consumption may become just as important as the single threaded performance gap. For those building in large cases this shouldn't be a problem, but for small form factor systems you'll want to go Ivy Bridge.
Note that idle power consumption can be competitive, but will obviously vary depending on the motherboard used (the Crosshair Formula V is hardly the lowest power AM3+ board available):