Photoshop Performance
Adobe Photoshop CS4
To measure performance under Photoshop CS4 we turn to the Retouch Artists' Speed Test. The test does basic photo editing; there are a couple of color space conversions, many layer creations, color curve adjustment, image and canvas size adjustment, unsharp mask, and finally a gaussian blur performed on the entire image.
The whole process is timed and thanks to the use of Intel's X25-M SSD as our test bed hard drive, performance is far more predictable than back when we used to test on mechanical disks.
Time is reported in seconds and the lower numbers mean better performance. The test is multithreaded and can hit all four cores in a quad-core machine.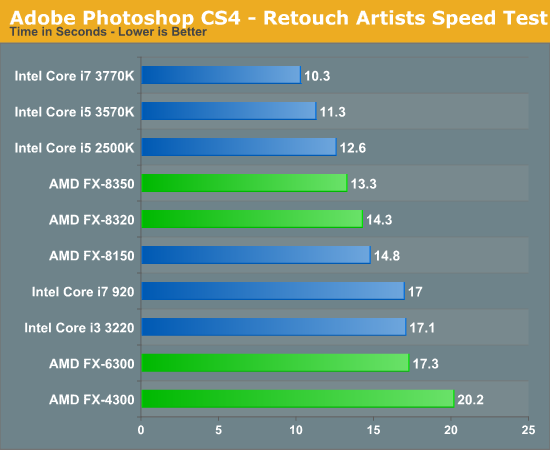 We see similar results in our Photoshop benchmark, Vishera falls behind a bit as this test isn't threaded enough to showcase the platform's advantages.
3D Rendering Performance
Our new POV-Ray benchmark uses the latest beta binary (3.7RC6) and runs through both single and multithreaded versions of the popular raytracing benchmark.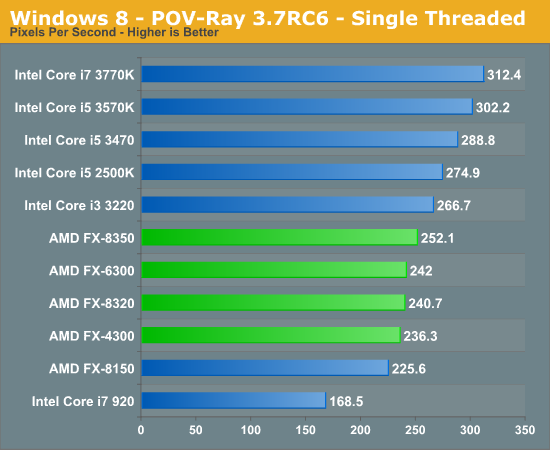 The latest POV-Ray test gives us a good look at single threaded performance. Here AMD was able to increase performance over the FX-8150 by 11%, however Intel's Core i5 3570K still manages to hold on to a 20% performance lead over the FX-8350.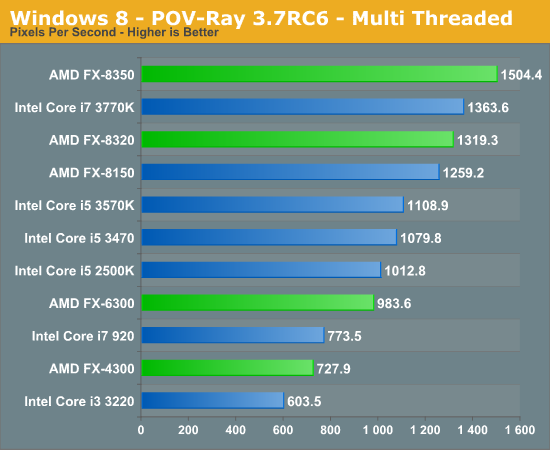 Running the same benchmark but multithreaded puts AMD at the top. With the exception of the FX-6300, all of the AMD parts beat out their Intel counterparts.
Cinebench 11.5
Created by the Cinema 4D folks we have Cinebench, a popular 3D rendering benchmark that gives us both single and multi-threaded 3D rendering results.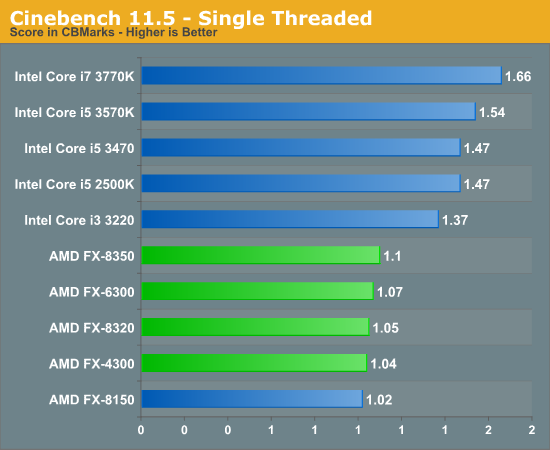 Cinebench 11.5 paints an even more dire picture for AMD's single threaded performance - Intel manages a 40% advantage over the FX-8350.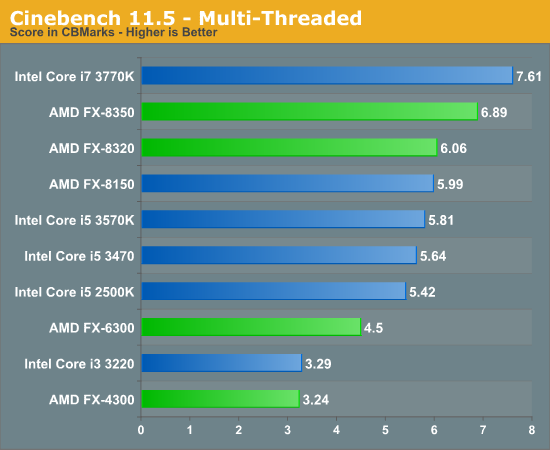 Multithreaded performance however continues to be great.