Video Transcoding Performance
x264 HD 5.0.1 Benchmark
We migrated to the latest verison of the x264 HD benchmark which features a much newer version of x264 and a much heavier workload. The focus here is on quality rather than speed, thus the benchmark uses a 2-pass encode and reports the average frame rate in each pass.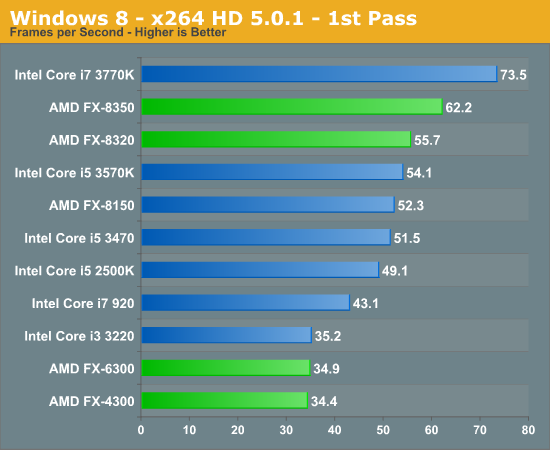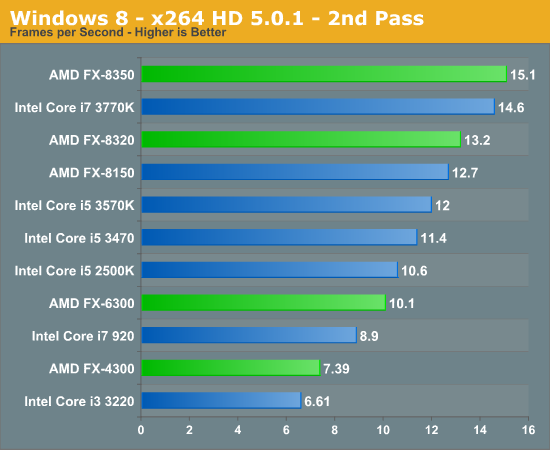 The latest version of the x264 HD test does extremely well on Vishera. With the exception of the FX-6300, AMD is able to come away with a win at all of its price points. The FX-8350 even outperforms the Core i7 3770K.
Visual Studio 2012 - Multithreaded Compile Performance
Our compile test is back and better than ever. With a much larger and faster SSD (Samsung SSD 830, 512GB), we're able to get more consistent compile times between runs. We're now using Visual Studio 2012 to compile Mozilla's Firefox project. The compile is multithreaded however there are periods of serial operation where performance is bound by the speed of a single core. The end result is a benchmark that stresses both single and multithreaded performance. Compile times are reported in minutes elapsed.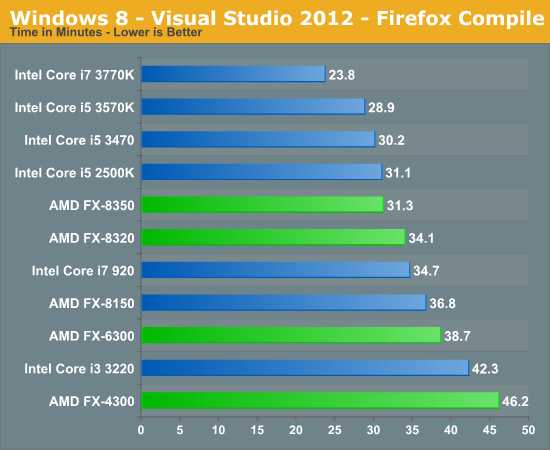 It's all or nothing with Vishera. Mixed workloads that stress both single and multithreaded performance don't turn out as well on AMD's platform. With the FX-8350 AMD is able to sneak up on Sandy Bridge, but the competitive Ivy Bridge parts simply pull ahead. If there ever was a reason to fix AMD's single threaded performance, you're looking at it.