Rosewill Hyperborea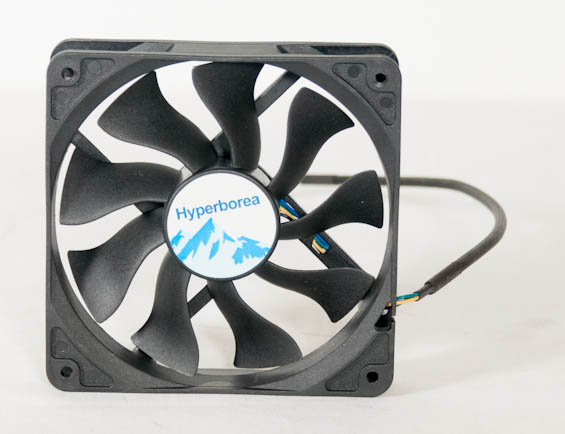 | | | | |
| --- | --- | --- | --- |
| Airflow (in CFM) | Static Pressure (in mm/H2O) | RPM | Rated dBA |
| 57.53 | 2.64 | 600-1300 | 6.9-16.05 |
When I contacted the Rosewill rep about sending fans for review she was a bit hesitant, but I wasn't convinced there wasn't something good hiding out in their lineup. Rosewill often provides good products at reasonable prices, so I felt like their lines were worth investigating. I received this fan, which is actually a PWM fan (despite having virtually no dynamic ratings), and the next one...
Rosewill RFX-120BL Blue LED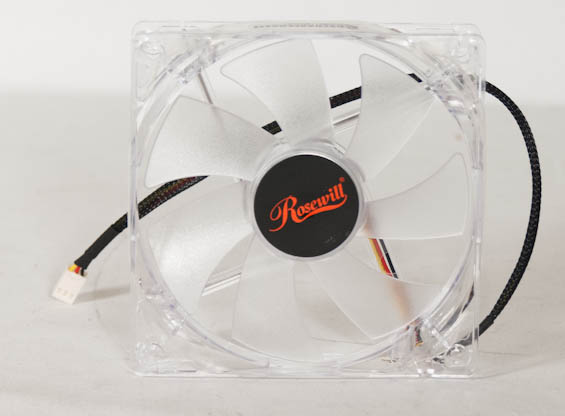 | | | | |
| --- | --- | --- | --- |
| Airflow (in CFM) | Static Pressure (in mm/H2O) | RPM | Rated dBA |
| 87.5 | none given | 2200 | 38.15 |
The other Rosewill representative is a more basic, garden variety case fan with no qualms about running full tilt. It bears mentioning that this model does include an additional fan controller bracket that may make it at least a little more attractive (though personally I'm more interested in the fan controller bracket than the fan), but this should at least be a good representation of a generic case fan.
be quiet! Silent Wings 2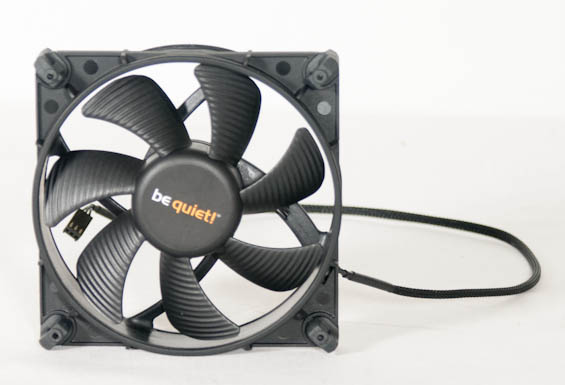 | | | | |
| --- | --- | --- | --- |
| Airflow (in CFM) | Static Pressure (in mm/H2O) | RPM | Rated dBA |
| 50.5 | 1.63 | 1500 | 15.7 |
The Silent Wings 2 is be quiet!'s top of the line fan. While our rep (who amusingly enough is my predecessor here for case reviews) wasn't super bullish on it as a radiator fan, the staggeringly low decibel rating and decent airflow and static pressure at least make the Silent Wings 2 a compelling entrant worth checking out. be quiet! as a company has been slowly making waves lately so I've been anxious to test some of their products.
be quiet! is still young yet and like BitFenix they're very slowly making inroads in American markets. As a result the Silent Wings 2 isn't widely available yet, but a quick visit to Google Shopping can find the Silent Wings 2 for a healthy $40.