Scythe Slipstream ST1225SL12L
| | | | |
| --- | --- | --- | --- |
| Airflow (in CFM) | Static Pressure (in mm/H2O) | RPM | Rated dBA |
| 40.17 | none given | 800 | 10.7 |
This fan in particular was one I picked up some time ago on a recommendation from Silent PC Review. I was looking for a fan that delivered a good blend of performance and acoustics, and this looked to be it. As it turns out, the Slipstream has served me well for a fairly long time. It's barely inaudible but it does move a decent amount of air (I used a pair on a CoolerMaster Hyper 212+ heatsink). With my history on hand, I was curious to see if it really was as good as I thought.
Thermaltake TT-1225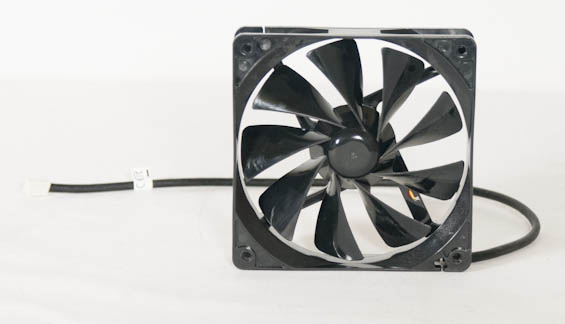 | | | | |
| --- | --- | --- | --- |
| Airflow (in CFM) | Static Pressure (in mm/H2O) | RPM | Rated dBA |
| 41.6 | none given | 1400 | 21 |
This one's kind of an oddball. It's ratings are lowish and you can't find it in retail anymore, but it saw inclusion in a lot of different cases over the years. It wouldn't be surprising if some enthusiasts had one or two laying around. Since I had one, I figured I'd test it too.
NOT AVAILABLE
Antec TwoCool 120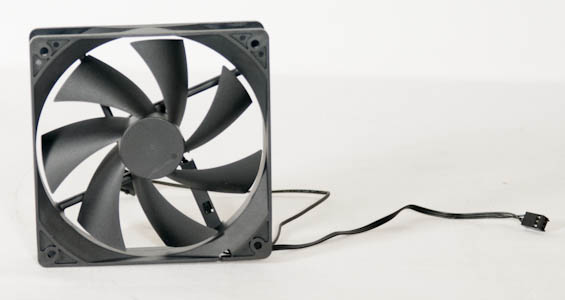 | | | | |
| --- | --- | --- | --- |
| Airflow (in CFM) | Static Pressure (in mm/H2O) | RPM | Rated dBA |
| 21.3/42.6 | 0.24/0.96 | 600/1200 | 17/23.7 |
Antec's TwoCool 120 isn't readily available in retail on its own, but is included with the popular P280 enclosure as well as a few other models. I was actually using a pair of these briefly to cool a 240mm radiator. If you have an Antec case that uses these, it may be worth seeing if they're a decent alternative to the stock fans that come with your radiator or cooler.
NOT AVAILABLE