Clevo P170EM 7970M Gaming Performance
We're looking at over $2000 worth of gaming notebook here, so there's not much point in bothering with the Value gaming charts—though you can find them in Mobile Bench if you're interested. As we noted earlier, we have several driver versions that we've tested. First, there's the initial driver dating back to May 2012 in red; we had a couple crashes to desktop with this driver (specifically in Batman and DiRT 3), and overall performance at lower settings is less than stellar with GPU underutilization issues clearly present. Next we have the recently released Catalyst 12.9 Beta in dark green, but that driver is mostly focused on separating the AMD driver updates from Intel driver updates and GPU underutilization is still a concern. Finally, we have a hotfix driver building off the 12.9 Beta that AMD hopes to have available for the public in the next week.
We're seeing clear improvements with the Hotfix for many titles, with some games showing improvements of 50% or more at lower detail settings. I'm still not certain AMD has completely fixed the GPU underutilization issues, and there are at least a couple titles where performance at certain settings has decreased slightly relative to the initial drivers, but the improvements seen in the 12.9 hotfix preview driver give us hope that they'll get things sorted out. At present, the hotfix driver is undergoing testing and packaging preparation (e.g. our test driver came with a bunch of extra files and required booting into safe mode to replace a couple of DX9 DLLs before it was fully functional). Once AMD is done with their testing and packaging, though, the driver installation process should be the same as a normal AMD Radeon driver.
We'll start with our "Mainstream" settings, which are more likely to see GPU underutilization since they're not as demanding, and then we'll look at Enthusiast performance. After that we'll have a closer inspection of the various drivers and how performance has changed. We have Alienware's M17x R4 with a GTX 680M in our charts, but we'll have a more detailed look at GTX 680M vs. HD 7970M performance when we get to part 2 of the P170EM review, as we're throwing a bunch of other recent releases at the two notebooks to see how they fare on a wider selection of benchmarks.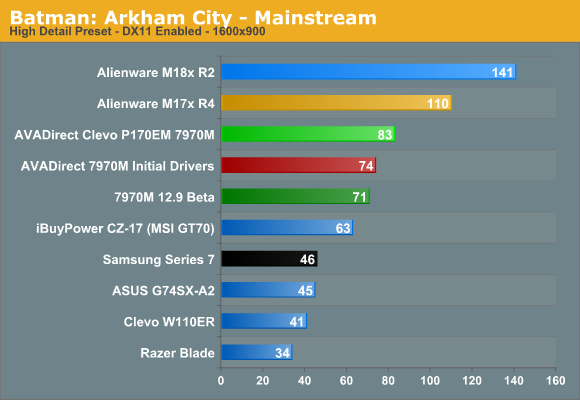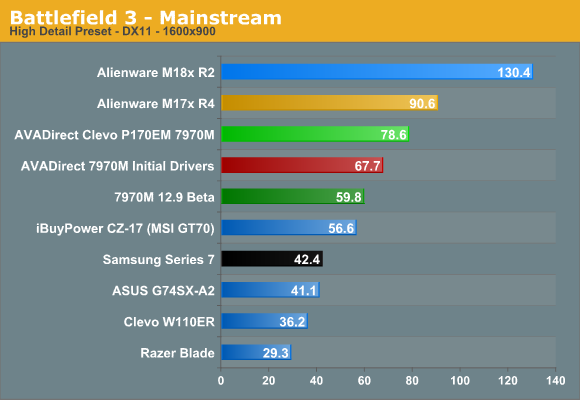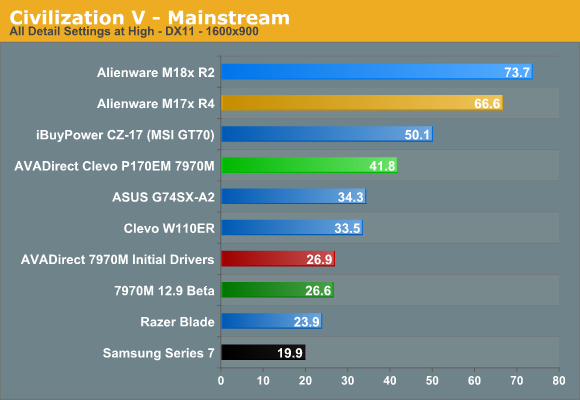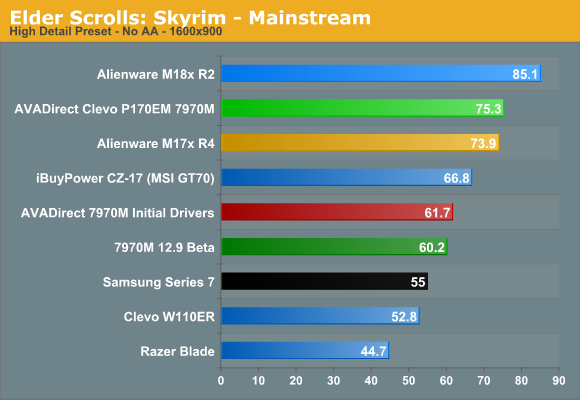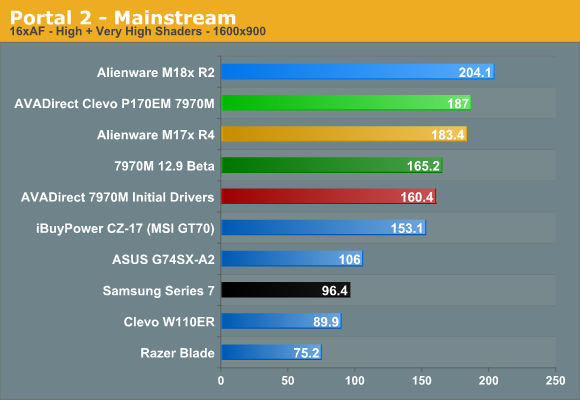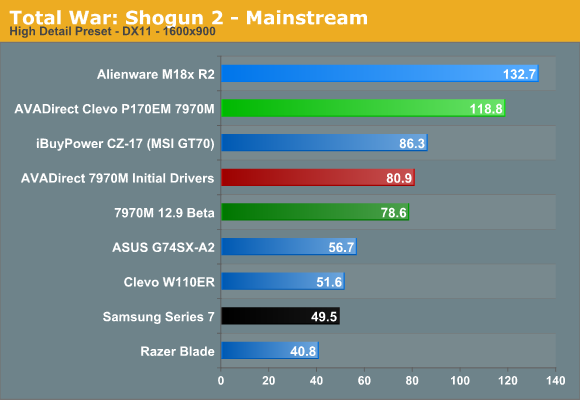 At our Mainstream settings (which are actually quite demanding), the 7970M acquits itself quite well—at least with the Hotfix driver. AMD consistently places third in our charts, behind the GTX 680M and 680M SLI—and the latter isn't really a fair comparison. There are even a couple titles (Portal 2 and Skyrim) where AMD takes a slight lead over NVIDIA, though we're looking at two different laptops. In terms of percentages, just to spoil Part 2 where we'll look at the P170EM with GTX 680M, NVIDIA does sweep the Mainstream settings on P170EM. The lead ranges from as little as 2% in Shogun 2 to 55% in Civilization V, with an average performance lead of 14%.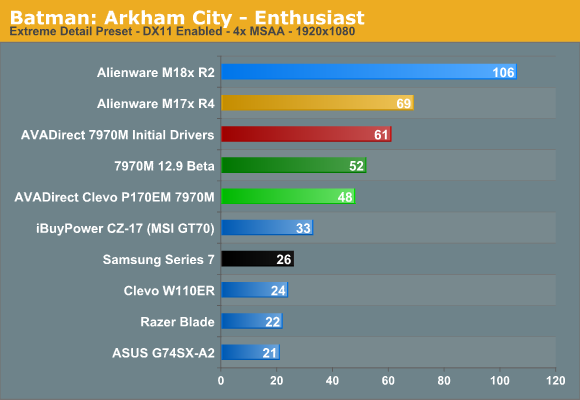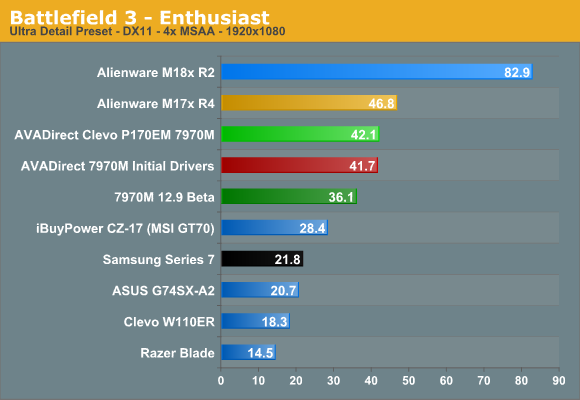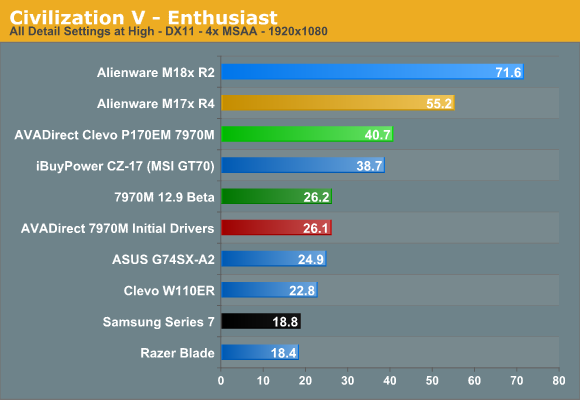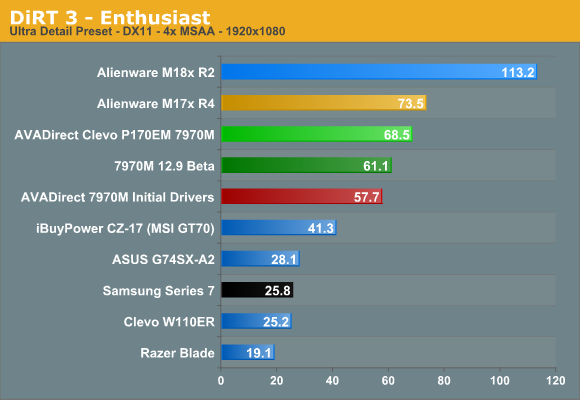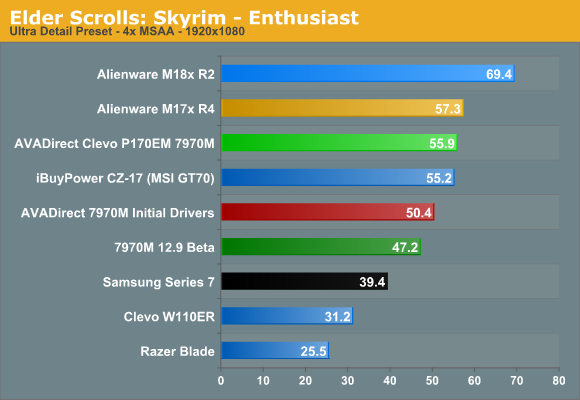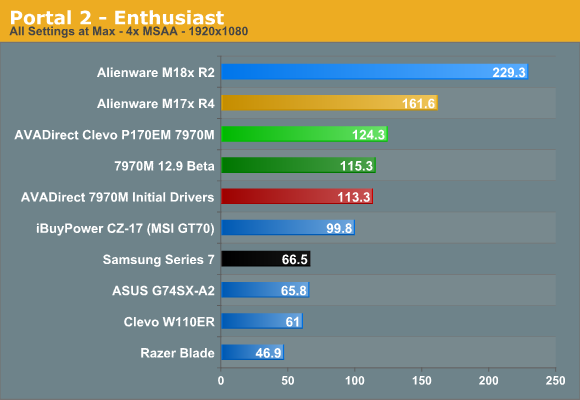 Our Enthusiast settings are what most people considering the P170EM are going to focus on, since it comes with a 1080p display and costs a pretty penny. Things are a bit different this time, as the Hotfix actually offers the worst performance out of the three drivers tested in Batman. Other than that one title, however, the Hotfix continues to be the fastest Enduro 7970M driver we've tested. All of the games we tested are still very playable at >40 FPS, though Shogun 2 won't let us use the "Very High" settings. Looking at the NVIDIA comparison (and again using my non-yet-published results), the 7970M is actually tied with the 680M in DiRT 3 and Battlefield 3, while NVIDIA maintains a healthy 30-35% performance lead in Batman, Civilization V, and Portal 2. Overall, NVIDIA nets a 20% average performance advantage over the six titles we tested at our maximum settings; we'll revisit this topic again with additional games next week.