Clevo P170EM 7970M General Performance
We're covering well-trodden ground here, so we won't have too much to add. AVADirect equipped our test notebook with a 256GB SSD and 8GB RAM, along with the i7-3720QM CPU and HD 7970M, so we should see excellent general performance. And we do.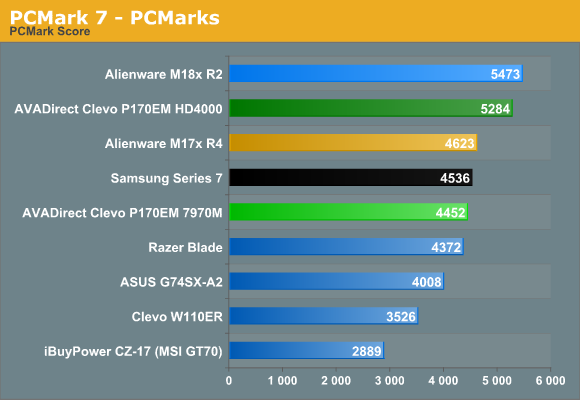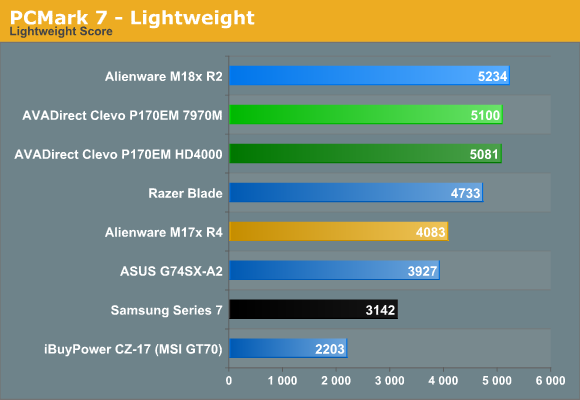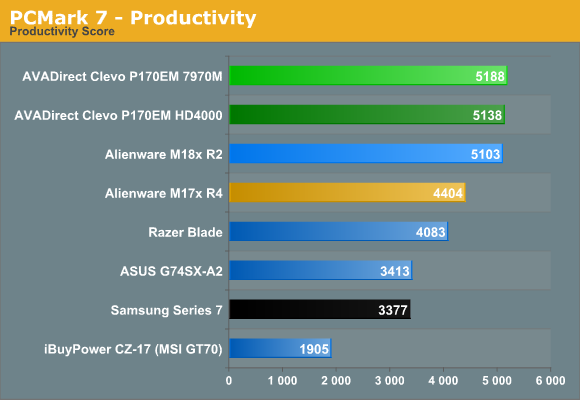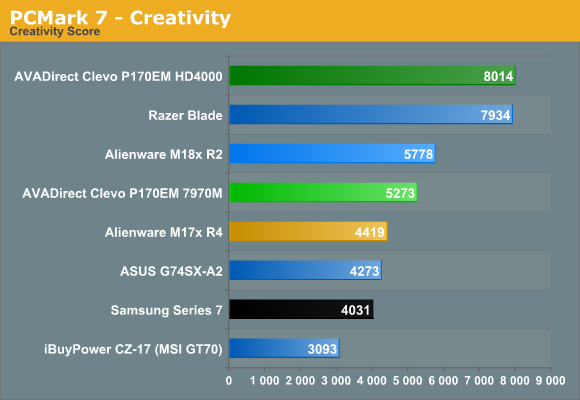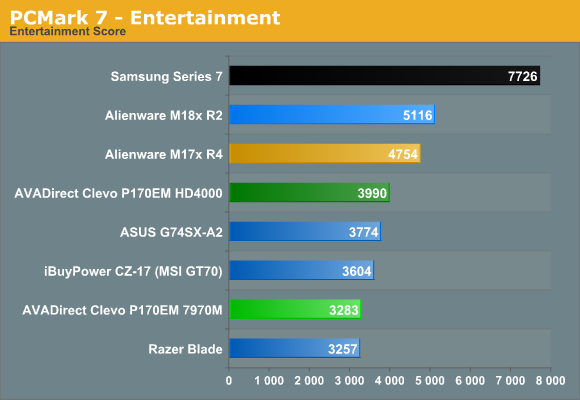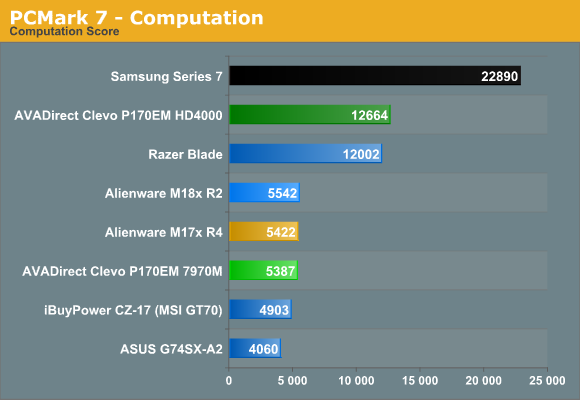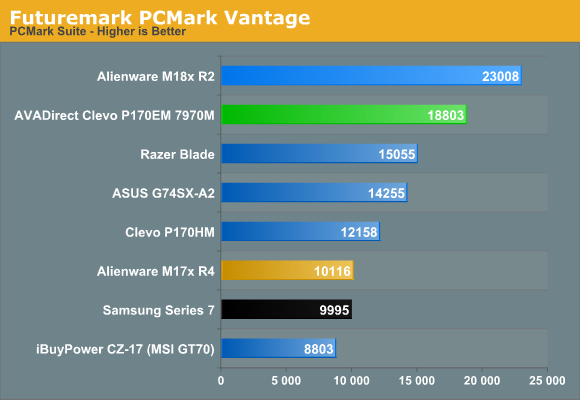 There's a difference of opinion on what to do with PCMark 7 results on laptops with switchable graphics; as one of the few benchmarks/applications that can benefit from Intel's Quick Sync technology, it's nice to see what that can do in things like the Computation and Creativity suites. On the other hand, it also skews scores pretty badly—though not quite as much as the presence of an SSD will change the results. Take the overall score as an example: with HD 4000 running in place of the 7970M, the P170EM result improves by 19%. On the other hand, adding an SSD to a notebook like the iBUYPOWER (MSI GT70) would improve the overall score by over 50%. In general, any modern notebook is plenty fast for regular applications, but we do continue to recommend SSDs for midrange to high-end notebooks as they make a noticeable impact in day-to-day use.
Something else to notice is that while PCMark 7 does quite well with hybrid storage devices like ExpressCache, Intel's SRT, and the Seagate Momentus XT, PCMark Vantage isn't nearly so forgiving. I'd actually suggest PCMark Vantage may be closer to the truth here, unless you happen to run a very light workload that allows the hybrid storage to cache nearly everything. Personally, I'd much rather have a 256GB SSD and forego conventional storage completely—and if you need more capacity, external devices with HDDs can hold your other data. With a quality SSD like the Samsung P830 256GB now going for under $200, and value offerings like the Kingston V200 256GB at $160 and Mushkin Enhanced Chronos 240GB at $165, the days of $1000+ laptops cheaping out by going with hard drives for storage are hopefully coming to a close.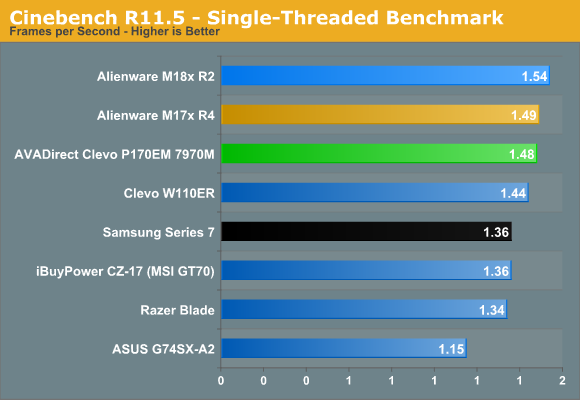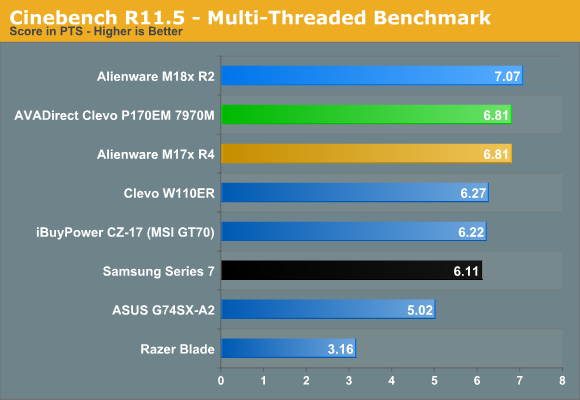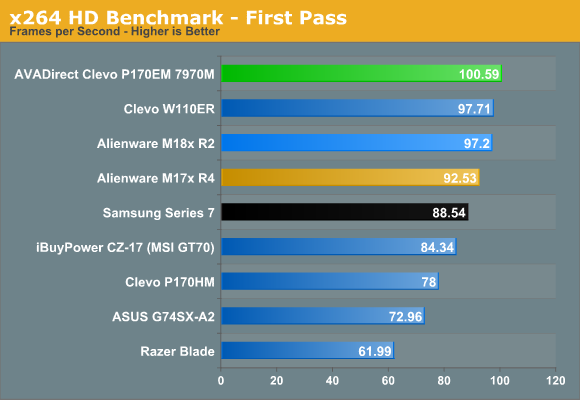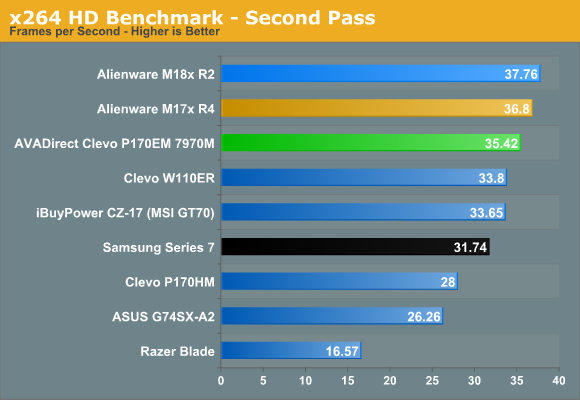 Turning to our CPU-centric benchmarks, the P170EM is right with the other i7-3720QM equipped offerings. It wins in the x264 first pass compared to the M17x R4, most likely because of the SSD storage, while it ties or falls slightly behind in the other tests.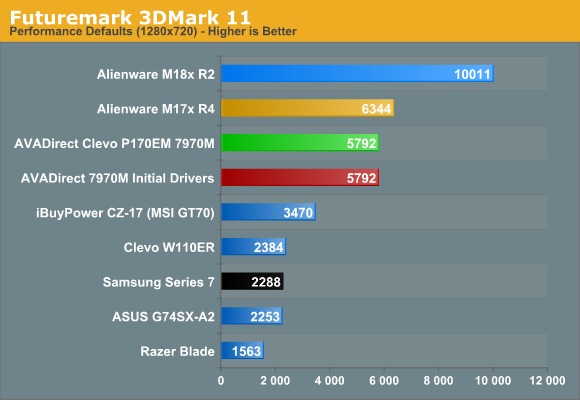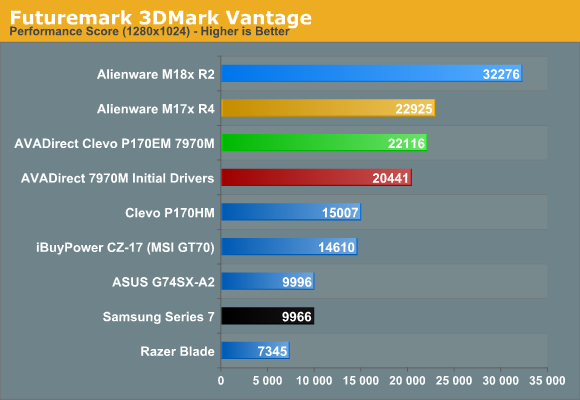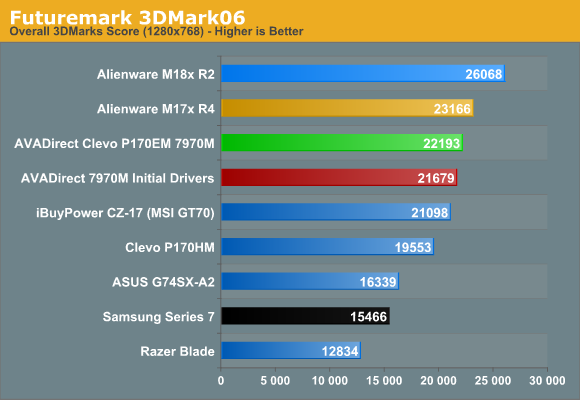 We'll get to the games in a moment, but we did find it interesting that the initial HD 7970M drivers on the P170EM are quite good at the 3DMark suites. Perhaps they just use the hardware in such a way that the GPU underutilization issue doesn't crop up, or maybe they rate higher on the optimization list due to their ubiquity as a benchmark. In 3DMark Vantage we see an 8% performance increase with the hotfix and a 2% increase in 3DMark06, further reducing the gap; on the other hand, the hotfix drivers failed to complete the 3DMark11 test suite so at least the latest driver build doesn't appear to be too focused on 3DMark scores. Moving to the inevitable NVIDIA comparison, the GTX 680M in the M17x R4 is ahead of the HD 7970M, but the gap is only 7-12%. If AMD could stay that close to the GTX 680M while being priced around $300 less, they'd have an extremely compelling offering. In practice, that doesn't always happen, so let's see how AMD does in real-world gaming tests.