The Asus Z9PE-D8 WS has 2 GbE ports. However, we have several VMs trying to stress the NAS under test. Sharing two GbE links across 12 VMs was never going to be a suitable solution. The testbed used in earlier reviews had an Intel ESA-I340 quad-port GbE network adapter. Based on the Gigabit 82580, it has a PCIe 2.0 x4 connection enabling it to provide maximum bidirectional throughput for all the four GbE ports.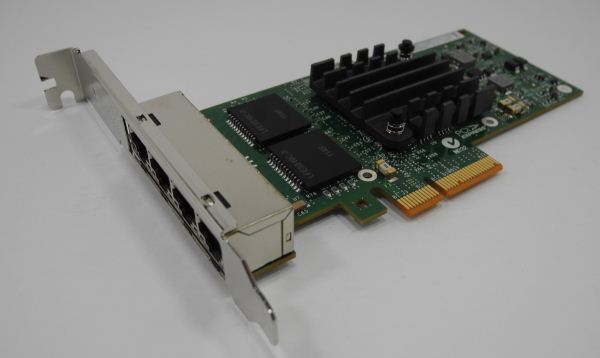 The Z9PE-D8 WS has 7 PCIe slots, and we decided to fill up three of them with the Intel ESA-I340 cards. They provided a total of twelve physical GbE ports, one for each VM. The ESA I-340 has a full height form factor, but also comes with a low profile bracket. One of the interesting aspects of the I340 server adapter is the VMDq (Virtual Machine Device Queue). It reduces I/O overhead in the hypervisor (and lowers CPU usage) by maintaining hardware queues for data packets sorted by their destination and sending them later to the hypervisor for forwarding to the appropriate VM. Even though we had the VMDq feature enabled in the settings for all the adapters, it probably had negligible effect on the CPU usage in our workloads because we had each VM reserving one port exclusively for its own use. The host machine itself connected to the network through one of the native GbE ports on the motherboard.
Between the NAS testbed and the NAS under test, it is essential that we have a switch capable of standing up to the stressful network traffic. Our switch of choice was one of the 24-port managed enterprise models from ZyXel, the GS2200-24. Even though it is advertised as a 24-port model, it actually has 4 extra ports with dual personalities (i.e, both copper and optical SFP).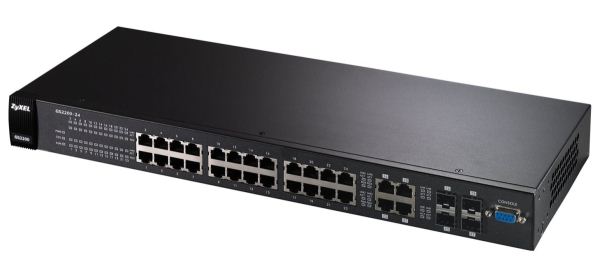 The switch has all the necessary features for an L2 managed model including VLANs, CoS/QoS, port trunking and bandwidth control. Port trunking / 802.3ad LACP aggregation is essential because NASes with dual GbE ports provide that as an option to increase performance. Even though a NAS might support link aggregation, it is of no use if the switch to which it is connected doesn't aggregate the connected ports.