Introduction & Goals of the Build
The market for network attached storage (NAS) devices has registered huge gains over the last few years. In keeping up with the market trends, the coverage of NAS units has also seen an uptick on AnandTech since the middle of 2010. Followers of our NAS reviews have seen the standard Intel NASPT benchmarks and file transfer test results along with a qualitative coverage of the NAS's operating system / user interface. The reviews briefly touch upon miscellaneous factors such as power consumption. The feedback from the readers as well as the industry pointed towards some essential NAS aspects such as performance under loading from multiple clients being ignored. Towards the end of 2011, we started evaluating approaches to cover these aspects.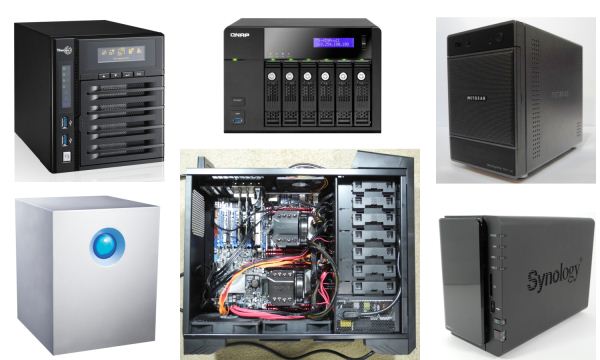 Our goal was to simulate a SMB (Small to Medium Business) / SOHO (Small Office / Home Office) type environment for the NAS under test. From the viewpoint of our testing, we consider a SMB as any setup with 5 - 25 distinct clients for the NAS. Under ideal circumstances, we could have had multiple PCs accessing the NAS at the same time. However, we wanted a testbed which didn't require too much space or consume a lot of power. It was also necessary that the testbed be easily administered. These requirements ruled out the possibility of multiple distinct physical machines making up the testbed.
In order to set up multiple virtual machines (VMs), we wanted to build a multi-processor workstation. One of the primary challenges when running a large number of VMs on a single machine is the paucity of resources. It is important not to be disk bound. Therefore, we set out with the intent of providing each VM with its own processor core, physical primary disk and network port. After taking a look at the options, we decided to build a dual processor workstation capable of running up to 12 VMs. In the first four sections, we will take a look at the hardware options that we chose for the build.
Following the discussion of the hardware aspects, we have a section on the software infrastructure. This includes details of the host and guest operating systems, the benchmarking software and scripts used in the testing process. We initially gave a trial run of the new test components on two different NAS units, the Synology DS211+ and the Thecus N4800. Results from the new test components are presented in the two sections preceding the concluding remarks.