The end of summer marks the start of the X79 refresh line. We are, at best estimates, coming up to half-way in the Sandy Bridge-E life as the top of the line processor range before Ivy Bridge-E comes to market. Both chips will be expected to run on X79 and the next chipset. But in the meantime, manufacturers are coming up with ways to reinvigorate their X79 line up. So insert ASRock, and the ASRock X79 Extreme11. This motherboard comes with two PLX PEX 8747 chips, making up to 72 PCIe lanes available. This are split into 64 for the PCIe slots (x16/x16/x16/x16 capable), and eight are directed to an LSI SAS 2308 PCIe 3.0 chip, which allows RAID 0, 1 and 10 on eight SATA ports, for a peak throughput of up to 4.0 GBps from eight drives in RAID-0.
ASRock X79 Extreme11 Overview
In the ASRock X79 range, we have the Extreme3, the Extreme4, the Extreme4-M, the Extreme6, the Extreme7, the Extreme9, the Game Blaster equipped Extreme6/GB, two Fatal1ty motherboards and now the Extreme11. The ASRock X79 Extreme11 is designed to stretch both the X79 platform and your wallet – this motherboard will set you back a good $600 MSRP. For the hard cash, the motherboard has two main selling points.
Firstly, we have a pair of PLX PEX 8747 chips on board, both of which translate 16 of the CPU PCIe lanes into 32 for the PCIe slots each (for more information on how this works, please read our PLX PEX 8747 discussion). This gives the motherboard, as a whole, 72 PCIe 3.0 lanes to play with. The 64 lanes that come directly from the PLX chips go to the PCIe slots, to provide a peak x16/x16/x16/x16 mode with 4 GPU devices. However, the focus of this board is not in GPUs for gaming, but workstations with GPU accelerated features. In this arrangement, with all the PCIe slots populated, we get x16/x8/x8/x8/x8/x8/x8. If you believe the leaks/news online about an upcoming single slot GTX670, or want to purchase several single slot FirePro cards, then the ASRock will give you all that bandwidth as long as the user handles the heat.
The other eight lanes are taken direct from the CPU and put into an LSI SAS 2308 PCIe 3.0 chip. This chip supplies the board with eight SAS2 ports, which are also SATA 6 Gbps compatible. Through the chip, we have access to RAID 0, 1 and 10, (but no RAID 5 unfortunately), but due to the PCIe bandwidth, are not limited to the chipset like normal server chipsets like C602, C604 or C606. This results in our testing at a peak speed of 4.0 GBps with eight SSDs in RAID-0. However, the presumed real-world layout for this would be RAID-1 or RAID-10. It should be noted that there is also no cache associated with the LSI chip, and thus we only get speed increases above 64KB transfers.
The focus of the X79 Extreme11 is not the gamer. For gaming, ASRock have their Fatal1ty branding. ASRock want to aim at the workstation market, those that require PCIe functionality and an SAS enabled motherboard without having to go out and purchase a separate PCIe card. As a result, the ASRock X79 Extreme11 is also compatible with the 16xx, 26xx and some of the 46xx Xeons (link) from the launch BIOS, like the server compatible chipsets, and un-buffered ECC memory with those Xeons.
Other features onboard include dual Broadcom gigabit Ethernet ports which can be teamed, a Creative Sound Core3D audio solution, power delivery methodology through dual-stack MOSFETs and dual 8-pin CPU power connectors. As the X79 chipset does not have USB 3.0 as standard, ASRock have included Texas Instrument USB 3.0 controllers for a total of eight ports (4 on the back panel, 4 via two onboard headers) and a 2-port front USB panel included in the box. As expected with a board of this price we also get a full compliment of DIMM slots.
Performance on the X79 Extreme11 can be taken in different directions. It performs like most other X79 boards we have tested with the i7-3960X, although it does not have MultiCore Enhancement like the ASUS ROG motherboards. The throughput on the LSI chip scales well with drives, but the more drives you have the larger the transfer size has to be for scaling. Also with our ATTO testing, the chipset SATA ports tended to have better read speeds at lower transfer sizes. Power consumption is also an issue – having two PLX chips and an LSI chip adds a level of power draw depending on how the PCIe slots are populated. But as a motherboard aimed at workstation builds, power draw is not a primary feature here.
When deciding whether to recommend a motherboard such as the ASRock X79 Extreme11, we come across a dilemma. For workstation builders, money can potentially be no object. In terms of CPU performance, we would get the same here as we would do in the X79 Extreme4-M. The premium the user is paying for this product comes when PCIe bandwidth is the priority, but also wants a product that can handle SAS drives.
If you remember back to the ECS X79R-AX I reviewed back in January, this had SAS ports but they were not certified for SAS function. Gigabyte has released the X79S-UP5 which is based on the C606 chipset, so also comes with SAS ports but not any extra PCIe bandwidth. It is also worth nothing that on the C606 platforms that the ports are limited to SATA 3 Gbps and a peak of ~ 1.0 GBps (under Intel specifications). So for that the ASRock X79 Extreme11 is preferred.
Estimates for the PLX chip put the extra BOM cost of $40-$60 a piece, and the LSI chip cost is an unknown factor – perhaps $100+. But as of now this is the only consumer level board with the LSI 2308 controller equipped. So the premium must be paid. Purely as a workstation board I would happily recommend the ASRock X79 Extreme11. As a regular user or gamers board however, the cost could be a bit prohibitive compared to what else is available in the market.
Visual Inspection
The X79 Extreme11, due to the extras on board, comes in at the loosely defined E-ATX form factor. In the case of the ASRock, this means an extra inch on the right hand side of the board. This also pushes the board away from the case mounting holes for more ports on the edge of the board, as noticed by the SATA ports below. The main feature that sticks out on first glance however is that all the PCIe slots are full length, and next to a rather large chipset heatsink (which also hides the two PLX chips and the LSI chip.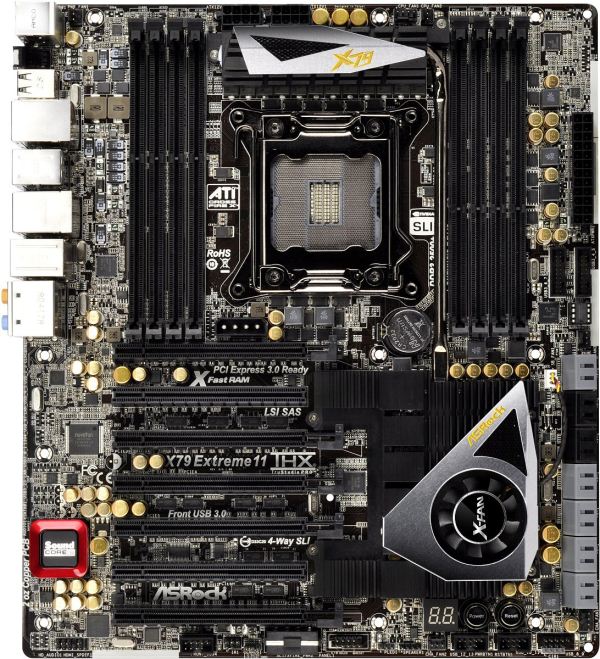 The socket area provides space for air coolers when only four RAM slots are populated. Given that this is aimed at the workstation crowd, it is more than likely that all the memory slots are occupied, thus an all-in-one liquid cooler is a good suggestion here. The board in total has six fan headers, four of which are reachable from the CPU socket – a 3-pin PWR header to the top left of the socket, two CPU headers (one 4-pin, one 3-pin) above the socket, and a 3-pin chassis header below the 24-pin ATX power connector and USB 3.0 headers. The other two are 4-pin and 3-pin chassis headers found at the bottom of the board.
The heatsink above the socket covers the power delivery for the motherboard, which ASRock state is a 24 phase (6x2x2 multiplexing) system. The heatsink is connected via a heatpipe to the flat chipset heatsink on the bottom of the board. The bottom heatsink is designed large and flat, with lots of fins and an additional fan to aid cooling. Our estimates are that this bottom heatsink has to deal with 35W+ (Chipset + PLX + PLX + LSI) dissipation, so the fan is a welcome to disperse the heat. However, our testing under dual GPU and above made this chipset fan run at a very high speed, which was definitely audible when idle as a high-pitched buzzing on the test bed. This could be mildly irritating, or not an issue when inside the case.
Along the right hand side of the board, we find the 24-pin ATX power connector, two USB 3.0 headers (powered by a Texas Instruments controller), a 3-pin fan header, and the SATA ports. ASRock have decided to use all the SATA ports from the chipset, and we also get eight from the LSI chip. So from top to bottom we have two SATA 6 Gbps in grey (chipset), four SATA 3 Gbps in black (chipset) and then we get the eight SAS2/SATA 6 Gbps ports in grey. All the ports on board are capable of RAID 0, 1 and 10, with the chipset ports also supporting RAID 5 via chipset specifications. Due to the routing we get some interesting results from this LSI SAS chip – all of which will be discussed in the review.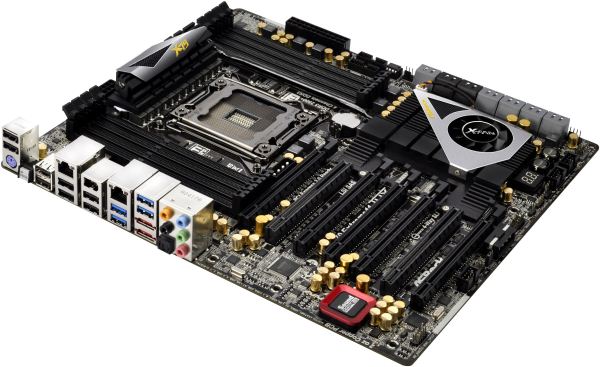 Along the bottom of the board we get our HD Audio header, a ClearCMOS header, a molex power connector (for PCIe), the front panel header, a 3-pin fan header, three USB 2.0 headers, a 4-pin fan header, a two-digit debug LED and power/reset buttons. The molex power connector is obviously the most interesting here, as typically in order to provide extra power ASRock put a molex connector above the PCIe slots. In this board they have used both, as with seven PCIe slots potentially drawing 535W (seven x 75W) this cannot all come through the ATX power connector. Personally, if ASRock had a choice between a top or bottom mounted molex connector, I would prefer the bottom such that cable management was easier.
The PCIe slots are simple to understand – each slot is designated either a primary slot (1,3,5,7) or a secondary slot (2,4,6). The primary slots are all x16 routed, via the PLX chips. The secondary slots are all x8 routed, and when occupied drop the speed of the primary slot underneath to x8 as well. Here is a crudely drawn chipset diagram to explain:

The forty lanes from the CPU are split into two lots of 16 for the PLX chips, and 8 lanes to the LSI chip. The PLX chips each take their 16 lanes (upstream) and produce 32 lanes each downstream. These 32 lanes are directed to into two sets of 16, each aimed at primary PCIe slots. The secondary slots that are linked to primary slots siphon off eight lanes (technically this is a point-to-point technology) when they are in use. This gives x16/-/x16/-/x16/-/x16 or x16/x8/x8/x8/x8/x8/x8.
Despite Sandy Bridge-E processors are not verified for PCIe 3.0 by specification, they do have the internals to do PCIe 3.0. These PLX chips are also PCIe 3.0, and thus in the BIOS PCIe 3.0 for all the slots can be enabled if required. In our testing, PCIe 3.0 did almost nothing for gaming – we saw minor increases of up to 0.5%-4% in Dirt3 compared to PCIe 2.0, and a 0.3% loss to 1.9% gain in Metro 2033. (Both games at 2560x1440 with all eye candy enabled using 7970s).
Also on board we get a Creative Core3D SoundBlaster chip for audio, which uses its own electromagnetic shielding to help improve audio signal transmission. Other products also specify if their motherboard uses a separate layer for audio – no such mention is provided by ASRock here.

On the rear IO panel ASRock have equipped the X79 Extreme11 with a keyboard PS/2 port, eight USB 2.0 ports (black), a ClearCMOS button, dual gigabit Ethernet via Broadcom controllers, an IEEE1394 port, four USB 3.0 ports (TI controller), two eSATA ports, Optical SPDIF output and audio jacks. ASRock have potentially missed a trick here – the two USB 2.0 ports to the right of the ClearCMOS button could easily use a 4-bay USB 2.0 port hub, thereby removing one USB 2.0 header from the bottom of the board. Hopefully the additional routing would not be too difficult.
Board Features
ASRock X79 Extreme11
Price
Link to Newegg
Size
ATX
CPU Interface
LGA2011
Chipset
Intel X79
Power Delivery
Intel Second Generation Core i7 Sandy Bridge E
Memory Slots
Eight DDR3 DIMM slots supporting up to 64 GB
Up to Quad Channel DDR3, 1066-2400 MHz
ECC Memory with Xeon Processors
Onboard LAN
Dual Broadcom BCM57781
Onboard Audio
Creative Sound Core3D
Expansion Slots
1x PCIe 3.0 x16
3x PCIe 3.0 x16 (x8 when slots above are populated)
3x PCIe 3.0 x8
Onboard SATA/RAID
2x SATA 6 Gbps (Intel)
4x SATA 6 Gbps (Intel)
8x SAS2/SATA 6 Gbps (LSI SAS 2308)
USB
14x USB 2.0 (8 rear panel, 6 onboard)
8x USB 3.0 (4 rear panel, 4 onboard)
Onboard
2x SATA 6 Gbps
4x SATA 3 Gbps
8x SAS2/SATA 6 Gbps
2x USB 3.0 Headers (TI)
3x USB 2.0 Headers
6x Fan Headers
1x IEEE 1394 Header
Power/Reset Switches
Two-Digit Debug LED
ClearCMOS Switch
Power Connectors
1 x 24-pin ATX Power Connector
2x 8-pin CPU Power Connectors
2x 4-pin Molex Power Connectors
Fan Headers
2 x CPU (one 4-pin, one 3-pin)
1 x PWR (4-pin)
3 x CHA (one 4-pin, two 3-pin)
IO Panel
1x PS/2 Keyboard Port
1x Optical SPDIF Output
8x USB 2.0 Ports
4x USB 3.0 Ports (TI Controller)
2x eSATA
2x Broadcom GbE
1x IEEE1394
1x ClearCMOS Switch
Audio Jacks
Warranty Period
3 Years
Product Page
Link
With a motherboard costing $600 MSRP, we should try and assign where that money is going. The two PLX chips and the LSI chip combined could be as much as $300 – asides from these additional extras, the dual NIC that can be teamed (combined with XFast LAN) is a good addition for a workstation board. The upgraded audio could be construed towards more audio based applications, thus some GPUs may help with encoding. As always, we like the fact of the Power/Reset buttons and two-digit LED for debugging.