Synology's 2-bay NAS units have consistently performed well in our tests. Today, the latest additions to the 2-bay lineup have been launched in the form of the DS213 and DS213+. The DS213+ also marks the reappearance of Freescale's PowerPC based NAS processors in the Synology 2-bay units.
Synology used to differentiate the regular (DS211 / DS212) and performance models (DS211+ / DS212+) by using 512 MB of DRAM in the latter (compared to the 256 MB in the regular models). In the 2013 models, however, both units have 512 MB of DRAM. Physically, both models have a USB 2.0 and a SD card slot in front, and 2 USB 3.0 ports in the rear. The DS213+ model has an eSATA port in order to enable attachment of additional storage devices.
The DS213+ is based on the Freescale P1022, which runs at 1.067 GHz. In addition to having two e500 cores (each of which is a dual dispatch superscalar processor with out of order issue and execution), we also have double precision vector floating point units which should greatly help accelerate any DLNA apps running in the system.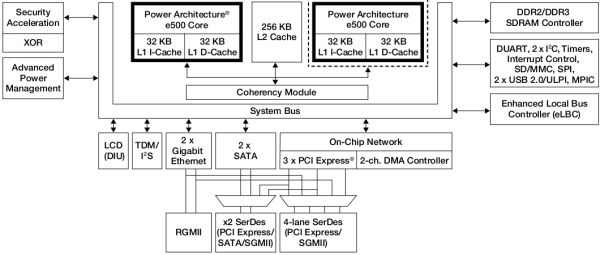 Freescale P1022
Rounding up the SoC side of things are the two SATA ports, two GbE ports (of which only is used in the DS213+) and some PCI-E ports (connected to USB 3.0 and eSATA bridges in the DS213+).
The DS213 is based on the tried and tested Marvell Kirkwood mv6282 SoC. Both SoCs have hardware encryption support and a dedicated hardware XOR engine for accelerating RAID operations.
Despite being targeted towards home users and prosumers, the Diskstation Manager OS also has plenty of small business features including ACL support for granular, file-level control, ADS support up to 100,000 users and groups and an antivirus package.
The DS213 and DS213+ both come with a single 92mm fan, and the noise level at full speed is rated to be 19.9 dB(A). The DS213's power consumption is rated at 8.3W when the disks are idle and at 18.5W when the disks are being accessed. For the DS213+, these numbers shoot up to 10.1W and 22.2W. Under RAID-1, the DS213 is rated for 108.23 MBps reads and 65.41 MBps writes while the DS213+ is rated for 110.36 MBps reads and 84.31 MBps writes. Synology indicated that the reported numbers were obtained using two Seagate Barracuda LP ST31000520AS 1TB 5900 RPM drives.
Both models are available for ordering in the North American market starting today, with the DS213 at $299 and DS213+ at $369.