In our initial review of the Netgear NV+ v2, we had talked about the relative immaturity of the operating system and interface. For example, we only had support for CIFS. RAIDiator v5.3.5 fixes this. We now have SMB, AFP, NFS, FTP, RSYNC and HTTP support. Each of these sharing protocols have their own specific settings, and the UI dealing with these is quite simple and straightforward to use. In addition, the ReadyDLNA service is available for shares irrespective of the protocol being used to share the folder. The gallery below presents screenshots dealing with these options.
One of the useful updates in the new firmware is the easy access to the SMART information for each of the disks in the unit.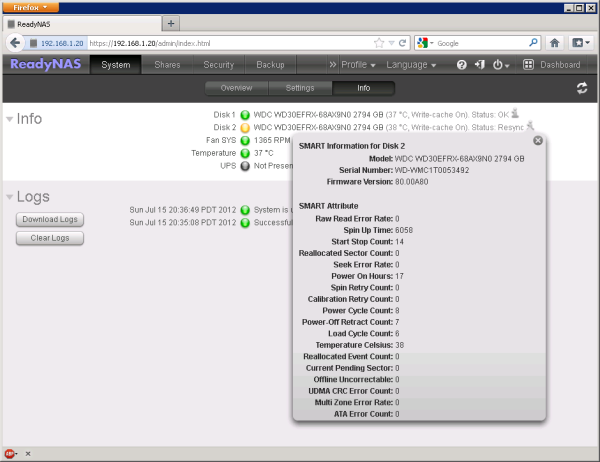 The ReadyNAS Photo add-on was covered in our first review. We tried to take out the ReadyNAS remote add-on for a spin. It was disappointing because of the complexity of the setup. Even comparatively cheaper units such as the My Book Live feature better remote access support (in terms of ease of use). However, the ReadyNAS Replicate add-on presented a refreshingly different experience.
ReadyNAS Replicate is one of the unique features of the Netgear NAS lineup. Put simply, it is an add-on which enables users to set up backup jobs from one ReadyNAS unit to another. While advanced users might recognize this simply as a scheduled rsync job, the trump card is the fact that the units can be in physically different locations and the backups can occur over the Internet without any special router / firewall setup. The add-on transparently creates a secure VPN connection for the data transfer. For businesses without full-time IT staff, the ease of use is a definite boon.
Users can link the NAS units at different locations to a common ReadyNAS replicate account. From the NAS UI, launching the add-on (which has a free 45-day trial / costs $45 after that for a home license per device) brings up the ReadyNAS Replicate website. Logging into this shows the various other NAS units linked to the account. Backup jobs can be scheduled between the various NAS units. The gallery below has screenshots of the add-on in action.
Most of the other NAS vendors have apps to perform backup to cloud services. However, many businesses are yet to place full faith in the cloud. Secure off-site backup is an important strategy for many businesses, and add-ons such as ReadyNAS Replicate make this process user-friendly.
We now proceed to the refreshed benchmark figures.