WiFi & GPS Performance
With the Transformer Prime ASUS moved to an all-aluminum construction but did little to focus on maintaining RF performance. The Transformer Pad 300 addressed WiFi and GPS performance by moving back to an all-plastic chassis, but as the high end in ASUS' Transformer stack aluminum was a necessity for the Infinity. The compromise is simple: a strip of similarly colored plastic across the top of the tablet, behind the WiFi and GPS antennas.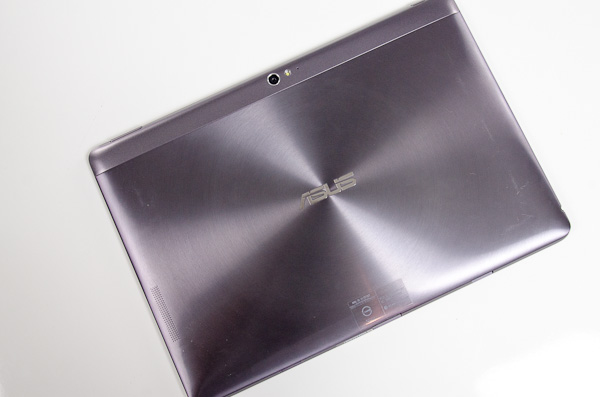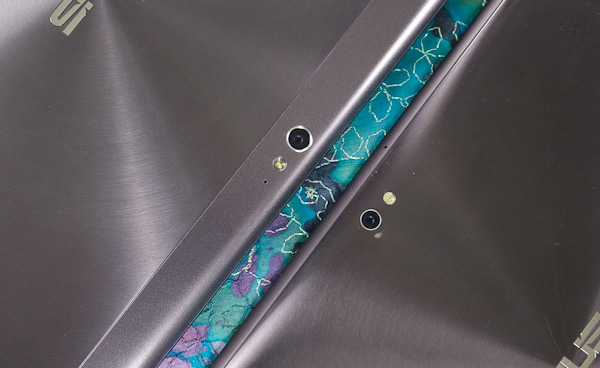 The plastic strip on the TF Pad Infinity (left) vs. the truly all-aluminum TF Prime (right)
I performed a number of WiFi performance tests and am pleased to say that overall wireless performance appears to be much better than any previous Transformer tablet. I managed nearly 40Mbps in the best case scenario, but more importantly I was able to maintain 3 - 4x the transfer speeds of the TF Prime at further distances from the access point. I would say the Infinity's WiFi performance is now on par with that of the iPad, and is seemingly better at 2.4GHz.
WiFi Performance Comparison
Distance from AP
3 feet
20 feet (Different Room)
50 feet (Different Room/Floor)
80 feet (Different Room)
ASUS TF Prime (2.4GHz)
26.9 Mbps
9.85 Mbps
13.5 Mbps
2.20 Mbps
ASUS TF Pad 300 (2.4GHz)
26.5 Mbps
21.8 Mbps
20.7 Mbps
21.3 Mbps
ASUS TF Pad Infinity (2.4GHz)
39.2 Mbps
34.0 Mbps
34.3 Mbps
10.8 Mbps
ASUS Transformer (2.4GHz)
21.8 Mbps
17.6 Mbps
18.8 Mbps
15.0 Mbps
Apple iPad 2 (2.4GHz)
35.1 Mbps
29.9 Mbps
26.9 Mbps
10.6 Mbps
Apple iPad 3 (2.4GHz)
35.1 Mbps
29.9 Mbps
27.9 Mbps
9.98 Mbps
Apple iPad 2 (5GHz)
36.7 Mbps
36.7 Mbps
36.7 Mbps
11.9 Mbps
Apple iPad 3 (5GHz)
36.7 Mbps
36.7 Mbps
36.7 Mbps
11.7 Mbps
ASUS still doesn't support 5GHz unfortunately with the Transformer Pad Infinity, so expect problems in situations with a bunch of 2.4GHz spectrum crowding.
GPS performance also benefits from the RF improvements to the Infinity. Although GPS locks are still not as consistently quick as I'd like them to be, the Infinity is generally able to get a signal lock quicker than even the Transformer Pad 300 - even in adverse conditions. While the Transformer Prime can't get a lock indoors or even in some situations in a car, the Infinity manages to do so in about 12 seconds. The shot below is what I saw after 12 seconds of searching for a lock: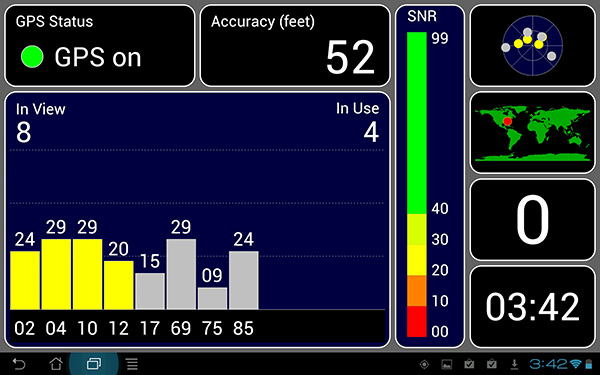 To get something comparable from even the TF Pad 300 took well over a minute. I suspect the improvements to the Infinity go beyond simple chassis work based on its behavior.