At Computex a few weeks ago ASUS gave us exactly what we had been hoping for: a Transformer-style tablet running Windows 8. In fact, ASUS gave us a bunch of options as far as Windows 8 tablets go. The two we've been asking for are the Tablet 600 and Tablet 810, running Windows RT and Windows 8, respectively. They feature standalone tablets with detachable keyboard/mouse docks, giving you the best of both worlds.
ASUS wasn't the only one to bring this sort of flexibility to Windows 8. Acer showed off a similar design with its Iconia W510, as did Samsung and more recently, Microsoft. With the Surface tablets Microsoft actually went a step further and tried to integrate the keyboard into a lightweight cover rather than an external dock. It remains to be seen just how well these approaches will work, but it's clear there's a trend for the first generation of Windows 8 tablets.
We can't forget however what started this all. Much like Apple with the iPhone and iPad, ASUS picked an intersection of functionality and technical feasibility with the introduction of the first Eee Pad Transformer. For the first time we had silicon capable of running for hours in a small form factor tablet, as well as a touch-enabled OS that could run on it. Previous attempts at hybrid tablets often tried to shoehorn a desktop version of Windows into a device that was too clumsy. ASUS' Transformer series was the start of something new.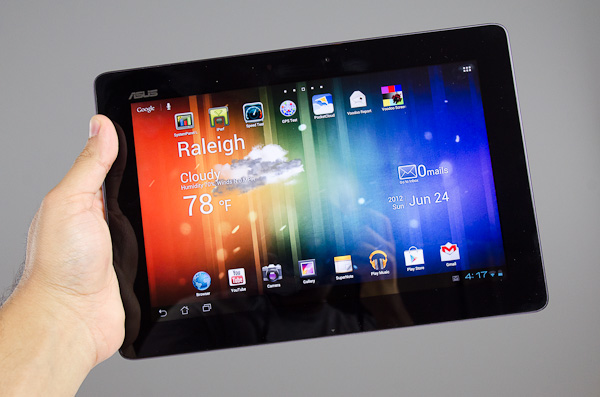 Since the release of the first Eee Pad Transformer (can you believe it's only been about a year?), ASUS has released several members of the Eee Pad and Transformer families. We got a slider, a thinner version called the Transformer Prime, as well as a refreshed entry level Transformer Pad 300. ASUS' experimentation and learning will pay off later this year as it ships the first Windows RT/8 versions. Until then however ASUS isn't done iterating. Today it's officially announcing the final configuration of the Transformer Pad Infinity, the first member of the TF series with a 1920 x 1200 display. It also happens to be the first tablet we've tested to use NVIDIA's higher binned Tegra 3 T33 SoC.
ASUS Tablet Specification Comparison
ASUS Eee Pad Transformer
ASUS Transformer Pad 300 Series
ASUS Eee Pad Transformer Prime
ASUS Transformer Pad Infinity
Dimensions
271mm x 175mm x 12.95mm
263 x 180.8 x 9.9mm
263 x 180.8 x 8.3mm
263 x 180.6 x 8.4mm
Chassis
Plastic
Plastic
Aluminum
Aluminum + Plastic RF Strip
Display
10.1-inch 1280 x 800
10.1-inch 1280 x 800 IPS
10.1-inch 1280 x 800 Super IPS+
10.1-inch 1920 x 1200 Super IPS+
Weight
675g
635g
586g
594g
Processor
1GHz NVIDIA Tegra 2 (2 x Cortex A9)

NVIDIA Tegra 3 (T30L - 4 x Cortex A9)

1.3GHz NVIDIA Tegra 3 (T30 - 4 x Cortex A9)

1.6GHz NVIDIA Tegra 3 (T33 - 4 x Cortex A9)

Memory
1GB
1GB
1GB
1GB DDR3-1600
Storage
16GB + microSD card
16GB/32GB
32GB/64GB + microSD slot
32/64GB + microSD slot
Battery
24.4Whr
22Whr
25Whr
25Whr
Pricing
$399
$379/$399
$499/$599
$499/$599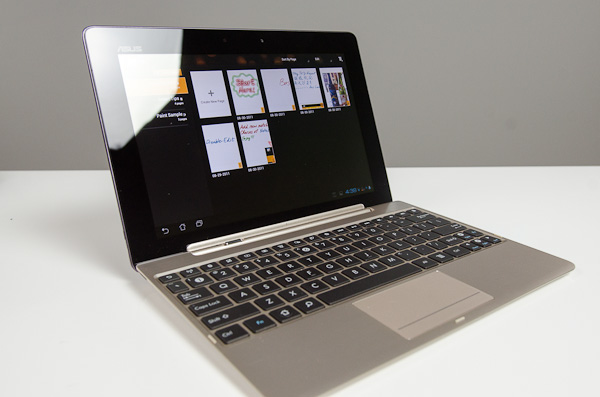 Despite early indications of $599+ pricing, the Transformer Pad Infinity comes in at $499 for the 32GB model and $599 for 64GB. The Infinity is compatible with the Transformer Dock ($149) from the TF Prime as long as your dock has firmware 207 or later on it. The dock is what gives the Transformer Pad its name as it allows the Infinity to be converted into an Android netbook complete with QWERTY keyboard, trackpad and additional battery. The Infinity and its dock are available in the same two colors (amethyst gray and champagne gold) as the TF Prime was at launch. The Infinity dock doesn't appear to carry a separate part number, it's literally the same dock that was used with the Prime.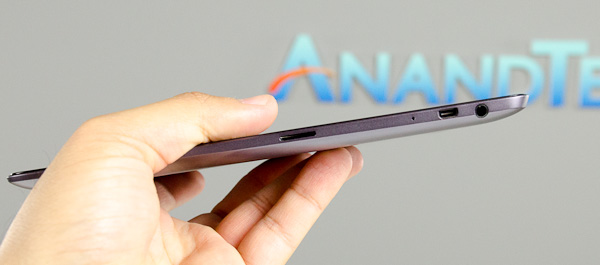 The chassis hasn't changed much since the introduction of the Prime. It is one-tenth of a millimeter thicker to accommodate the higher-resolution display and backlight assembly, but battery capacity remains at 25Wh. The Infinity is a little heavier and its edges are squared a bit instead of being perfectly rounded. The port configuration remains the same (micro HDMI, micro SD, headphone jack), although redistributed around the chassis. The power and volume buttons are now both located along the top of the unit, with the switches themselves more integrated with the tablet.
Although official reviews of the Infinity hit today, availability isn't scheduled until around July 16th. Quantities are unknown at this point and will likely be gated by panel availability.